Discover your next favorite brunch spot in New Jersey recommended by our readers. Know of another one? Send us the details at info@jerseybites.com!
Asbury Park
The Black Swan – A gorgeous location for a delightfully different weekend brunch. Start off with Mimosa flights and Bloody Mary carafes. In addition to their Full English Breakfast, their Brunch menu includes 3 egg omelettes served with bacon cheddar tots and petite salad. Choose your stuffing – Ham & Swiss – Mushroom & Goat Cheese – Lobster & Brie. They also have classic Eggs Benedict and a Grass-fed Steak & eggs dish with creamed spinach, bacon cheddar tots and toast. Sides of bacon, rashers and bangers are also available. Weekend Brunch is served 11am to 3pm.
Toast City Diner offers plenty of breakfast and lunch options six days a week, 8am-2pm Monday, Wednesday-Friday, and 7:30am-3pm Saturday and Sunday. From pancakes to eggs benedict, cobb salad to a lobster roll, coffee and tea, there is something for the whole crew. Plus they are BYOB! Check out their other locations in Montclair and Red Bank too.
Brownstone Pancake Factory – For all day brunch options plus lunch and dinner. Over the top milkshakes, coffees, pancakes and more. The Brownstone Pancake Factory has 3 locations in New Jersey. Check them out in Englewood Cliffs and Edgewater too.
Cape May County
Check out our list of Can't Miss Breakfast Spots in Cape May County, featuring Brown's Restaurant, Mrs. Brizzle's Buns, Marge's Diner, Fishin' Pier Grille, the Jellyfish Cafe, Surfside West Diner, Clary's Country Corner, the Blue Pig Tavern, the Mad Batter, and the Red Store.
Clark
Paragon Tap and Table, in Clark, offers an à la carte brunch every Sunday starting at 11:30am.
Edgewater
Haven sits just 20 feet from the Hudson, providing the perfect view of the Manhattan skyline. An extensive brunch menu is served on Saturdays and Sundays from 11 a.m to 3 p.m.
Ewing
Located in Ewing, Café 72 is open seven days a week, 7:30 a.m. to 2:30 p.m. Outdoor seating is available during the warmer months.
Hamburg
Kites – An American Grille, at Crystal Springs Resort, offers its brunch buffet from 8 a.m. to 5 p.m. daily.
Ho-Ho-Kus
Ho-Ho-Kus Inn & Tavern offers an a la carte Sunday brunch from 11 a.m. to 3 p.m featuring a brunch burger, French Toast Foster and more.
Hoboken
Hoboken hot spot Anthony David's serves à la carte brunch daily and brunch cocktails from 8 a.m. to 3 p.m.
Jersey City
Satis Bistro serves up brunch in Jersey City on Saturdays and Sundays from 11 a.m. to 3 p.m.
Maritime Parc, a sleek Liberty State Park gem offers an extensive Sunday brunch menu from 11 a.m. to 2:30 p.m., views of Manhattan's skyline inclusive.
Livingston
Sweet Basil's Café and Grill serves breakfast and brunch all week long 10am-3pm in Livingston. The American-style eatery offers a super interesting pancake menu (tiramisu pancakes, anyone?) as well as a unique selection of eggs Benedict variations. BYOB.
Long Branch
Avenue is located in Pier Village and offers an extensive and elegant brunch menu, unique cocktails and ocean view. Weekend brunch is offered Saturday and Sunday.
Manahawkin
Old Causeway, located in Manahawkin, serves brunch on Sundays 10 a.m – 1 p.m. Get a made-to-order item from the brunch menu or enjoy special brunch cocktails like Hendrick's breakfast martini, or his and hers mimosas.
Manasquan
Town Grill Manasquan offers breakfast 6 days a week (Wednesday-Monday) starting at 8am. Enjoy an array of omelets, pancakes, French toast, classic egg dishes, benedicts, shrimp & grits and much more.
Manalapan
Enjoy Brunch 7 days a week at Project Brunch! From outrageous milkshakes and over the top waffles to healthy omelets, avocado toast and eggs every which way you can imagine. It's one of those places that everyone in the family will enjoy.
Montclair
Samba Montclair's owner and executive chef, Ilson Goncalves, designed the restaurant's brunch around classic Brazilian ingredients. Think omelet with Brazilian sausage and collards, served with a side of yuca home fries dusted with fresh rosemary, mint, thyme and oregano (pictured). Or maybe you're looking for a grass-fed burger on gluten-free, house-made yuca bun. The list goes on. On Saturdays and Sundays, brunch is served from noon to 3 p.m.
Toast City Diner crushes it with brunch options. Check out their locations in Asbury and Red Bank too.
Morristown
The Sunday brunch buffet at Blue Morel is offered from 6:30 a.m. to 1 p.m., and Monday through Saturday from 6:30 to 10:30 a.m.
Located in Morristown, Jockey Hollow Bar and Kitchen serves up unique dishes made from fresh, local, and high-quality ingredients. Brunch is served Sunday from 11 a.m to 2 p.m.
Nutley
Cowan's Public from 12 p.m. to 4 p.m. on weekends. Enjoy craft cocktails and microbrews alongside new American style food like Nashville hot chicken and the brunch burger served on a seeded brioche bun, topped with a fried egg.
Point Pleasant Beach
B2 Bistro & Bar offers a Weekend Brunch on Saturdays and Sundays 10am – 2pm. Enjoy Pork Belly & Eggs, Shoe Style Benedict, Bananas Foster French Toast and much more including cocktails.
Ramsey
The Shannon Rose Irish Pub offers weekend brunch from 11 a.m. to 3 p.m. at both its Ramsey and Clifton locations. Varied options include the Shannon Rose Benny, and even the Hangover Burger—served on an English muffin. For reservations and information, click here.
Red Bank
B2 Bistro + Bar in Red Bank weekend brunch Saturdays and Sundays 11am-4pm. Their menu changes seasonally too, so there is always something new to try. Plus, each brunch entrée comes with your choice of a brunch cocktail or soft drink.
The Molly Pitcher Inn offers a la carte brunch on Sundays at 11 a.m. – 3 p.m. Recipient of the Asbury Park Press, Readers' Choice Award for Best Brunch since 1996.
Toast City Diner is a real treat, offering all your favorite breakfast and lunch options, and then some. Check out their other locations in Asbury and Montclair too.
Toms River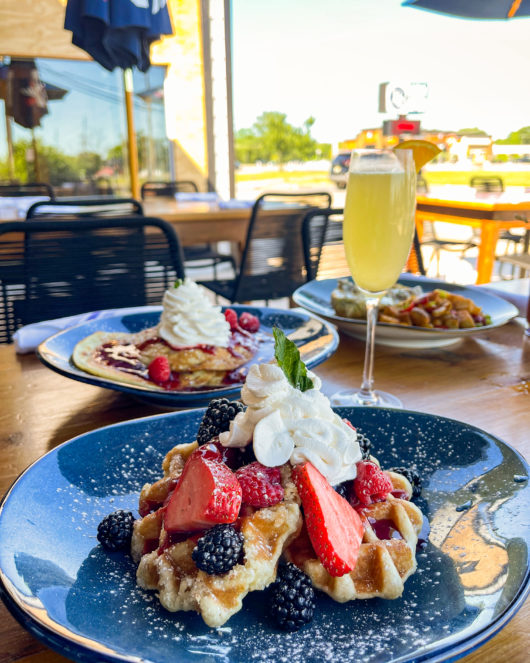 B2 Bistro + Bar offers a delicious weekend Brunch on Saturdays and Sundays from 10am to 2pm. Enjoy dishes like Raspberry & Ricotta Pancakes, Huevos Rancheros, Sausage Gravy & Cheddar Chive Scones and more. B2 Bistro has a liquor license so count on delicious brunch cocktails too.
All images are courtesy of the restaurant unless otherwise noted.