Are you interested in writing for Jersey Bites? Click here to learn how.
Owner: Deborah Smith
Launched in 2007, Jersey Bites began as a home to Deborah's growing collection of recipes, but soon grew into a hub for food news throughout the Garden State. Blogging for nine years about food in New Jersey led Deborah to her latest adventure: authoring The Jersey Shore Cookbook, Fresh Summer Flavors from the Boardwalk and Beyond (Quirk Books, 2016). In addition to her duties as Head Biter (we mean that affectionately) and author, Deborah owns Foxtrot Media, a full-service digital marketing company that specializes in content development, social media marketing and search engine optimization. DSmith@JerseyBites.com
---
Editor: Rachel Bozek is a writer and editor based in suburban Essex County. She loves interviewing chefs and restaurateurs—especially the ones who love New Jersey. She grew up in Bergen County, and has lost track of how much time she's spent on LBI and in the Wildwoods. After graduating from James Madison University, Rachel spent 10 years at Nickelodeon, where she was an editor at Nickelodeon Magazine. Now she does a range of editorial and marketing work, including writing and editing for audiences of all ages, kid-friendly content, marketing research, and of course, Jersey Bites! Through it all, her search for the perfect pancake continues. You can find her at her website, rachelbozek.com.
---
Contributors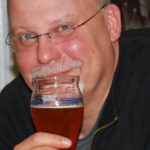 Peter Culos is the editor of "Beer Bites," Jersey Bites' coverage of breweries, bars and good beer in the Garden State. A graphic designer by day, and a lifelong New Jersey resident, Peter was first introduced to the novel idea that beer could actually have flavor during several visits to the UK. He's been riding the craft beer bus ever since. It has been called the ultimate social lubricant and Peter's philosophy on beer is, "I'd rather split my last good beer with a friend than drink the whole thing by myself." Besides beer he also likes history, dogs, Jeeps and painting. In the past, he has written a History and Art blog for the Weider History Group and occasionally contributes to his own blog, history-geek.com. Life is short. Drink good beer.
---
Michael C. Gabriele has been a writer for Jersey Bites since June 2015. He's written two books on the Garden State's diner history (The History of Diners in New Jersey and Stories from New Jersey Diners – Monuments to Community), both published by The History Press. His other books are The Golden Age of Bicycle Racing in New Jersey, and New Jersey Folk Revival Music – History and Tradition. A lifelong Garden State resident, he is a 1975 graduate of Montclair State University and has worked as a journalist, freelance writer and author for more than forty years. Gabriele is a member of the board of trustees for the annual New Jersey Folk Festival at Rutgers University, a member of the executive board for the Nutley Historical Society, and serves on the advisory board of the Clifton Arts Center.
---
V
eronique Deblois, Food & Wine Chickie: Veronique is a food and wine writer based in Morris County. As the author of the popular blog, Food & Wine Chickie Insider, Veronique shares recipes, wine and restaurant reviews and insight into the travel industry of which she's a 15-year veteran. Follow Veronique on Twitter or like her Facebook page.
---
Marina Kennedy is a lifelong resident of New Jersey and delights in cooking and dining out. With a Russian and Italian background, she grew up with parents and grandparents who loved to cook and shared unique family recipes with her. She focuses her articles on delicious, healthy meals and is proud that her four adult children also enjoy cooking. Marina and her husband, Chuck, have had the pleasure of meeting chefs and restaurateurs throughout the metropolitan area and enjoy a wide variety of gourmet cuisine. She looks forward to sharing her culinary experiences with readers of Jersey Bites and looks forward to receiving recommendations and comments from her readers in Somerset County and beyond.
---
Adam Horvath Born and raised in New Jersey, Adam has the good fortune of being born in South Jersey and raised in North Jersey. He grew up working in many neighborhood restaurants, from dishwasher to cook. He likes to say, "I was wearing an apron when my high school friends were fine tuning their tolerance for peach Schnapps and I wouldn't have it any other way."
Adam has a love for indigenous and local foods and when he is not working 50-hour work weeks, he is busy working on his own food/travel blog: foodigenous.com! And while you're at it, check out his IG.
---
Todd Noon has been writing about food and drink for several years, having been a freelance writer for the late Ed Hitzel's Restaurant Magazine and for Flavor Magazine—a publication of the Press of Atlantic City. He is also a nationally published author who has spoken across the country on a variety of economic development topics.
Prior to his current career as a professional grant writer, Todd led three lives. In his first life, he served as Chief of Staff and Press Secretary for a New Jersey State Senator, Interim Chief of Staff for an Assemblyman and a Legislative Aide for a US Congressman, where he handled matters related to defense, foreign affairs, national security and the environment. Todd's second life took place in the private sector, where he worked in sales and program development for two major southern NJ tourist destinations. In his third life, he served as an executive director for a Downtown Improvement District.
Todd, a husband and father to two daughters, attended West Virginia University and graduated from Stockton State College (now Stockton University) with a degree in Political Science. He is a writer at heart and is currently working on a biography, a musical, several short stories, and an inspirational book about overcoming fear based on his recent mission trip to Haiti.
---
Susan Weiner has lived in New Jersey most of her life and currently resides in Middlesex County. She says this is the perfect place for a foodie to live — she has easy access to most of the state's restaurants and she's never too far from anything. Susan was the food editor at the Asbury Park Press for many years, and now loves dining out and writing about food. Email her at sweiner0628@outlook.com and tell her what restaurant she should try next.
---
Mark Neurohr-Pierpaoli is a high school English and History teacher by day, worldwide wanderer by summer vacation. He consumes all manner of road foods, street meats, and regional specialties with gusto as he adventures with his family around New Jersey and beyond. When he's not eating or traveling, he's digging into the history and culture surrounding his perennial favorite foods: hot dogs, sausages, and other sorts of strange, encased meats. Tag along with Mark as he shares his research about the best hot dog serving styles and stands in his latest series, "I Never Sausage a Hot Dog!" You can also check him out on YouTube.
---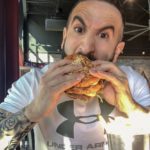 Nick Lepore
is a content creator and food blogger. He has been traveling the world for past 7 years in search of the best burger. He runs the Instagram account
@burger.buff
and has worked with many small businesses, restaurants, and brands like (BurgerFi, Pat Lafrieda, Martin's Potato Rolls, and many more). He has consulted on burger recipes and is also perfecting his own signature double cheeseburger which he serves at "pop up cook outs." He is currently eating a burger every single day for 365 days.
---
Gabrielle Garofalo is a born and bred Jersey girl who spent much of her life in Essex County, with the exception of a fabulous 12+ years in Manhattan. In 2010 she migrated south to Monmouth County, where she loves raising her family near the beach and thoroughly enjoys the amazing local food and drink scene. Consulting for the better part of her career with expertise spanning advertising, marketing, experiential, branding, promotion, and events, she's been passionate about entrepreneurial pursuits since 1999. Throughout her career she's led massive projects for top brands including Vanity Fair, O, The Oprah Magazine, CNN, and Courageous Studios, helped produce the first-ever New Yorker Festival, managed talent and sponsorship integrations for the Billboard Music Awards, and produced New York Magazine's annual food event, Taste of New York. Two years ago, she and a business partner purchased Harvest on the Harbor™, an annual food and drink festival in Portland, ME. Her latest creative venture is her new column, "A Lady Walks into a Bar…," which appears every other Friday and showcase specialty drink and food reviews from bars and restaurants throughout Monmouth County and the northern part of Ocean County. Find her on Facebook and Instagram. A Lady Walks into a Bar™ is owned and trademarked by Gabrielle Garofalo. Photo by Allison Michael Orenstein.
---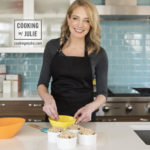 Julie Hartigan
of
Cooking w/ Julie
is a Professional Chef and Recipe Developer who left a career as an engineer to pursue her passion for all things food, cooking, cocktails, and fun! A longtime Jersey resident, Julie splits her time between Hoboken / Asbury Park and loves exploring both cities' ever-changing dining and cocktail scenes…while she talks shop with the chefs. By day, Julie works with brands such as Weight Watchers, Bed Bath Beyond, Real Simple, Food Network, and others and shoots cooking videos, writes recipes, and appears on TV to share her tips and tricks. She's thrilled to bring a "Chef to Chef" perspective to Jersey Bites and introduce you to the standout spots, dishes, and drinks on her must-try list! Follow Julie's culinary adventures and get her recipes, cooking tips, and easy entertaining ideas on
Instagram @cookingwjulie
and on
Facebook at Cooking w Julie
.
---
Deanna Quinones is a freelance writer based in North Jersey. An unrepentant chocolate addict, Deanna spent 20 years in the San Francisco Bay Area where life was good and the burritos even better before returning to her home base in the Garden State. An experienced book marketer, award-winning greeting card writer, and entertainment writing dabbler, Deanna can be reached at deannaq@optimum.net.
---
Mary Wozniak
is a South Jersey freelance writer based in Leeds Point, the home of the Jersey Devil. Mary is a regular contributor to Flavor, a locally-focused food magazine of the Atlantic City Press. She is the Jersey Bites Regional Editor for Atlantic County, which is a foodie's dream—from the celebrity restaurants of Atlantic City to the blueberry farms of Hammonton. Mary can be reached at marywoz815@gmail.com.
---
Christina Carrell is a freelance writer living in historic Medford, New Jersey. As the creator of the blog Fork in the Pines and a lifelong Pine Barrens resident, Christina loves to explore South Jersey's diverse food scene. She grew up learning to cook from her mother and grandmother and loves trying new types of cuisines. After college she continued pursuing her love of writing and food when she taught a food-themed English Composition course at Rutgers. She then worked in nonprofit communications before becoming a freelance writer. In her free time, she loves inventing her own dishes, trying out new restaurants, being a tea enthusiast, and reading. Check out her blog and follow her food adventures on Twitter and Instagram.
---
Lennis Perez
is a food blogger and wellness coach. When she is not coaching her clients, she is
writing on her blog
or recording new intro plant-based recipes for her YouTube channel, inspiring her audience to get into the kitchen and try new easy recipes at home.
---
Jennifer Miller: I am a mom on a mission: to help others foster a love of eating and preparing wonderful food. I am a passionate home cook, wine enthusiast, meal-planning specialist and budding food blogger, with a love of eating, drinking, food photography and serving fresh farm to table meals. As a mother of three, I am committed to raising "foodie" children who enjoy farmer's markets, restaurants and artisan food shops. In addition, I share healthy, in-season recipes and tips on my web site https://mealdiva.com and on Facebook as MealDiva. I am very excited to be contributing to Jersey Bites from Hunterdon County!
---
Gina Glazier is a born and raised Jersey Girl. She recently earned her Master's degree in Reading & Literacy and is currently a teacher. Gina lives with her husband, Matt, who is her number one fan and shares in her passion for the culinary arts, minus the cooking part! Her "culinary life" became a reality a few years back when she was chosen to be a guest of The Star Ledger's Munchmobile. This ignited Gina's desire to be around food and all its counterparts all the time, meaning restaurants, cookbooks, TV shows, cooking, etc. Gina says her "biggest and most monumental experience" was being a part of The Star Ledger's Pizza Patrol two years ago where she traveled the entire state, eating at 3, 4, sometimes 5 pizzerias a night for just about 6 months! You can check out her Hungry Teacher adventures, on her blog www.ahungryteacher.blogspot.com.
---
David Mullen is a retired school psychologist and therapist and a lifelong New Jersey resident. Since retiring he has been pursuing two other passions: wine and writing. During this time, David completed two courses at the Wine School of Philadelphia, culminating in his sommelier certification from The National Wine School. Over the years, David and his wife have traveled and sampled wines from many great wineries all over the country. David firmly believes that New Jersey wineries are still underrated and overlooked. In addition, New Jersey wineries now offer fantastic food and great entertainment at special events such as wine-paired dinners, pasta nights, and farm-to-table dinners. David has visited all of New Jersey's wineries (including a few that are not yet open to the public). He has been blogging about NJ wineries for almost three years (at newjerseyuncorked.com) and his book about New Jersey wineries and wines, entitled New Jersey Uncorked: A Snob-Free Taste of New Jersey Wine was published in August, 2018. When he's not writing or enjoying a good glass of wine, David can often be found playing guitar or doing research for his writing.
---
Melissa Beveridge is a freelance journalist and editor, focusing on great food, healthy living, and wellness. Her passion for eating and living well embodies her writing. A lover of all things Jersey, she is also an avid traveler, always looking to discover those hidden culinary gems everywhere she goes. Her musings can be found on her blog mbeewell.wordpress.com.
---
Terry Krongold is a life-long, passionate baker. In addition to a full-time job in the pharmaceutical industry, Terry has been involved with food for many years, including co-ownership of a dessert catering company in the late eighties called I Love Cheesecake, specializing in fine cheesecake and unique desserts. Terry is the author of The Cook's Tour, a blog focused on food, baking, and travel. When not working, writing, or baking, she spends time planning vacations around restaurants to visit. She can be reached at terry@cookstour.net.
---
Christine Van Arsdalen is a born-and-raised Jersey Girl, native to central and coastal NJ. As the author of the blog the Dexterous Diner, Christine chronicles her efforts as she indulges her foodie side on her very small budget which she likes to call "champagne dining on a beer budget." She grew up being yelled at by an old Italian woman in the kitchen who was, surprisingly, not her mother. Her love of food grew from a combination of cooking in a restaurant and fond memories of creating scrumptious meals from scratch with her father. Today, she travels around the state of New Jersey and beyond searching for new twists on her old favorites: foods that bring you back to your childhood in a modern and sophisticated way. She loves unexpected and creative combinations, both in the food she eats and cooks. Though her palate has become more refined, she is still excited by a grilled cheese sandwich; that, and a great cup of coffee.
---
Kerri Sullivan is a writer, photographer, and librarian from Monmouth County. She enjoys exploring everything New Jersey has to offer, from beaches and historic sites to restaurants and farmer's markets. She also likes books, cats, dessert, and watching the Food Network. She is the founder of Jersey Collective, a New Jersey-based Instagram project. You can see more of her work on her website: kerrisullivan.com and by following her on Instagram @ksulphoto.
---
Charlie Toms is a lifelong New Jerseyan who loves traveling around the Garden State, and visiting places off the beaten path. He's been enjoying New Jersey wine at least since age 21, and has visited all 50 of the state's wineries. Charlie grew up in Colonia, vacationed every summer in Wildwood, and now lives in Ramsey. A project manager by day, he formerly served as the New Jersey correspondent for the American Winery Guide, writing 24 feature articles on the state's wineries. Charlie recently published Road to the Vineyard: Cruising Through New Jersey Wine Country, a 146-page winery guide based on the award-winning documentary Spain – On the Road Again, which provides detailed information on all of New Jersey's wineries, and offers the reader eight unforgettable road trips.
---
Rachel Weston is a freelance food writer, culinary educator and author of New Jersey Fresh: Four Seasons from Farm to Table. She is committed to helping people understand their food system and how to make seasonally inspired meals for their families from foods produced locally. Sign up for her monthly newsletter, Cooking with Rachel Weston.
---
Kathy Mathieu
is the owner and creator of
Food Sharing Network
, an inclusive blog about all things food. She started the site after she realized that almost all conversations turned to food. In a conservative estimate, she lays claim to having made more than 14,000 dinners. Mathieu also is the owner-operator of
The Red Wagon Group
, a NJ-based firm specializing in traditional and new media.
---
Danielle Zilg
is a Jersey Bites Regional Editor for Monmouth and Ocean counties. She is a firm believer that good food, good wine, and good company are key ingredients to a fulfilling life. As Robert Mondavi once said, "Enjoying fine food and wine at the family table, surrounded by your loved ones and friends, is not just a joy—it's one of the highest forms of living." When Danielle isn't enjoying great food and wine, she's sitting in her beach chair in beautiful Lavallette. Follow Danielle on Instagram
@platesandpours
to see what's on her plate and in her glass. Cheers!