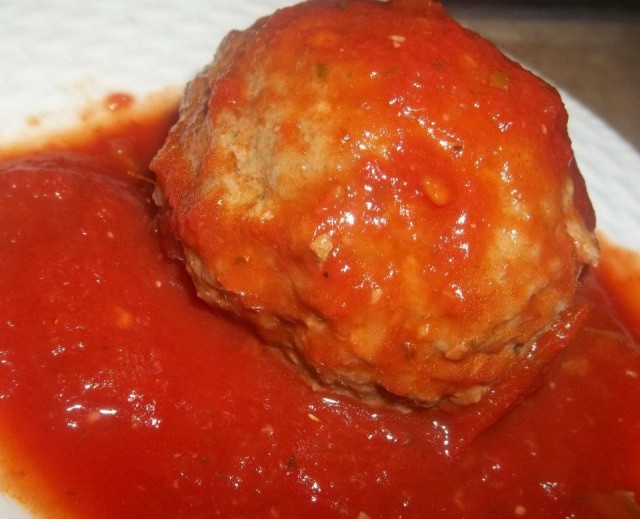 While Johnny DeCarlo, a.k.a. Johnny Meatballs, doesn't have a brick-and-mortar location, this totally mobile meatball-making machine is getting ready to kick off his sixth year spanning the Garden State, bringing his meatballs to street fairs, feasts, festivals and farmers' markets. His first event for 2014 will be in Haworth, on May 4. In the meantime, he delivers by the tray and is also available for catering.
So for National Meatball Day, is there anyone better to talk to than Johnny Meatballs? We didn't think so, either.
JERSEY BITES: How will you be celebrating National Meatball Day?
JOHNNY MEATBALLS: I'll be doing the same thing I do every Sunday: making them and eating them. I have meatball day several times a week, and almost daily in the summer months when I'm out in the streets regularly. Next week I'll be visiting some news morning shows to celebrate this meatball craze.

Describe the ideal meal that includes meatballs.
That would be a Sunday, New Jersey, Italian-style day. Giant antipasto platter to start with various salami and cheeses. Then you've got the macaroni, the big bowl of meat from the gravy/sauce, sausages, bracioles, of course, meatballs. Then insalate after that, vino flowing. Old school all the way: friends, family, food!
Why are some meatballs heavy and dense while others are light and tender?
That's all in how much or little you mix the mixture. First of all, no outside implements [are allowed]. You use your hands. Now you work everything in the bowl and incorporate all the ingredients but cannot overdo it. There is no set time—when you can pick up the whole mix like a giant meatloaf and it doesn't fall apart at all, you're ready to roll.
Can you share some of your meatball-making secrets?
I include sweet caramelized onions as opposed to using them raw, as some may. I cook them down in a pan and get them soft and golden, which is followed by a quick chill before I stir them into the mix. Then I add my proprietary, special 10-spice blend, a savory mix of salt, pepper, oregano, parsley, garlic powder and five other carefully selected herbs and seasonings. The sweet onions and the savory spices provide a perfect blend of flavor, which makes my meatballs unique.
To soak the bread or not to soak the bread? That is the question.
Soaking stale bread in water or milk is one of those techniques used by our grandmothers that may or may not carry on to the next generation of meatball makers in a family. Whether doing that as opposed to just using breadcrumbs makes for a moister or "better" meatball, well, that's all a matter of opinion. My mixture is always moist because I use liquid eggs and I keep water running, or a bucket of water to continuously be sure my hands are also wet.
What's your most memorable meatball to date?
I had a great meatball down in Atlantic City. It may not have been my all-time favorite, but it was very, very good. From a classic joint—those are the types of places I like to eat at, that have been around for years and the people that come are part of the fabric of the establishment because the generations continue to come. And it was a great night out with my whole family and that's what it's all about.
Ever met a meatball you didn't like?
Probably not. In my experiences, I have always been able to find a redeeming quality in a meatball. Although I did have one recently with peanuts in it that was a little weird, but I'd rather not talk about that at the moment.

Do you ever get sick of meatballs?
Now I couldn't say if I did, I'm Johnny Meatballs, after all! In all seriousness, I like to pace myself and not overdo it. I really don't eat them more than once a week. That's how it's been since I was five years old.
What's the story behind your video series?
The Johnny Meatballs Experience, on my YouTube channel, is an underdog story about life as a street food vendor in New Jersey, but more importantly, as an independently owned local little guy. It developed when the Super Bowl came here and I was finding it extremely difficult to get involved in the festivities up against all the corporations. So I got together with a film crew and we made a series of videos, which will be released in the spring in the form of a full-length documentary—or "doc-u-meat-ary," as we call it.
For details about his schedule or to place an order, here are a few ways to keep up with this man on a mission.
Email Johnny Meatballs at johnny.decarlo@gmail.com
Follow Johnny Meatballs on Facebook.
Follow Johnny Meatballs on Twitter.
Go to the Johnny Meatballs website.
Photos courtesy of Johnny DeCarlo.
Rachel Bozek is a writer and editor based in suburban Essex County. She loves interviewing chefs and restaurateurs—especially the ones who love New Jersey. She grew up in Bergen County, and has lost track of how much time she's spent on LBI and in the Wildwoods. After graduating from James Madison University, Rachel spent a decade at Nickelodeon, where she was an editor at Nickelodeon Magazine. Now she does a range of editorial work, including trivia writing for all ages, kid-friendly content, marketing research, and of course, Jersey Bites! Her other areas of focus include coverage of the optical industry and college magazine writing. Through it all, her search for the perfect pancake continues. You can find her on Twitter (@rachelbozek) or view some of her work here.