Festival of the Sea, Point Pleasant Beach. Saturday, September 17th. Thirty four years of growth, 60,000 people attend. Held in the off season to extend the tourist season. Twenty-five of the Shore's best restaurants serving landlubber and seafood delights. Over 225 crafters & artists, plus other exhibits and games for the whole family. Plenty of tables around so you can eat and enjoy the live entertainment. The Festival runs from 10 am -7 pm, so you can enjoy lunch and dinner. Also, featuring shuttles, so parking is not a problem. This is a street fair, so there is no entrance fee. The Festival is followed at night by "Fireworks" donated by Jenkinson's at Jenkinson's Beach. A wonderful day for the whole family!!!
26th Annual NJ Oktoberfest Sept. 17th with family activities including lumberjack contests, pie-eating contests, a magic show, and pony rides will be held at the Crystal Springs Resort, Hamburg. In addition to authentic German beers, there will be an Oktoberfest menu including roasted pig and lamb, knockwurst, weisswurst, potato pancakes, Black Forest cake, and strudel. Noon to 9 PM, rain or shine; free admission. Click for more information or call 973-827-5996 ext 2.
WMGK's 1st Annual Brew Blast on the Battleship New Jersey, Sept. 17th Sample over 50 of the finest craft beers in the nation on the tented deck of one of our nation's most revered battleships, The Battleship NJ. WMGK's House Band will be playing live. TICKETS: $45. Each ticket includes a voucher entitling the holder to a free Battleship tour FOOD: Authentic Oktoberfest Franks, Sausages and Artisan Cheeses will be provided by Dietz & Watson. Participating beers and brands include: Brooklyn Lager & Brooklyn Post Road Pumpkin, Flying Fish Octoberfish, Great Lakes Oktoberfest & Great Lakes Elliot Ness, Harpoon Octoberfest and Pumpkin, Lagunitas, Long Trail Harvest,Ommegang Belgian Pale Ale & Ommegang Hennepin,Shiner Bock & Oktoberfest, Shipyard, Sierra Nevada Tumbler, Sixpoint, Stoudts, Troegs, Unibroue, Victory, Weyerbacher. Click for more info.
Fall Harvest Festival at Allaire Village Apples were a staple commodity during the 19th century. They were easy to preserve and could be prepared a mulititude of ways. In addition to demonstrations in cider pressing, learn how apple cider was made. Sample a cup of hot mulled cider and a slice of apple cake. Children can enjoy bobbing for apples and an apple toss. Sunday, September 18 1 – 4 pm. Admission: Adults – $5, Children 12 and under – $3 Horse and Carriage Rides are additional: Adults – $7.50, Children – $5.
New Jersey Restaurant Week. Governor Christie and Lt. Governor Guadagno have declared the week of September 18-25, 2011 as NJ Restaurant Week, and New Jersey Restaurant Association, the statewide business organization representing NJ's eating & drinking establishments is proud to sponsor this statewide event with restaurants in every corner of the State offering multi-course lunch and dinner specials for $19.00 or less and $35.00 or less respectively. Thank you for supporting NJ restaurants this week and everyday!. Follow the link for participating restaurants.
Jersey Shore Culinary Classic to benefit The Foodbank of Monmouth and Ocean Counties. September 19th at the Mill at Spring Lake Heights. Introduced in 1992 to help sustain the FoodBank's mission, 20 years later it is still considered the original, largest and most widely known tasting event at the Jersey Shore. Big Joe Henry of NJ 101.5 will be the Master of Ceremonies. Tickets are only $75.00… please call 732-918-2600 or click here to purchase online.
Boulevard Five72, Kenilworth will host a farm dinner at Dreyer's Farm on Sept. 18th to benefit the Liddy Shriver Sarcoma Initiative. 3:30 PM; $125 plus tax and gratuity. For tickets, call 908-709-1200.
Cooking Lesson: Christine Nunn, owner and chef at the FABULOUS Picnic restaurant in Fair Lawn (See Our Review) is doing a cooking demonstration at the Upper Saddle River Library on September 21 from 6-7:30. Event is open to all Library cardholders in Bergen County, free but reservations are required.
The Shannon Rose Irish Pub in Clifton and Woodbridge is 'calling all Arthurs' and Guinness fans to join in the global Arthur's Day celebration on Thursday, September 22. Anyone in the community named Arthur or whose name starts with "Art," with proper identification, will receive a free Shannon Rose Burger (value of $7.99), voted "Best Burger" in Clifton. Click for more information.
Other Arthur's Day festivities include $4 Guinness and Guinness mixes, a special Guinness menu featuring Guinness as the main ingredient, live Irish entertainment, Guinness-themed prizes and "The Great Guinness Toast," taking place at exactly 17:59 p.m. GMT (5:59 p.m. EST), the time Arthur Guinness signed the infamous lease. "We're excited to participate in the world-wide celebration of Arthur's Day at The Shannon Rose Irish Pub and we hope to see a lot of 'Arthurs' come out for this event," said Kurt Pahlitzsch, Vice President of Specialty Restaurants "Get ready to raise your glasses with fellow Guinness fans around the globe as we simultaneously toast to Arthur, the man who created our beloved beer."
Mary's Place by the Sea is Celebrating their New Home with Paella and Entertainment after a tour. September 24, 2011 Time: 6:30pm-10:00pm Location: 25 Ocean Avenue Ocean Grove, NJ 07756 Featuring an authentic taste of Spain: tapas, paella, sangria and beer Steve Reilly Band and Flamenco Dancing. Rain or Shine, Tickets are Limited, Purchase Today! Tickets: $100 per person. Purchase tickets online at the link below or call 732.455.5345
Farm to Table Wine Tasting Event, Saturday, September 24 Eat and Drink For a Reason is a nonprofit organization that merges the foodie and the philanthropist in us all. Adam & Alicia Winters invite you into their Scotch Plains home for a unique culinary fundraiser to benefit the Children's Specialized Hospital. Food & Wine to be donated by Savory Spice Shop, Cool Vines and Bayberry Caterers and Alan's Orchard. Visit website for ticket purchases and information.
The Margate Fall Funfest By The Bay,to be held on September 24 and 25 of 2011, has become Margate's signature event. The Funfest draws tens of thousands of people to Margate from all over the region. The Funfest provides two full days of excitement and features a variety of entertainment activities, including a juried show of fine arts and crafts, fabulous gourmet foods, live musical entertainment, educational exhibits, carnival games, Ray Scott's Dock 'Wetlands Wonderland'and the 14th Annual Dog Show held at Steve and Cookies By The Bay. Last but not least, relax and enjoy a scenic boat ride through the back bays and sandy beaches provided by the Jessie O fishing fleet. Hours: 10:00 a.m. to 7:00 p.m., Saturday and 10:00 a.m. to 6:00 p.m. Sunday.
Bloomfield Harvestfest, September 24 & 25th, Bloomfield's biggest celebration. Two food courts serving festival and ethnic food favorites. For more information click here.
Baykeeper's Annual Clambake September 25th, Fort Hancock Chapel on Sandy Hook in New Jersey. Festivities run from noon to 4pm with registration beginning at 11:30am. Fun in the sun, good food, good friends, music, seining and a toast to some of Baykeeper's hardest working friends and allies. Click for more info.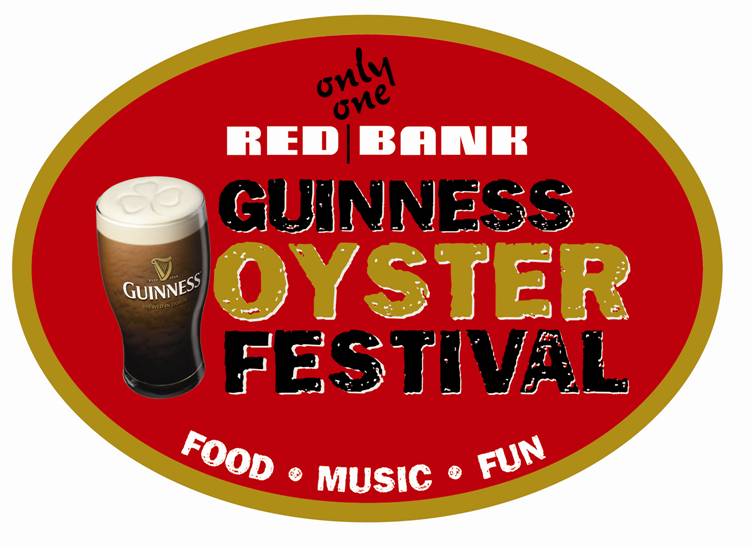 Red Bank Guinness Oyster Fest: Sunday, September 25, 2011 Noon – 7PM. White Street Parking Lot.  The event will also be a culinary feast! There will be tons of GUINNESS and fresh OYSTERS plusm25 of Red Bank's favorite restaurants will be serving a variety of specialty menu items including everything from Mini-Ruebens to Lobster Rolls.  Wine and lighter beers will also be available for purchase.  The after-party begins at 7PM at THE DUBLIN HOUSE 30 Monmouth Street, adjacent to the festival site. The Guinness Oyster Festival is a fundraiser for the Jane H. Booker Cancer Center at Riverview Medical Center, The Cancer Institute of NJ Foundation and Red Bank River Center.
WRAT's Asbury Park Beerfest Saturday, October 8th. Conventional Hall, Session 1 -12:00PM-4:0PM Session 2 – 6:00PM-10:0PM $25 In Advance $30 At The Door Ticket. $10 Designated Driver Ticket. Click for more information.
Organized Crime, Fine Dining, Baseball and Laughs at Trenton Thunder Stadium. "The Falsetto's Murder" dinner theater on October 15 at 7:00 pm in the Yankee Club & Conference Center at Waterfront Park. Tickets are $49 each and include a gourmet dinner menu and a performance of the regionally-renowned show. Seating is limited and can be reserved by contacting the Thunder 609-394-3300 ext 116 or tickets can be purchased online right here. LIMITED SEATS REMAIN

Coming Soon:3SquareDeals.com, Where Deals Make a Difference in partnership with The Community FoodBank of New Jersey.  Register today to Enter to Win an Overnight Stay and Dinner for Two at Harrah's Resort and be the first to hear about the official launch of the site!