Everyone has a favorite metro coffee shop in bustling hubs like Montclair, Jersey City, Red Bank, Hoboken, and Asbury Park. At these spots, you can grab your single-origin to-go pour-over before heading out for the day. Don't get me wrong, I love those places! For me, though, there is nothing quite like a small-town coffee shop. A tiny nook in the center of town where you can meet up with friends, sit with a book, or just watch the world go by as you breathe in your perfect cup of steamy hot beverage.
Everything seems to slow down in these cozy, magical places! Now that the holiday season is behind us, you might find yourself with a little extra time to linger over that cup of joe, tea, or mocha latte. Why not make an afternoon of it? I made a few mornings and afternoons of it, so that I could bring you a taste of my favorite cozy spots across the state, along with some ideas of other things to do once you are caffeinated—and fed. I hope you will be inspired to grab a friend, a book, or both- and take a winter drive to find your own favorite cup of cozy this winter!
Cloveberry: A Winter Wonderland in New Jersey's Lake Region
Located in Sparta, Cloveberry has been supplying locals and tourists alike with a caffeine kick and tasty fare for over 10 years. Cloveberry offers a unique selection of specialty hot and cold beverages and baked goods, as well as breakfast and lunch items, with a strong focus on using fresh, local, and organic ingredients whenever possible. The menu features many gluten-free and vegan choices as well.
My Cup of Cozy
I found my cup of cozy at Cloveberry in a maple latte, on frosty winter day. For me, this cup was latte perfection. The maple lightly sweetened the coffee with light, almost toffee, notes and enhanced the coffee flavor so much better than sugar ever could! My latte was topped with steamed coconut milk swirled in whimsical leaf pattern that made me smile! Also worth noting in their specialty beverage list is the golden ginger latte, made with turmeric, ginger, almond milk, and an added shot of espresso. This was a wonderfully warm and spicy drink that kept me toasty as I headed out to check out Lake Mohawk.
Traditional or Gluten Free
Cloveberry offers an array of delicious baked goods with a surprising number of gluten free options. My picks were a gluten-free blueberry muffin and a piece cinnamon coffee cake. The muffin was fresh, sweet, bursting with blueberries, and had a nice crumb texture on top. The coffee cake had a thick ribbon of cinnamon running through the inside, along with a great crumb topping.
Still Hungry?
After the almost 2.5-hour drive up from Toms River, I was hungry! Upon arriving, I was happy to see that Cloveberry offers a substantial menu of breakfast and lunch café fare, such as breakfast sandwiches, bowls, salads, and wraps all made with fresh local ingredients as well as a few light options of protein oatmeal and chia pudding. I went with the halloumi chimichurri wrap with sweet potatoes, beets, halloumi cheese, peppers, onions, spinach, chimichurri and hummus. All of the textures and flavors of this wrap made every bite delicious!
Looking For More?
A few short blocks away from Cloveberry, you will find majestic Lake Mohawk. I was honestly in awe to see the lake in all its frozen glory and I spent some time on the small boardwalk taking in the scenery, despite the icy chill. Designed to look like an Alpine Village, the downtown area of Sparta along Mohawk Lake has a few small shops that I found my way into: the homemade chocolate shop, Nutty Over Sweets, is not to be missed.
Also Close By
The Skylands region of New Jersey is truly a winter wonderland and offers an array of outdoor activities for all ages. Young or young at heart? After a snowfall, grab a sled and head over to Sussex Country Community College where families take advantage of the fresh fallen snow on the hilly campus green.
Sussex County Community College: 1 College Hill Rd, Newton, NJ 07860.
For a real outdoor winter adventure head up to the High Point Cross Country Ski Center to rent snow shoes or cross-country skies and get some fresh air and exercise while you take in the winter scenery. Lessons also available. See their website for more information.
Cloveberry
21 Main Street
Sparta, NJ
973-512-3074
Scout's Coffee Bar + Mercantile- Hiking Heaven
Located on High Bridge's Main Street, Scout's Coffee Bar + Mercantile is a cozy spot to settle in and watch the morning go by or to fuel up for a hike or bike ride on the nearby Columbia Trail. Scout's also features many pop-up events in its connecting space, dubbed The Parlor. Past events have included holiday cabaret, live jazz and tacos, coffee socials, and artisan craft and vendor markets. Check their website or follow them on social media for updates.
My Cup of Cozy
I found my cup of cozy at Scouts in a lavender latte. Slightly floral in scent and flavor, this deep, rich, and creamy latte had me dreaming of spring! Scouts has a number of unique seasonal and specialty coffee and tea drinks on the menu as well as traditional favorites, sourced from from Square One and Homestead Roasters, both located right over the border, in neighboring PA.
Cookies and Muffins and Bars, Oh, My!
Scouts offers an amazing array of house-made muffins, cookies, brownies, and bars, as well as croissants and scones. I was eager to enjoy my pistachio-chocolate-chip muffin, which is a newer offering at the shop, and had the perfect amount of chocolate chips! I have to admit that the lemon bars and the magic bars also looked divine and will be on my list for the next time I visit.
Still Hungry?
In addition to a grab-and-go bar of salads and breakfast burritos and sandwiches, Scouts offers a very on-trend menu of topped toast and oatmeal bowls. Bread for the toast menu is brought in fresh from Bread and Culture, in Hillsborough, and topped with either savory or sweet options. I ordered the special of the day, Winter Toast, which includes whole-grain cultured bread slathered with handmade ricotta from Lebanon Cheese Company, cranberry puree, fresh thyme, crispy sweet potatoes, and flake salt. It was the perfect mix of sweet and savory flavors, and crispy and creamy textures. The steel-cut oat bowls come in comforting varieties including apple pie, spiced maple, and banana pecan.
Looking for More?
A short walk from Scouts is the start of the Columbia Trail. This trail is a beautiful and well-maintained path that leads from Main Street in High Bridge to Califon, then Long Valley, and finally Bartley, for a total distance of about 30 miles. And while the entire trail is more manageable to navigate on a bicycle, you can certainly take in the beautiful wooded scenery and walk along the path for less than a mile to reach an upper view of Lake Solitude Dam and its manmade waterfall. Along the way, you'll enjoy spotting quaint and quirky gnome houses the locals have placed along the forest trail.
If your walk in the cold has you thirsty for more than coffee, the Highrail Brewing Company is also located on High Bridge's Main Street—stop in for a flight or pint.
Also Close By
Planning to visit Scouts this month? You can make a day of it by heading over to the Environmental Education Center in Basking Ridge, less than 30 minutes away, for Maple Sugaring demonstrations. Upcoming dates include February 20, 26, and 27. Check out their website for preregistration, information, and details.
Scout's Coffee Bar + Mercantile
11 Main Street
High Bridge, NJ 08829
908-617-5369
The Union Market and Gallery: At the Shore
The Union Market and Gallery, in Tuckerton, opened its doors in 2017 and quickly became known as both a community gathering place and a spot for local artisans to display and sell their wares. The walls are filled with bright and colorful art and on the surrounding shelves you can find unique gifts and trinkets such as locally made jewelry, soaps, cards, hot sauce, and more!
My Cup of Cozy
I found my perfect cup of cozy at the Union Market with a chai latte, on a downright cold Saturday. Creamy, sweet, and lightly spiced, this warm and comforting cup hit all the right notes! If you are looking for a perfect cup of coffee you won't be disappointed! The Union Market brings in its beans from local roasters, Offshore Coffee Co.
Come for the Cozy…Stay for Breakfast or Lunch
The Union Market offers all-day, made-to-order breakfast and lunch items with catchy names that play off band and song titles. I was hungry so I ordered the Notorious P.I.G., a French-toast-battered croissant topped with a fried egg and crispy bacon, served with syrup or homemade strawberry jam. This sweet and savory combination really hit the spot. My husband was very happy with his Pixie bowl filled with eggs, cheese, and sausage, with added seasoned potatoes and sriracha on the side. If you are looking for a quick bite or something #healthy2022, check out the grab-and-go case or the juice and smoothie bar.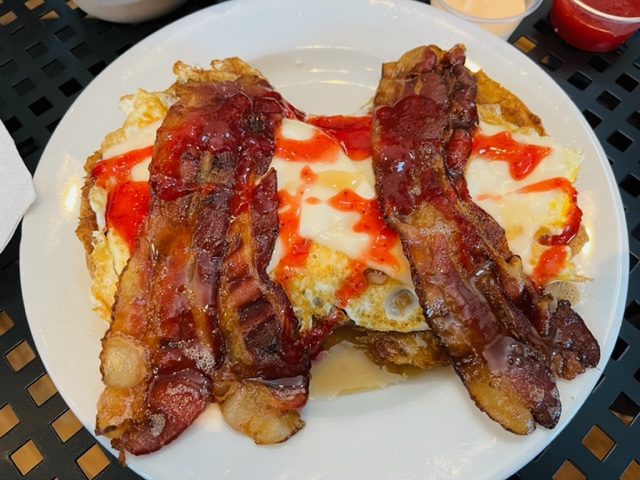 Looking for More?
Located right next door to the Union Market is the historic Tuckerton Seaport and Museum. The Seaport hosts many classes in traditional folk art throughout the year. See their website for more information.
Also Close By
If an outdoor adventure is what you crave, look no further than the Edwin B. Forsythe National Wildlife Refuge. With nearby entrances out of Galloway and West Creek, you will find plenty of trails with views of the surrounding marsh and wildlife in every season. Bundle up and check out the website to plan your visit.
The Union Market and Gallery
120 W. Main Street
Tuckerton, NJ
609-879-5799
The Moth Coffeehouse: Small Town Charm
Located in Allentown's historic mill, something about the the Moth's exposed beams, rough hewn wood, and the way the light streams in through the deep-set windows, just feels right. This rustic and charming spot specializes in vegan food, and an ever-changing menu of fantastic baked goods and, of course, a great selection of teas and coffee drinks.
My Cup of Cozy
I found my perfect cup in a dirty chai with the Moth's house-made vegan sweet cream. As its name promises, this option is at once sweet and creamy, with just enough warming spice. The added espresso got me buzzing through the day. The Moth's beans are brought in locally from Davan Roasters, in Forked River, NJ. They're featured on a full menu of specialty coffee drinks as well as hot and iced familiar favorites. The selection of hot teas are sourced from another NJ spot, Wise Ape teas, in Haddonfield, and are organic tea blends, boosted with adaptogens.
Grab a Scone!
The scones at the Moth are not to be missed. They have a deliciously buttery, craggy top that holds just the right amount of coarse sugar. Be warned, though, as they sell out fast! If you happen to miss out, don't worry, there are plenty of cookies, bars, cakes and cupcakes to keep your sweet tooth happy. The Moth also creates spectacular, special order vegan cakes for all occasions.
Still Hungry?
If you are looking for breakfast or lunch, the Moth has you covered. An extremely popular dish, and one I happen to love, is the homemade beet burger, served on naan, with a side salad. Other popular dishes include quiche made with local, organic eggs, vegan mac and cheese, and grilled cheese on ciabatta with stoneground mustard.
Looking For More?
Drop into a yoga class at the Movement, located upstairs from the Moth, then watch the ducks ignore the cold as they swim in the mill pond or take a stroll on the Heritage Park walking path, which is visible from the Mill's parking lot and is an easy, flat, paved trail of less than a mile—a great way to enjoy a mild winter day.
Also Close By
Windy Farm Alpacas, just a short drive away, in Chesterfield, is a delightful way to spend an afternoon. They are open on weekends throughout the winter. Make a reservation so you can enjoy a farm tour and one-on-one time interaction with these beautiful animals. See the farm's website for contact information and pricing.
The Moth Coffeehouse
42 S. Main St #1685
Allentown, NJ
609-208-3900
Colonial Café: A Historic Spot with Small City Vibes
Located on a quiet corner in the historic downtown shopping district of Mt. Holly, NJ, the Colonial Café is the go-to spot for fresh, local coffee. How local is the coffee? While visiting this charming spot, I learned that the signature blend, Iron Works, is roasted just seven miles away, at the Café owners' other venture, Evermore Coffee Roasters, located in Burlington, NJ. Now that's local!
My Cup of Cozy
I found my perfect cup of cozy at the Colonial Café in a Black Forest latte. This delicious cup is made with espresso, milk or milk alternative, mocha, maraschino cherry juice, almond extract, and, of course, is topped with a maraschino cherry. This creation is not too sweet and I found it to include a nice combination of flavors. The Colonial Café offers other seasonal specialties including the s'mores latte and matcha London Fog as well as other traditional coffee and tea selections.
Baked Goods
The Colonial Café brings in fresh baked goods daily from Le Bus, in Pennsylvania. But get there early or order ahead, as these delicious treats disappear fast! I was able to get my hands on a decadent chocolate croissant. I can see why they are in high demand.
Still Hungry?
The Colonial Café offers a few light bites for breakfast and lunch. Guests can choose from breakfast bowls and sandwiches, grilled cheese, or a BLT. I went for the avocado toast on my visit. Smashed avocado on seven-grain bread with feta cheese, red pepper flakes, tomato, fresh greens, and balsamic drizzle. It looked like a work of art and really hit the spot!
Looking for More?
The Colonial Café is located in the historic Mill Race Village section of Mt. Holly. In this walking neighborhood you will find antique shops and galleries as well as craft and collectable shops, a teddy bear emporium, a metaphysical shop, and more!
Also Close By
Historic Smithville Park, which includes Smith's Woods and Smithville Mansion, is a beautiful spot to enjoy some fresh air and exercise. The mansion itself is closed for tours until spring. Until then, you'll find miles of marked hiking trails on the grounds throughout this 312-acre park. Make the trip to check out the diverse terrain of forest, meadows, streams, and views of Smithville Lake. For park hours and information, please visit their website.
Colonial Café
14 White Street
Mt. Holly, NJ
609-267-5353