The writer was invited to visit La Mer and the Pier House Restaurant + Wine Bar, and the stay was complimentary.
It was our first real getaway in over a year and we were beyond excited to visit Cape May again. Being fully vaccinated, we were eager to get out, meet new people, taste new food, and just live life. We had originally been invited to visit La Mer Beachfront Resort last spring, but for all the obvious reasons, our trip had to be rescheduled. The good news about all of this is that this weekend was well worth the wait.
Accommodations
Our gorgeous room was on the fourth floor, oceanside. A comfortable sitting area opened out to the balcony with a beautiful view of the beach and the opportunity for early risers to catch the Cape May sunrise. On our second morning, we sipped our coffee as a school of dolphins entertained us with exciting out-of-water acrobatics.
In season (June to September), the resort offers complimentary beach service. Attendants provide guests with chairs, towels, and umbrellas, so no need to pack your beach gear. If you want to really relax in style, you can rent a luxurious cabana for the day. I hope to be back for that.
The resort's beautiful outdoor heated pool is available early June through September, weather permitting. Lounge chairs, perfect for sunbathing and enjoying a cocktail, line the pool's edge.
Getting Around
On our first night, we decided to head into town for dinner at 410 Bank Street. It was still spring, and the weather was a touch chilly, so Kent, at the front desk, was so helpful and called the free ride service in town. All they request is that you tip your driver. It was a fun way to get to where we were going.
During peak season, this option might be hard to secure. In that case, Uber and Lyft are available and bike rentals offer a convenient solution. And it's a very nice walk into town as well. The area is home to many regal estates which make for great sightseeing.
What to Do
On Saturday, we decided to take the short drive to Beach Plum Farm, in West Cape May. In the spring, the tulips were breathtaking. The farm supplies many Cape May restaurants with their pork, eggs, and produce. It's a great place for a long, scenic walk, or you might want to grab some goodies from the farm store, located in the main Amish barn. You can also enjoy a farm-fresh breakfast or lunch from The Kitchen and picnic at one of their many outdoor tables.
We knew we had a big dinner ahead of us at La Mer's restaurant, so we passed on lunch and headed back to downtown for some shopping and cocktails.
Dinner at the Pier House Restaurant + Wine Bar
Dinner was at La Mer's Pier House Restaurant + Wine Bar. I started with a refreshing sparkling white sangria. The menu includes a great selection of specialty cocktails in addition to a wonderful wine and beer list.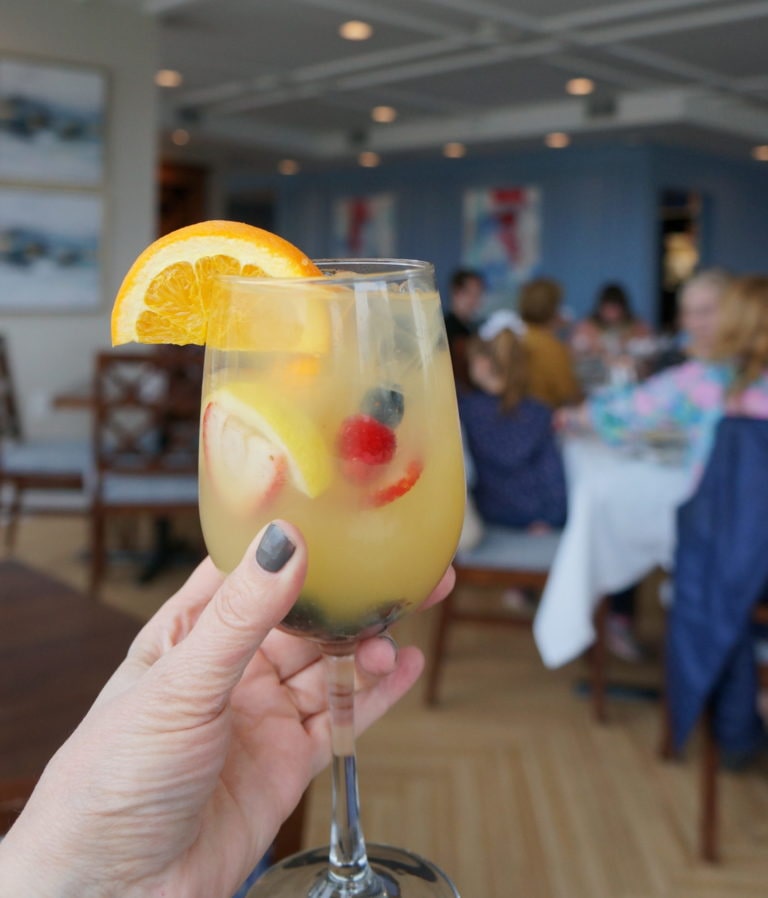 My appetizer choice for the evening was the escargot a la Bourguignonne because when I see escargot on a menu, I must have it. Peter opted for the roasted clams. Both appetizers were perfectly on point—and gone in seconds.
For my entrée, I decided on the Chilean sea bass with grilled veggies over the creamiest risotto.
Both of our seafood entrees were cooked to perfection which is so critical with fish. Peter and I were very impressed with the portion sizes also and since I had just inhaled large quantities of butter with my appetizer, half of this generous dish was going to come home with me. I was suddenly very grateful for the efficiency kitchen in our hotel room, as that microwave would come in handy later.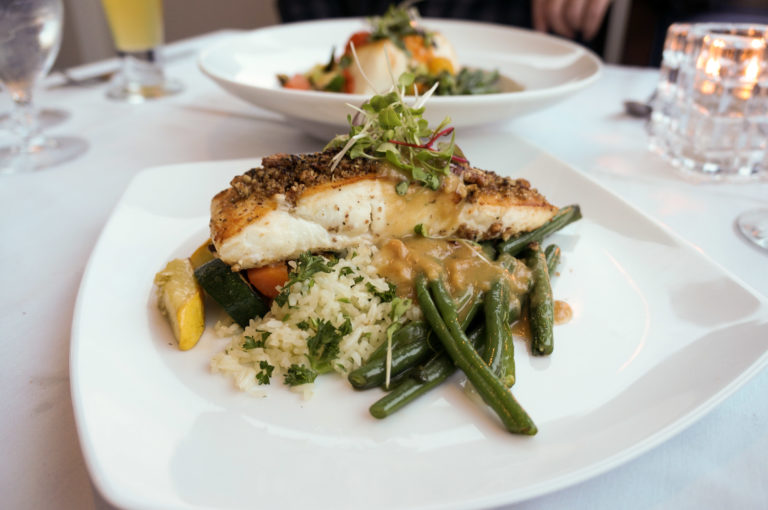 The Pier House's menu offers several seafood options, and while that's to be expected at a seaside resort, they also provide excellent options for meat lovers like grilled filet mignon, ribeye steak, and a delicious sounding pork chop with apple bourbon glaze. (I will be trying that one next time.)
Back for Breakfast
We were back at The Pier House the next morning for some picks from the breakfast menu. I was instantly drawn to the salmon plate, a build-your-own-beautiful-bagel options including smoked salmon, chopped hard boiled egg, scallions, capers, red onion, tomatoes, and cream cheese. I was in savory-breakfast Heaven.
We promised ourselves we'll try the carne asada breakfast burrito, another of the restaurant's most popular dishes, the next time we're in town. After all of our weekend indulging, we decided to hold off this time. But the description of marinated beef tips, scrambled eggs, cheddar and Monterey jack, cilantro, avocado, flour tortilla, house-made salsa, sour cream, and a side of potatoes, leaves us with yet another thing to look forward to upon our return.
With very full bellies, we headed back to our room for one last look at the view before packing up and heading home.
On our way out of town on this picture-perfect day, we had to stop by to visit the Cape May Lighthouse. If you've never been, do yourself a favor and put it on your list for your next trip to Cape May. It is truly a wonder and a lovely place for a leisurely walk and to experience a very different side of Cape May.
From beginning to end, we truly relished our first mini-vacation in over a year. Our room was stunning, the food fabulous and the company of strangers absolutely exhilarating. If you have yet to visit Cape May, one of New Jersey's most prized gems, you need to make it a point. Just head south on the Parkway and go to the end. It couldn't get any easier. While you're there, venture out of downtown. There is so much to see and do!