As a child, Tino Procaccini spent Sundays helping his mother cook. Procaccini, a descendant of Italian immigrants, understands the importance of a family meal. As he grew older, his initial plans to become a police officer didn't come to pass, so he shifted gears into the food industry to bring those same family dinners to diners throughout New Jersey.
"I guess [cooking is] just really a passion of mine," Procaccini says, of pivoting toward opening his first restaurant. "It comes from just being Italian."
What's in a Name?
Osteria Procaccini, an artisan Italian restaurant featuring pizzas, sandwiches, pastas, and other classics, opened its doors in Kingston, New Jersey, in 1999. Almost immediately, Tino was faced with customers questioning the restaurant's pronunciation—the spelling was even difficult for a simple Google search! It made sense to rebrand, and the restaurant became Tino's Artisan Pizza Co. Now there are four locations around the Garden State, with the Ocean Grove, Madison, and Jersey City spots joining the original Kingston location.
Procaccini doesn't take his menu lightly; he uses only high-quality ingredients, most of which are sourced through local partners throughout the Tri-State Area. The restaurant has a heavy focus on sustainability. Each dish is 100% all-natural with clean, non-GMO ingredients and is about 40% organic. "Being 100% organic comes with a higher cost, which is difficult especially during these times," Tino said. "However, eventually I would love to be a 100% organic pizza concept."
"At the time, when the police academy didn't work out, I worked at Whole Foods for two years…And my dad was diagnosed with cancer," Procaccini says. "It was a perfect storm for me to do the all-natural and sustainable thing. I always try to make it better and better."
In terms of recycling and keeping their carbon footprint low, each town's rules and offerings are different. Still, Procaccini is willing to spend the money to make sure his restaurants are doing everything possible on the sustainability front. He's even looked into composting programs. "It's important. You see what's going on in the world, I always feel like, 'Pay it forward for all of us.'"
Despite sourcing as much as he can locally, there are a few items Procaccini will only order from Italy—starting with the pizza ovens.
"In Europe they've been [using] these pizza ovens since the beginning of time, by hand," he says. "I just feel like the quality is so much better." Procaccini has extra virgin olive oil shipped from Italy as well.
With nearly two dozen pizza options, plus plenty of sandwiches and salads on the menu, first-time diners might have a hard time deciding what to order. Procaccini's best piece of advice? Start with the Margherita pizza.
"The Margherita is the most traditional; doesn't throw anybody off," he says, "If you like that, I think you'll like everything else."
For those who are more adventurous—or who have graduated from the Margherita taste test—Procaccini recommends the Ruchetta pizza, which features prosciutto, mozzarella, baby arugula, and shaved Parmesan, with a balsamic reduction and olive oil. "You have to have the taste buds for it," he adds.
You will not be disappointed with any of the menu options. The salads and antipasti are so fresh and full of flavor. If you are looking for a unique appetizer try the truffled honey and goat cheese bruschetta. Tino's uses a sourdough bread that is then drizzled with truffled honey and sprinkled goat cheese crumbles. So simple. So addicting.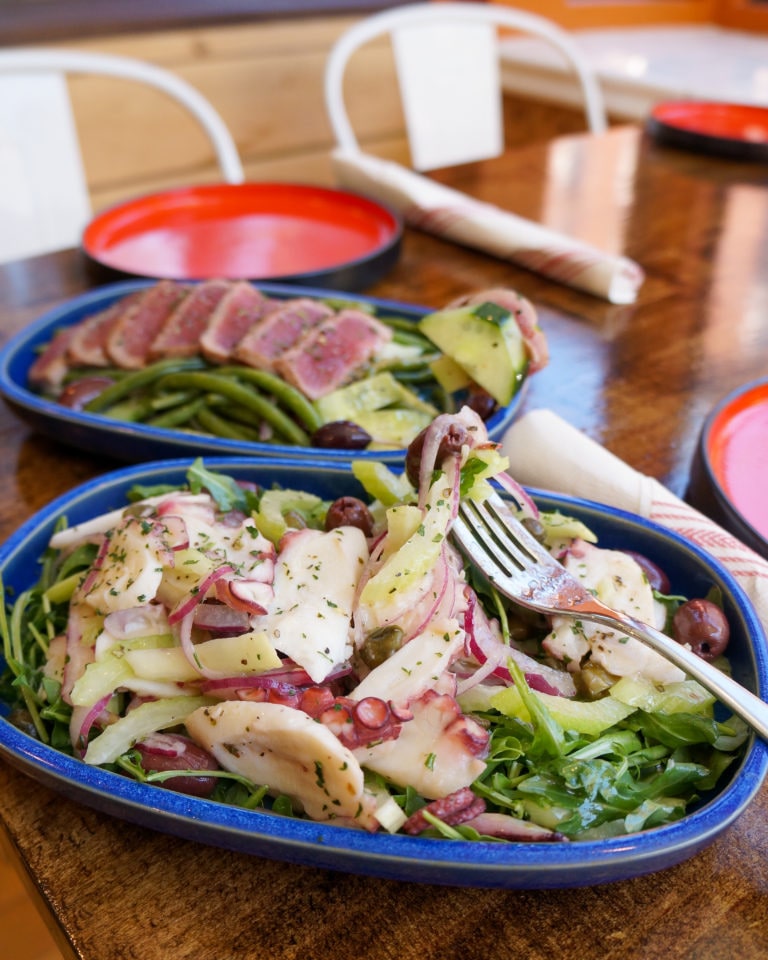 Coming Soon
A fifth location is in the works in New Jersey. Tino and his team are also looking to expand the brand to additional locations in New Jersey and out of state as well.
And yes, Tino's is hiring.
Visit the Tino's Artisan Pizza Co. website for menus and hours.