Welcome to Jersey Bites Buzz 2017! Here are a few of the latest restaurant openings around the Garden State. Have a restaurant/food outlet opening, closing, or other key development to share? Email your news to info@jerseybites.com.
Now Open!
Azucar Cuban Cuisine
171 Schraalenburgh Road
Closter
201-660-7977
Following a soft opening in mid January and an official opening on January 26 with a ribbon-cutting ceremony that involved the mayor of Closter as well as New Jersey Senator Bob Menendez, the relaunch of Azucar in Closter follows the restaurant's former 13-year location in Edgewater (from 1995 to 2008) and a brief move to Jersey City since then. In its cozy new 6,000 square-foot space, featuring a restaurant on one side and a bar on the other, diners will appreciate the opportunity to dig into chef/owner Nick Vazquez's Cuban sandwich, a signature item that beat Bobby Flay's own entry on Flay's televised Cuban Sandwich Throwdown several years back. "We slow-roast our ham for five to six hours and use the best ingredients, including premium Swiss cheese, fresh bread made in a French style for a bit of crispiness, and kosher pickles because it's all about the details," Vazquez explained. He added that the restaurant's shrimp dishes all feature pure and sweet Panamanian shrimp and promised that his Gambas al Ajillo (shrimp in garlic sauce) served with fluffy white rice "will make guests feel warm and fuzzy."  According to Vazquez, a native of Cuba, "the restaurant looks like a place you'd see in Cuba right now, from the native mahogany wood we used to the blood-red walls and array of authentic memorabilia on the walls that I've been collecting for years." His daughter, Lauren, serves as owner and his son, Nick, manages the bar. He continued, "It's like a quasi-museum, restaurant, and bar with great food and music – a total experience." While its prior location in Edgewater (and past smoking laws) enabled the restaurant to feature a dedicated cigar room years back, Azucar has retained its license to sell cigars and will soon unveil an outdoor patio space where cigar smoking will be permitted. "We hope guests will come try us and enjoy one of our signature mojitos," Vazquez said. "We're a little piece of paradise in Closter."
Bareburger
129 Vervalen Street
Closter
201-660-7720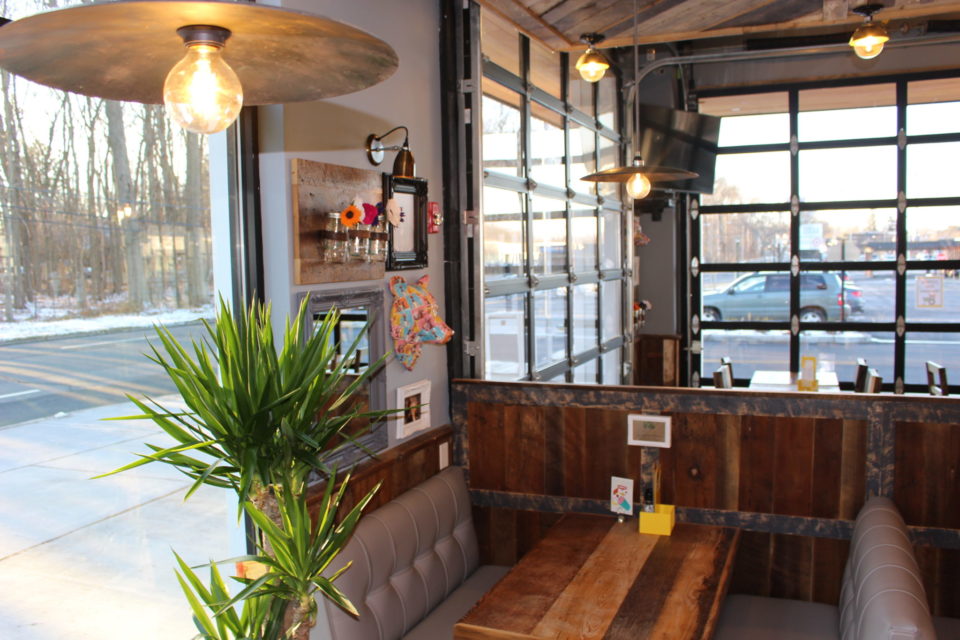 Opened on January 16, Bareburger's most recent location, in Closter, is the fourth New Jersey site for the popular burger chain, which has outlets in Edgewater, Hoboken, and Montclair as well as nearly 40 other locations in five countries. Featuring a range of locally sourced, organic, and all-natural burgers, snacks, and more—including its popular Buckaroo burger, a grass-fed beef burger topped with shredded beef brisket, wild mushrooms, smoked barbeque sauce, and cheddar cheese—"we also offer burgers made from bison, elk, wild boar, turkey, and chicken as well as veggie burgers, salads, and crops, which are salads featuring a collection of vegetables instead of greens," said General Manager Angela DeMaio, who previously served as general manager of the chain's Montclair location. While the restaurant seats 80 and is decorated with rustic accents including reclaimed wood and other sustainable materials, similar to the Montclair location, "our new Closter location has a large bar and a full liquor license," said DeMaio, who noted that Closter's recent growth and renovation was a definite draw for the expanding chain. (The Montclair location is BYOB.) "We offer a warm and family-friendly dining experience and have been super busy so far," she added.
Charlie's of Bay Head (pictured above)
72 Bridge Avenue
Bay Head
732-295-1110
Opened during the last week of January, Charlie's of Bay Head is the first restaurant in town with a liquor license and features a contemporary American menu highlighting local and seasonal foods as well as premium Angus beef, a deep selection of seafood dishes (including both east and west coast oysters), and house-made desserts. "Our main dining area on the first level seats 90 guests and includes a large, comfortable bar featuring 20 taps of hand-crafted beers—many local, ingredient-driven cocktails, and big-screen TVs for viewing sports events," shared a restaurant spokesperson. "For small, special gatherings, there's a second-level dining area for private affairs of up to 60 people as well as a state-of-the-art wine room with a private dining area for 24 guests." According to the spokesperson, the restaurant's interior is designed in a modern traditional style on a neutral canvas with brick and copper accents; a contemporary waterfall 'screen' separates the dining room from the bar/lounge area and fireplace, while the stately exterior reflects classic Shore coastal architecture with wood shingles and white wood trim. "In the warmer months, Charlie's will offer outdoor deck dining with stunning waterfront views of Twilight Lake," added the spokesperson, who confirmed that the entire Charlie's team is excited about the dining outlet's debut. Open year-round and serving dinner from 4:30 p.m. (closed on Tuesdays), "it's a spectacular new restaurant and a great addition to the Bay Head community," he said.
Massaman Thai Cuisine
312 Hackensack Street
Carlstadt
201-559-1424
Thai food lovers have welcomed this casual and cozy restaurant, which opened on December 1 and seats 32 people. Popular menu items include pad Thai as well as a variety of curries, each of which gain their distinct flavor from the use of either fresh or dried chile (for example, the restaurant uses fresh chile for its signature Massaman curry). "Customers are also enjoying our spaghetti with green curry, made with Italian spaghetti and green curry from Thailand, which offers two different world cuisine experiences at the same time," said owner Pakkapol Chaipaksa, a native of Thailand, who garnered industry experience working in Philadelphia-area restaurants with family members. "Customers tell us that they love our delicious flavors and that the experience at Massaman Thai Cuisine feels just like coming home." 
The Quarter House Restaurant (pictured at top)
1001 Arnold Avenue
Point Pleasant
732-202-6678
Open since December 21, The Quarter House opened its doors on the former site of Captain Ed's, a restaurant which operated from 1998 to 2015. "We serve seafood, steak, and New Orleans specialties," shared owner and Louisiana native Scarlett Dell. Among signature menu items at the BYOB restaurant are blackened red fish seared in a cast iron pan topped with a lump crabmeat cream sauce, a thick-cut prime bone-in pork chop topped with bourbon-glazed apples, and dry-aged steaks. "We also feature a delicious char-broiled oyster appetizer served with a butter and cheese blend as well as decadent desserts including bread pudding, bananas foster, and New York-style cheesecake served with berries in a grand Marnier sauce," said Dell, who noted that many of the eatery's most popular menu items will be familiar to patrons of The Quarter House's former iteration, F-Cove Restaurant, in Brick. With its new location, new name, and bright and fully renovated decor complete with rustic oak floors, a dark polished wood ceiling, off-white and gray walls, and attractive lighting, "business has been great so far," Dell said. "On Sundays, in addition to our dinner service, we also offer breakfast and lunch, with our own homemade bloody Mary mix, which is always a big hit," she said, noting that the restaurant features linen tablecloths and candles but is never stuffy. "Overall, we offer great food in a fun, relaxed setting."

Spice Club
Jersey City
201-763-6063

Opened during the first week of December, Spice Club specializes in Indian and Indo-Chinese cuisine with an emphasis on Indian curries. "Among our specialties are triple Schezwan fried rice—a mix of rice, noodles, and Manchurian-style cabbage balls—as well as Chinese bhel and biryanis made with goat or chicken that are slow-cooked in dum style for three to four hours," said owner Nikhil Raikundalia. "Every rice has its own aroma and is made in the Hyderabadi Dum style," he said, referring to the unique culinary techniques used in India's Hyderabad region. At the quiet and cozy BYOB restaurant, which seats 20 and has a bustling takeout business, "we take pride in our menu and each and every dish is made to perfection," Raikundalia said.