Whether you're entertaining a group, feeding your family, or just looking for a warm-you-up-for-winter option for yourself, one of these soup recipes from chefs all over the Garden State is sure to hit the spot.
Butternut Squash Soup
Courtesy of Todd Phillips, chef at Beach Plum Farm
Yields 12 8 oz. servings.
Ingredients:
1 large butternut squash
2 yellow onions, medium dice
4 garlic cloves, roughly chopped
½ cup olive oil
1 cup flour
2 teaspoons ground coriander
2 teaspoons ground cinnamon
¼ teaspoon ground nutmeg
¼ teaspoon ground cloves
⅛ teaspoon ground cayenne
2 tablespoons salt
½ tablespoon ground black pepper
6 cups vegetable stock
½ cup cider vinegar
¼ cup honey
1 cup heavy cream
Directions:
Preheat oven to 350°F.
Cut butternut squash in half and lay face down on a baking sheet lined with parchment paper.
Roast in 350°F oven for 30 to 45 minutes, until squash is tender and the edges have slightly caramelized.
Allow to cool, remove and discard squash skin and reserve cooked squash.
In a large pot, cook onions and garlic on medium heat, until onions are translucent.
Add flour, dry spices, salt and pepper and mix well.
Slowly add vegetable stock and vinegar while whisking.
Simmer for 5 minutes, stirring often to avoid burning.
Mix in honey and heavy cream and remove from heat.
Puree soup in a blender to finish. (Always start blender on lowest speed while soup is hot, gradually increasing the speed until soup is smooth.)
---
Caldo Verde (Potato and Collard Greens Soup)
Courtesy of Ilson Goncalves, owner/culinary director at Samba Montclair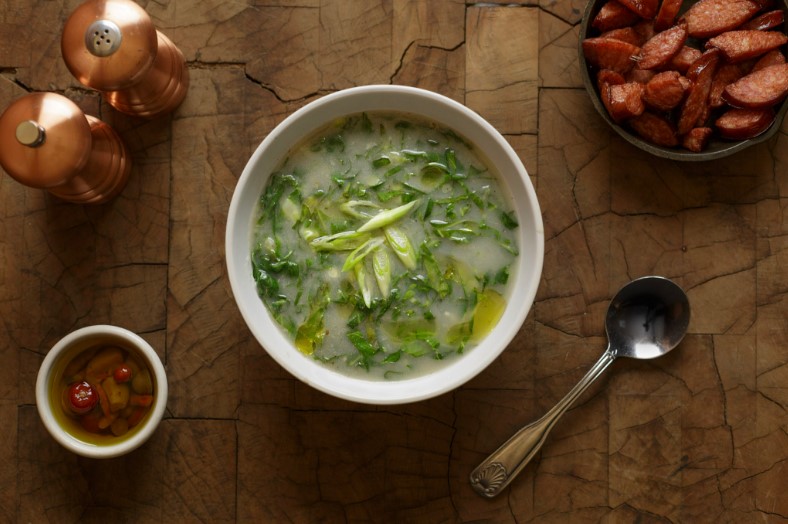 Serves 4.
Ingredients:
1 lb russet potatoes, peeled and diced (large chunks)
6 cups vegetable stock
3 garlic cloves
5 leaves collard greens, without stems and cut into thin strips
Extra-virgin olive oil
2 tablespoons chopped scallions
Salt and pepper
Directions:
In a large pan, combine potatoes, vegetable stock, 1 garlic clove and ¼ teaspoon of salt. Bring to a boil and simmer until potatoes are completely soft.
Blend potatoes with the remaining liquid in a high-speed blender.
Mince remaining garlic. In a large frying pan, quickly sauté garlic.
Add collard greens and cook for about 2 minutes.
Return potato

soup

to the pan and bring to a boil. Dilute using more vegetable stock if it's too thick. Add collard greens and turn off heat.
Add salt and pepper to taste.
Just before serving, drizzle with olive oil and garnish with chopped scallions. Traditionally, the

soup

is also topped with fried pork sausage, but you can keep it vegetarian if you prefer.
---
Curried Coconut and Carrot Soup
Courtesy of Phil Weikel, executive chef at Linwood Country Club
Yields 3 quarts.
Ingredients: 
4 garlic cloves, smashed
1 Spanish onion, sliced
2 oz. ginger, peeled and chopped
5 teaspoons Madras curry powder
2½ lbs carrots, peeled and roughly chopped
3 ribs celery, roughly chopped
2 cups vegetable stock
6 cups coconut milk
5 teaspoons salt
2 teaspoons sriracha
1 tablespoon extra-virgin olive oil
Directions:
Heat olive oil in a 4-quart pot and add garlic, onions and ginger. Sauté until the onions are translucent.
Add curry powder, carrots and celery. Sauté for 4 to 5 minutes over medium heat.
Add vegetable stock, coconut milk and salt. Simmer until all ingredients are soft (about 15-20 minutes).
Transfer into a blender and blend until smooth. Garnish with cilantro leaves.
---
Miso Soup
Courtesy of Julián Valencia, chef at Ani Ramen House
A note from Chef Julián Valencia: Miso soup is a traditional Japanese soup made out of stock (usually dashi, but vegetarian, chicken or pork stock can be used also) and miso paste (fermented soy beans). There are many kinds of miso. Rice and barley are ingredients used to make miso paste as well. Miso can be salty, sweet, fruity and earthy all at the same time, but that depends also on the kind of miso to be used.
When making miso soup, I like to use more than one type of miso. Mixing certain types of miso creates a well balanced condiment, and an explosion of flavors not only for soups, but it is great for dressings, sauces, marinades. For this recipe I have chosen shiro (white) and aka (red) miso, since these can be easily found in the refrigerated area of most supermarkets.
Shiro miso provides a lighter sweet flavor, on the other hand aka miso since is fermented for a longer period of time gives the miso a stronger and deeper flavor.
For me miso is a love-hate story. When I was first introduced to the flavors of Japan, I was not used to fermented foods. Miso wasn't my favorite. Many Japanese start their mornings with a hearty  bowl of miso soup for breakfast. I remembered being served a bowl of miso at 8:30 in the morning. It was not a memorable experience. I couldn't finish it. For me is was a process to start loving it. Luckily, I discovered the beauty of miso. (Half of our recipes at Ani Ramen House include miso paste.) And it's important to note that it is very affordable, and very healthy.
This recipe is vegetarian friendly. To make it 100% vegan, avoid using sugar or replace the sugar with coconut sugar.
Serves 2.
Ingredients:
2 cups water
2 dry shitake mushrooms
2½ tablespoons shiro miso
1½ tablespoons aka miso
½ tablespoon sugar
2 tablespoons soy sauce
¼ teaspoon sesame oil
1 tablespoon vegetable oil
¼ teaspoon grated garlic
¼ teaspoon grated ginger
¼ teaspoon hot sauce (optional)
½ cup diced tofu
½ cup finely cut scallions
½ cup diced carrots
½ cup diced onions
Dry wakame (seaweed), optional
Instructions:
Put the dry shitake mushrooms into the water, and bring it to a boil. Let it sit and wait until the shitake mushrooms rehydrate. Remove the dry shitake and slice thin.
In a mixing bowl, add shiro miso, aka miso, sugar, soy sauce, sesame oil, grated garlic and grated ginger. (Hot sauce is optional!) Mix well.
In a sautéed pan add vegetable oil and sauté all your vegetables except the tofu. Give the vegetables a nice seared and add the water, along with the tofu. Bring it to a boil and add the whole mixture of miso, making sure it dissolves. Once it boils again, remove immediately from the fire. Miso tends to get saltier when cooked for too long.
---
New England Clam Chowder
Courtesy of Jeremy Einhorn, executive chef of Blue Pig Tavern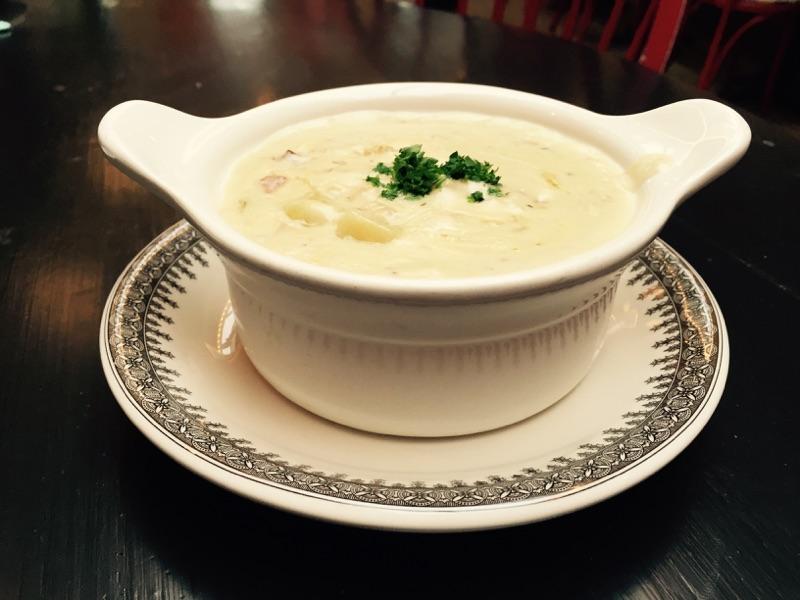 Yields about 6 servings.
Ingredients:
3 cups of bacon
3 onions
3 celery stalks
1 oz. all-purpose flour
1½ cans of canned clam juice
1½ quarts heavy cream
1½ cans of canned clams
1 lb potatoes
Worcestershire
Tabasco
Salt and pepper
Directions:
In a large pot, add bacon and cook halfway through.
Add vegetables and butter, then cook until onions are translucent.
Add flour and mix continuously to avoid burning.
Add clam juice and mix thoroughly.
Bring to a boil and add cream, clams and potatoes. Remove from heat when potatoes are almost done (al dente).
Add salt, pepper, Tabasco and Worcestershire sauce, to taste.
---
Ricotta Green Pea Soup
Courtesy of Gino Iovino, chef at Girasole
Serves 4.
Ingredients:
2 tablespoons olive oil
4 tablespoons butter
3 oz. onions
2 cups raw green peas
3 cups vegetable stock
1 large leek slice
2 oz. green peas, cooked
2 oz. ricotta cheese
Mint
2 oz. fresh ricotta cheese
Black pepper
Instructions:
Heat medium heavy pot over medium heat.
Add olive oil.
Add 3 tablespoons butter and tilt the pot to coat it and melt the butter.
Add onions and cook 5 minutes.
Season with salt and pepper.
Stir in the raw peas, stirring occasionally.
Add vegetable stock and cook for 15 minutes.
Remove and put it in the blender.
To decorate the soup, sauté the leeks, the other green peas, and fresh ricotta cheese, as well as a few sprigs of mint and some black pepper.
---
Split Pea Soup with Ham
Courtesy of Ken Klein, chef at McCullough's Pub and Restaurant
Yields 32 8 oz. servings.
Ingredients:
2 lbs split peas (no need to soak)
2 gallons chicken stock
1 large ham shank
2 large onions, diced small dice
4 garlic cloves, minced
1 tablespoon oregano
2 teaspoons black pepper
2 bay leaves
3 cups carrots, diced medium
2 cups celery, diced small dice
Salt, to taste
Instructions:
Combine first 8 ingredients (up to and including the bay leaves) and a pinch of salt in large pot, bring to boil.
Reduce heat and simmer for 1½ hours. Remove ham shank. (Let cool enough to handle safely.)
Add carrots and celery, let simmer another 1½ to 2 hours. While

soup

is simmering, remove meat from shank and cut into medium dice.
Add diced ham at end and check seasoning. Enjoy with your favorite croutons.
---
Sweet Curry-Carrot with Tamarind Chicken and Red Pepper Powder
Courtesy of Jon Suarez,  co-executive chef at the Ho-Ho-Kus Inn & Tavern
Serves 6 to 8.
Ingredients:
¼ cup canola oil
½ lb carrots, chopped
¼ lb Spanish white onion, chopped
¼ cup light brown sugar
½ teaspoon curry powder
¼ teaspoon fennel seed
½ teaspoon coriander seed
¼ teaspoon black pepper seed
¼ teaspoon ground cinnamon
⅛ teaspoon caraway seed
½ teaspoon salt
1 oz. butter
1 oz. white wine
1½ garlic cloves
For garnish:
1 ancho chili
3 sequin peppers
¼ teaspoon dried garlic powder

For chicken:
6 oz. boneless skinless chicken thighs
⅛ canola oil
2 oz. seedless tamarind paste
1 cup warm water
Directions:
Heat small stock pot with ¼ cup canola oil. Add carrots and onions.
Stir onions and carrot, add brown sugar until sugar is fully incorporated.
Deglaze carrots, onions, and sugar with white wine.
Once alcohol has evaporated, add toasted, ground spices and stir. Cover vegetables with water or chicken stock until carrots are soft enough to puncture with a knife.
Puree in blender, strain out residual liquid. Finish by stirring in cold butter.
For chicken:
Season chicken thighs with salt and pepper.
Heat small sauce pot with ⅛ cup canola oil. Once hot, add chicken. Cook each side for 2 minutes over medium heat. Cover chicken with cold water, and cook over medium heat for 35 min.
Remove chicken and shred with tamarind paste, gradually add warm water to loosen.
For dried chili powder:
Toast chili and peppers over medium heat until atomic (about 1 minute).
Combine in spice grinder or blender with dried garlic powder.
---
Vegetable Gnocchetti Soup
Courtesy of Gino Iovino, chef at Girasole
Serves 4.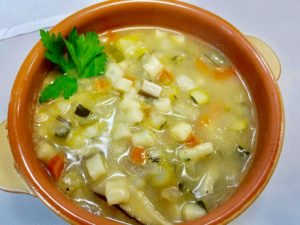 Ingredients:
3 tablespoons extra virgin olive oil
4 oz. diced Spanish onions
4 oz. sliced asparagus
4 oz. diced carrots
4 oz. diced zucchini
4 oz. sliced mushrooms
4 oz. diced celery
4 oz. gnocchetti pasta
½ oz. parsley
2 twigs thyme
4 cups water
Instructions:
Heat medium heavy pot on medium heat.
Add extra virgin olive oil.
Begin adding vegetables and herbs.
Saute for 5 minutes (add dash of salt and pepper, to taste).
Add water.
Cook for 20 minutes, stirring occasionally.
Add pasta.
Cook 5 minutes (or until pasta is cooked).