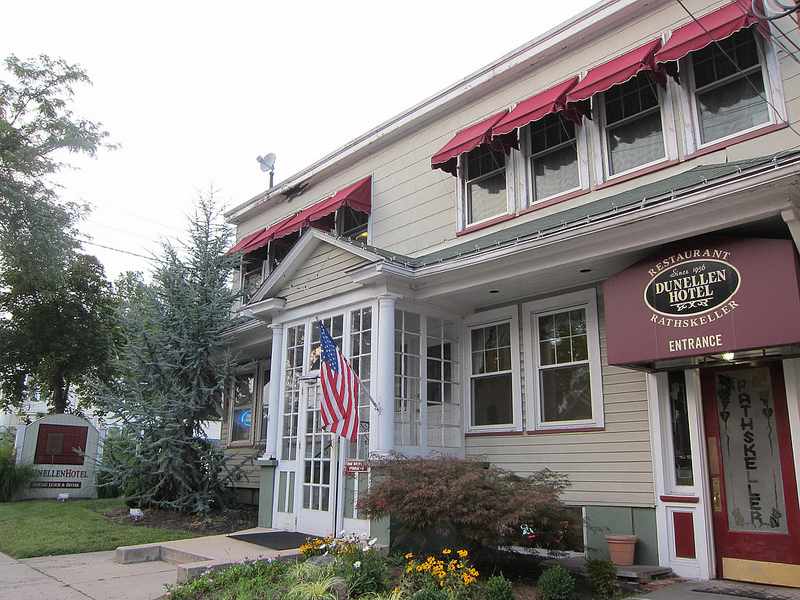 A restaurant's name is important. Whether towering a busy street or adorning a quaint downtown storefront, the name and its presentation evoke an expectation, a mood, and even a price point. Maybe that's why, despite living less than two miles away for more than 25 years, Dunellen Hotel escaped my radar. The charming Victorian home on the corner of Washington Ave. and Front St. had every indication of being a hotel. I mean, it said "Dunellen Hotel" on the sign! But thanks to a very lucky "nearby" search on Foursquare, I found out that the only room you'll need to reserve is in your stomach.
Though it was a hotel at one point in its rich history, Dunellen Hotel has acted as a restaurant for a long time, serving delicious, humble American grub since 1925. Its history and history being made are evident as soon as you enter its doors. Upstairs, you'll find a perfectly acceptable (albeit dated) dining room. Most recommend heading downstairs, though, to the Rathskeller. By definition, a rathskeller is a 'beer hall or restaurant in a basement." At Dunellen Hotel, it's the building's vastly superior gathering space, abuzz with lively locals sipping from the above-average beer menu and munching on complimentary popcorn while waiting for their meals. It's undeniably warm and cozy, and unlike many modern brewpubs trying to emulate its ambiance, impressively uncontrived. This isn't a spot for beer aficionados, but it is the venue for those who equally value the company of good food and good conversation.
The reasonably-sized (and priced!) menu offers a few unique gems among its typical fare of burgers, sandwiches, pizzas, and salads – in particular, their speciality – a lobster reuben, boasting a mound of shredded lobster and sauerkraut, bubbling over with swiss cheese on fresh rye.
The immense and consistent adulation of Dunellen Hotel's triple onion soup is not unwarranted. It's gotten people (including me) into the door and heightened the standards of one of my lifelong favorite foods. Unsurpassed in its richness and flavor, it's a must-try for first course. Deep, beefy broth is molten beneath a thick crust of swiss and provolone cheeses so plentiful that they drape the sides like tapestry waiting to be pried off with your spoon. The cheese is baked atop a raft of crusty bread that maintains its integrity against the broth. The only thing holding this soup back from perfection is the sometimes-undercooked onions that I end up straining for more broth in my final bites.
Not feeling soupy? Go for the hot crab dip, baked with copious amounts of its key ingredients – crab, cheese, and Old Bay seasoning. Small enough for one but heavy enough for two, it's served with toasted pita points that act as a perfect vessel for scooping up the last bits of the creamy mixture. Most importantly, this is crab dip, not other-stuff-dip with a hint of crab. My Baltimore-born and raised mother would be quite pleased.
The entrees have always been hits – my favorites include the Rathskeller burger (a burger topped with Jersey pork roll and American cheese), the prime rib sandwich, and the pulled pork BBQ sandwich. Most recently, though, I've fallen in love with the hotel pot roast. To be fair, I don't eat or order pot roast with any degree of frequency. One particular night, however, I was craving something hearty and comforting, and what could one possibly prescribe besides a mammoth slab of meat with gravy and mashed potatoes? My eyes widened as the platter approached my table, and nearly rolled onto the table when I tasted the tender, flavorful shreds of meat. The gravy, with which they could have been a bit more generous, was silky and luscious, almost too thin to be gravy but just thick enough to disqualify itself as a glaze. I wanted to smother everything – the creamy, buttery, perfectly seasoned mashed potatoes and adequate-but-comparably-average vegetable medley – in that gravy. You likely won't need a knife for this meal, but you'll definitely need extra gravy (and, really, when wouldn't you? Gravy is perfect).
The dessert menu is stacked with classics – a brownie sundae, apple pie a la mode, rice pudding, and the like. I've, unfortunately, never made it that far. But now that I know that Dunellen Hotel is simply a great restaurant, I have ample opportunity to return. If you're seeking great American grub and a place to unwind over a pint with some pals, I highly recommend you stay awhile – no booking necessary.
Dunellen Hotel
120 N. Washington Ave.
Dunellen, NJ 08812
Jessica Perry is a lifelong New Jersey resident and Journalism and Media Studies graduate whose love of music, food, and writing about both have taken her far beyond the Garden State lines. She hasn't heartwarming childhood memories of Sunday suppers, but she does have a lifelong commitment to eating across the map and fervently consuming food media. While she loves traveling and sampling from her nationwide restaurant document, little can compete with readily available pork roll and 24-hour diners. When she's not eating, she's at a punk show or researching where to eat en route to one. She's always accepting recommendations for the best brunches, bagels, burritos, buffalo wings, barbecue…you get the idea. Not to mention she will happily dole out some of her own whether you're in Long Beach, N.J. or Long Beach, Calif. – See more at: http://www.jerseybites.com/the-team/#sthash.cptivYzE.dpuf