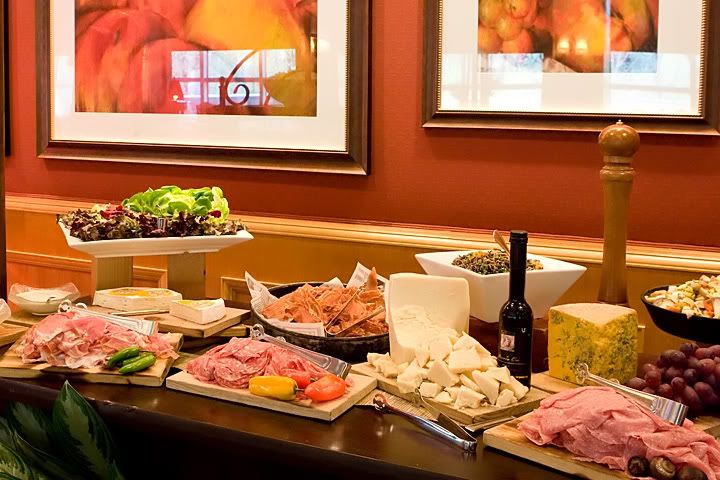 It's my family's thing — brunch. Father's Day, Mother's Day, Christmas morning, even random Sundays, it's the one place my entire opinion-infused family can be happy. Mom can enjoy some smoked salmon, capers and onions on a bed of a cream cheesed bagel, while Dad can get an omelette made to order. My sister and her husband can feast on the fine cheeses and whatever's being offered at the carving station. And my nephew can ogle at the dessert table until he has finished five bites of his waffles. Brunch places — and good ones at that — is where you'll find us on special weekend mornings.
So what do I eat? I usually hit the bread bar for a croissant and jelly, and sample cold cuts, cheeses and fruits — it's a smorgasbord of sweet and savory. Usually, it's a hit or miss, but at The Terrace in Hilton in Short Hills, I was not disappointed. I had ham, prosciutto and swiss cheese for round one, and my mouth watered the entire time. For round two, I indulged in a scoop of brie and a slice of aged cheddar. (Of course, my jellied croissant was there every step of the way.)
And yes, that's all it took to fill me up. If you're a fan of all that I mentioned and have a family who might agree, I suggest that you pay the Hilton in Short Hills a visit for brunch on weekends. And if that wasn't enough to love it, the service was pretty amazing, and the ambiance was quite elegant.
The Terrace
41 John F. Kennedy Parkway
Short Hills, NJ 07078
Tel: 973-379-0100
Ysolt Usigan is the beauty and style editor for iVillage, a lifestyle blogger for Huffington Post, and a total foodie. From hot dogs to escargot, if it's edible, she'll explore. She might not be the best cook, but what she lacks in kitchen know-how, she makes up for in her research and reporting skills. And oh yeah, she's also proud to be a Jersey girl and will prove to any one who might disagree that the Garden State has a plethora of dining options that give the big city eateries a run for their money.