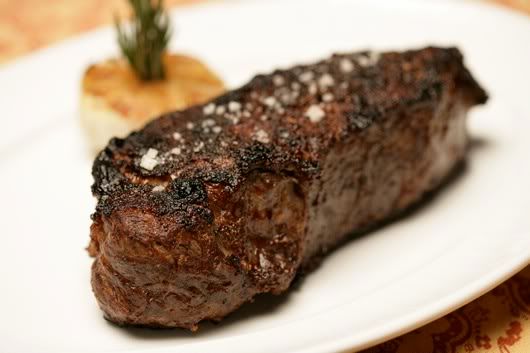 You ever get into the habit of eating — well — everything? My boyfriend and I have been on a dining frenzy since the moment we met, you'd think we had just discovered food or something.  But really, we just discovered each other. We're two foodies in a pod.
This past weekend, we dined at Strip House,  located inside The Westminster Hotel in Livingston, NJ. And, it was sexy from the ambiance to the food.
My boyfriend, Vin, loves a "proper steak." To him, that can be defined by one that's cooked at a perfect medium rare with just the right seasoning and a great coating of char. That's just what we got. He ordered a 20 oz. New York strip while I asked for a 22 oz. bone-in rib eye. Both were mouth-watering and dream-inducing. I've never had a better steak to date. (Of course, I couldn't finish my 22 oz. and Vin can only help so much, I packed the rest.)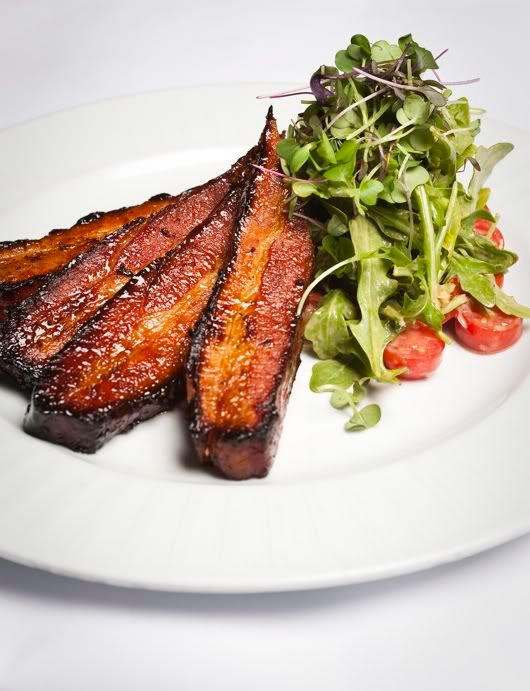 No, we're not weak eaters. Did I mention we had a generous helping of sides and appetizers? Next to our perfectly-cooked steaks, we had black truffled creamed spinach (I am truffle oil's number-one fan, by the way) and crisp goose fat potatoes (Vin's selection). And yes, both were just as tasty as they are intricate. We strongly recommend these two sides to any Strip House diner.
Prior to diving into the delectable steaks and their respective sides, we enjoyed some tuna tartar and Strip House roasted bacon (a signature treat). It was probably the best piece of pork I've ever had in my life — and I'm from the Philippines where we eat lots of pork (to put things in perspective).
The tuna, on the other hand, was a little difficult to eat. It tasted amazing — it did — however, there was just too much of it. If there's only two of you, refrain from ordering this. It's best served to a table of four or more as the waiter had suggested. We should have listened.
One can also say the same about Strip House's infamous 24-layer chocolate, but at least in that case, we knew to only take a couple of bites and bring the rest home for some midnight snacking.
All in all, our Strip House experience was fantastic. Not only did I enjoy the food, I adored the service. Everyone from the waiter to the sommelier was attentive and friendly. In fact, I'm planning to come back for lunch to create my own burger in honor of National Burger Month (which is May) for only $14.95. I'm not just talking about lettuce, tomato and onions either. You can choose from certified black Angus beef, chicken, lamb and tuna as your protein. Then, pick from American, cheddar, Swiss, grilled jalapenos, seared fois gras (for an additional $9), sauteed mushrooms, and the list goes on.
Ysolt Usigan is the beauty and style editor for iVillage, a lifestyle blogger for Huffington Post, and a total foodie. From hot dogs to escargot, if it's edible, she'll explore. She might not be the best cook, but what she lacks in kitchen know-how, she makes up for in her research and reporting skills. And oh yeah, she's also proud to be a Jersey girl and will prove to any one who might disagree that the Garden State has a plethora of dining options that give the big city eateries a run for their money.