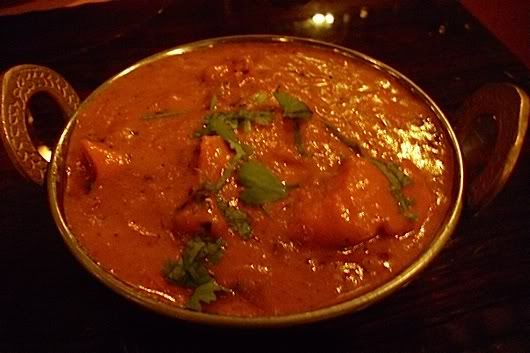 I'll admit right now, I'm a little ignorant about Indian food. I have a dozen Indian friends who will crucify me the minute they read that statement. After all, they have introduced me to dishes and snacks in the past. But — please — keep reading before you pass judgment…
You know when you get into the habit of eating the same old thing over and over again? Well, that's the culinary road I've been on the last few years — so you can imagine my glee when I landed this gig blogging for JerseyBites.com. Finally, I'll be forced — in the best possible way — to shake up my eating habits. Naturally, I wanted my first assignment to involve unfamiliar territory. Enter, Aroma Palace, an eat-in or take-out Indian restaurant, in Montclair.
Sreekumar Cheramparambil opened Aroma Palace about a year ago with hopes to introduce a part of his culture to the community. "I always appreciate good food and had been to a lot of Indian restaurants — most of them [served] 'Americanized Indian food,'" he explains. "I really wanted to [open an] authentic traditional Indian food from different regions of India."
Sreekumar sent over South Indian fritters called shrimp pakora ($8.95), which had just the right amount of crisp to its crust. (I was a fan!) For our main course, we had a sampling of chicken tikka masala (pictured, $13.95), one of Sreekumar's favorites, and lamb korma ($14.95). At first, I was intimidated by the rich sauces that surrounded the tender pieces of meat but was pleasantly surprised the moment I dipped torn up pieces of nan into the sauce. It tasted just as pleasant on basmati rice, by the way.
If you're not heavy into saucy dishes, perhaps a tandoori dish will suit your fancy? They resemble fajitas at first glance made of chickens, kababs and mixed grill (just to name a few), but are made in sizzling traditional Indian clay oven plates. As new orders came out of the restaurant's kitchen, patrons would leer and become disappointed if they hadn't asked for it or, at the very least, take note and order it in the future. I was one of them.
All in all, my journey with authentic Indian food was a successful one. But, did they make the grade? Here's my restaurant report:
• Favorite thing about the meal: the nan dipped in the tikka masala
• About the service: quick and efficient, yet not as warm as I would have hoped for
• Would I go there again: yes, and I am definitely getting a sizzling tandoori plate next time
• What I learned: that I actually enjoy Indian food, but have so much to explore
Ysolt Usigan is the beauty and style editor for iVillage, a lifestyle blogger for Huffington Post, and a total foodie. From hot dogs to escargot, if it's edible, she'll explore. She might not be the best cook, but what she lacks in kitchen know-how, she makes up for in her research and reporting skills. And oh yeah, she's also proud to be a Jersey girl and will prove to any one who might disagree that the Garden State has a plethora of dining options that give the big city eateries a run for their money.  Email: ysolt.usigan@gmail.com. Twitter: ysolt11