Belmar, NJ, recently welcomed an exciting new restaurant to its food scene. While 801 Craft Kitchen & Spirits shares the Beach Haus Brewery building, the experience—from food and drinks to décor—is uniquely its own. Serving elevated dinner entrees and craft cocktails, 801 Craft Kitchen offers a very different culinary experience from Beach Haus' menu of craft brew and pub fare. On any given night, customers can come hungry to 801 Main Street and leave happy—no matter which dining experience they crave.
Choice Food and Polished Craft Cocktails
If Beach Haus Brewery is the destination for casual beers and saloon-style sustenance, 801 Kitchen is a choice venue for the next intimate sit-down dinner. Co-owner Dylan Kohan and Executive Chef Rob Tuzene defined the restaurant's menu, which ranges from charcuterie boards with cured meats, to Florida red snapper in a smoked tomato broth and a Haus butcher bacon appetizer with five-spice, brown sugar, and fresh rosemary, which is then hit with a torch right before it's served.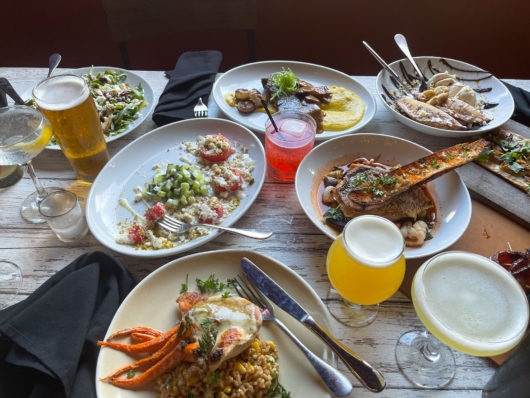 "On the taproom side you have families with kids playing Jenga and eating nachos, versus 801 where we have more of a date-night scene," said Kohan. The new spot is "not fine dining but it's something nicer than a shorts and t-shirt environment."
"My personal favorite right now is the flatbread dish. It's prosciutto, roasted peaches, arugula, and garlic-ricotta, topped with balsamic glaze," said Kohan. "So good. Also really popular is our rib eye. There are great steakhouses all over, but I feel our chef has some [superior] techniques and the way he treats the product is unique."
A Bit About the Chef
Executive Chef Rob Tuzeneu has no interest in the limelight. He doesn't grant interviews and his name isn't on the outside of the establishment. None of it. Instead, he invites people to sample the results of his hard work. And they are welcome to sit at the Chef's Table to watch him prepare a meal—or 50—if they so choose.
"The chef will also do limited-run specials like a bison dish that also could join the full-time menu if we see that customers enjoy it," Kohan said. "The chef will say, 'This is what I want to do, are you good with it?' I'm always on board because I know it will be done the right way. Often you go out and have the same meal a thousand times, but if the chef is engaged that's what makes it special."
It also helps that these menu items pair perfectly with some interesting, but easily enjoyable cocktails like the Corpse Reviver #2 or the Gentleman's Companion—both unique gin mixes.
"Another favorite cocktail is called 'My Two Best Friends,'" he said. "It's got a blanco tequila and a reposado, with honey, fresh lime juice, and grenadine. It comes out to be a smokier, mezcal flavor that's pretty fantastic."
Each cocktail on the menu seems to have a small, anecdotal tale attached. When asked, Kohan and the team smiled and motioned toward the bar—the spot for sipping and storytelling.
Great Ingredients Find a Gorgeous Home
The 801 Craft Kitchen team always wanted to build an incredible environment. They wanted a place where the chef does everything from scratch. This made it possible for them to build a seasonal menu with many locally sourced products. The intended effect: guests are consistently "wowed," from the time they walk through the door, until they leave.
The 801 team offers a Happy Hour menu with discounted food and drinks from 5 to 7 p.m.
"We want to show people that we're affordable, approachable, and that they can come in any given day. The way we've set it up, you can bar hop within the same building. We want this place to be the answer to whatever you're doing. Whether you want to hang out in the lobby bar, the Beach Haus taproom, or have a nicer dinner with us at 801, we have an answer to every dining experience."
While the details are always in development, 801 is hosting private events and parties for guests who love the space.
"My business partner Chris McCallion and I purchased the former Freedman's Bakery building in 2014 to redevelop the property for our real estate office and to also create one of the largest craft breweries in the state," said partner Joel Brudner.
"Belmar was attractive to us because not only is it a vibrant shore town bustling with visitors it also has a local, communal feel we love," he continued. "With the launch of 801 Craft Kitchen & Spirits and our soon-to-open rooftop lounge, we look forward to being a place for everyone to gather for casual beers, a fabulous dinner, or drinks and a breathtaking view. We will also be able to accommodate even more local fundraisers and events. We look forward to continuing to be an integral part of the growth and success of this community for many years to come."
801 Craft Kitchen & Spirits
801 Main Street
Belmar, NJ
732-202-7783