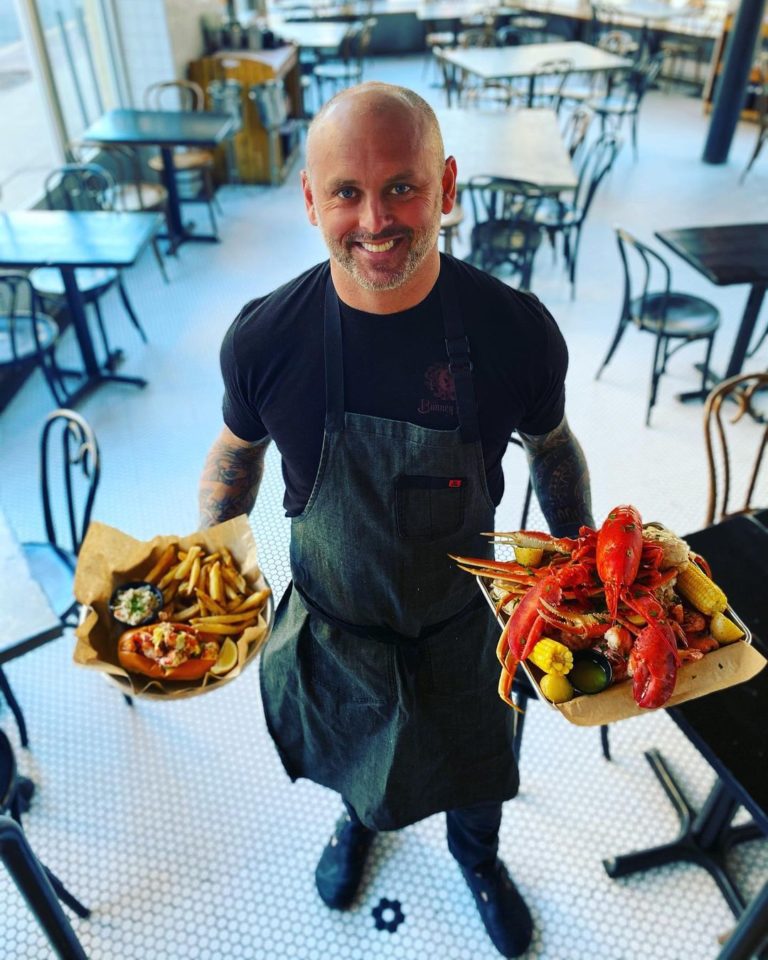 From the Set of Gordon Ramsay's Hell's Kitchen to an Asbury Park Restaurant Takeover
Physically and metaphorically, Chef James Avery has a lot in his kettle at the moment. Minutes before his interview with Jersey Bites, Avery was hard at work moving into his brand-new, 5,000 square-foot restaurant space in Asbury Park, NJ. His latest plan is called the Black Swan—situated just a few blocks from his six-year-old seafood and chowder house, the Bonney Read.
It still remains to be seen if his two restaurants—and independent food label—are more work than his time on Fox's Hell's Kitchen as sous chef for Gordan Ramsay. But it is clear that despite being pulled in multiple directions, Chef Avery is as considerate of his customers today as he was when he first started in the hospitality industry 17 years ago.
"I care a lot about my customers, and about my business, and the industry," said Chef Avery. "I'm always going to do my very best to deliver an experience, a great place of work, and product that resonates with people." Avery understands that his job is to produce high-demand, traditional plates for customers. He continues to make a great experience for guests by doing so with his own refreshing touch.
"While I have a fine dining background, I want to refine dishes like a shepherd's pie," he said. "I'm more excited about refining than creating new. If I want to make something unique and different I'll make [it] for my friends. But I'm running a business, so I do stuff that people like. The things I get drawn to are older cookbooks like Julia Childs—just simple food."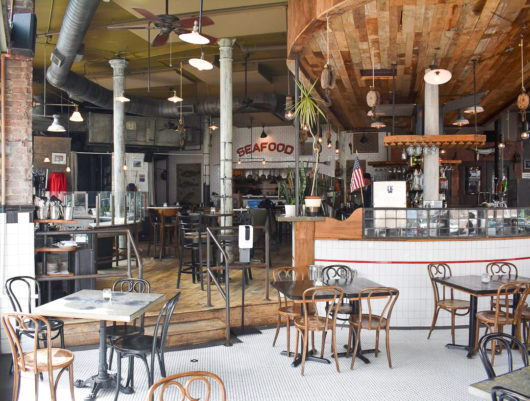 The Bonney Read
While "simple" and "traditional" are not descriptors of taste, anyone who's eaten at the Bonney Read knows that, in this case, they do mean delicious. Even with Avery's traditional emphasis, the chef still produces unique dishes like Bonney's Fisherman's Fry featuring fried shrimp, calamari, kale blossoms, and chile peppers.
"I'm not out here trying to make jello out of soy sauce, ya know?"
Jello out of soy sauce?
"I don't know, I've seen some weird shit," he said.
He explained a bit more. "My cooking style is very straightforward. I like making dishes that will be as relevant today as they will be in 25 years. I like to make warm, friendly, and exciting places with timeless concepts and the food reflects that."
The Bonney Read's famous fish and chips are another example of Avery's take on a timeless dish. From McDonald's to a local tavern, customers can find this meal on many menus. But after having the Avery version, guests can rest assured they won't be ordering this dinner anywhere else.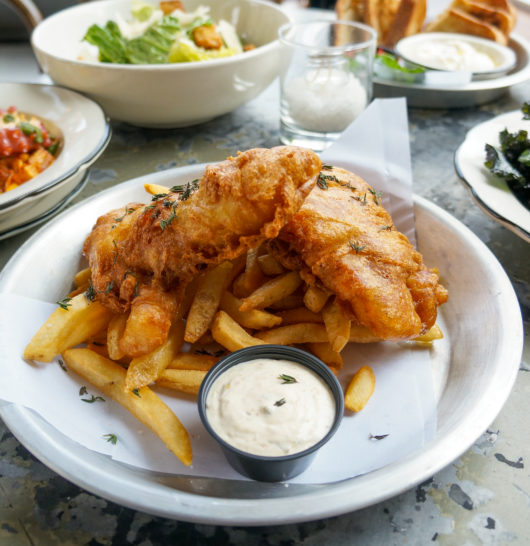 The Bonney Read opened as Asbury Park was on the rise. During the creation process the chef asked, "What would do well and what is the void?"
Avery said, "I was thinking, a classic, seafood house and that's how it was born conceptually. It's everything I wanted. We're a family now going into our sixth year and we've made a lot of people happy."
Visitors at The Bonney can choose to dine solely from the sea with options from the kettle that include shrimp, snow crab, and Maine lobster. On the other hand, guests can order fried chicken sandwiches, burgers, steaks, or ribs. Regardless of preference, customers often choose to wash their meals down with a cold beer like the Ross "Manasquan Wit" or a tasty mixed drink like the Bonney's rum punch.
The Black Swan
Much like he did with The Bonney years back, the Black Swan (Avery's newest endeavor) will fill a void for those dining in Asbury Park this Summer.
It's going to be a "modern play on an Irish-British pub," said Avery." Come to watch a soccer game and have a pint or for a romantic date. It's gonna be exciting and comforting at the same time. My wife hates sports and there's no way I'm getting her to go to a Buffalo Wild Wings. But if it's a nice place that has cocktails and a sexier atmosphere…"
Avery plans to satisfy the beer and sports enthusiasts while also catering to those who'd rather not dine at a sports bar. The Black Swan is located in the center of town and is being built out inside a historical building that used to house Modine.
"I'm having fun testing The Black Swan's food. I'm going into old recipes and breathing new life into them—tweaking one or two things to not change the spirit of the dish but give it that little bit of newness," explained Avery. "This Irish- or British-inspired pub is a concept I've always wanted to do and I'm excited to give this my treatment."
What is bone broth?
As Avery jumps into a new dining concept and continues to stimulate success at the Bonney Read, he has also been working on his independent food label where he is owner and lead bone broth brewer.
"It's basically a chicken stock. But it's a really healthy, highly nutrient-dense meat tea with amino acids," said Avery. "Some of the stuff that's in the bone broth is not really in our regular diets because we're eating boneless, skinless chicken breasts. I have ulcerative colitis—similar to Crohn's disease—and this is one of the things that helps it."
Avery started small by securing a location to make his broth and sold it, primarily, to family and friends. And while Soul Bone Foods is still in its infancy, the business is expanding. This due to both the recent uptick in popularity of bone broth and the fact that it's a delicious, healthy snack option or meal starter.
"It's going well," Avery explained. "I live a stressful lifestyle and I'm not always able to eat the healthiest. I have so much different, not always healthy, food in front of my face all day. But the broth is a great thing to eat any time of the day and I don't have to think about it. So, I would say [I have as much] passion for health and wellness as I do for cooking amazing food in restaurants."
The hospitality industry and the resulting work has taken James Avery from college in Florida, to work in Atlantic City, New York, and California. Still, Avery is Jersey to the core. Born in Spring Lake, the chef has worked hard to stay put with his family in Monmouth County.
"I was sick and tired of leaving [my family]. Now, my hospitality group is finally coming together with multiple restaurants and I'm involving people I've worked with for years."
Avery's NJ-based company, called Nicely Done Hospitality, is the culmination of his hard work over his career. Interestingly enough, it's come after one of the craziest rollercoaster rides for restaurateurs, maybe ever.
"I've been taught a lot of valuable lessons due to COVID," said Avery. "I wish we could just get back to normal and not being scared. But I like that there is a greater appreciation for restaurants now. People know how razor-thin our margins are after this last year. Now I'm just excited to open the Black Swan and move forward."