"Be patient." That's the best advice ever given to Scott Novick, owner of the new brewpub, Alternate Ending Beer Company, in Aberdeen, NJ. Whether it is appropriate for current state-of-the-world affairs or simply brewing a beer, being patient is clearly paying off.
And patient he's been. After what was originally going to be a first-production brewery that swiveled into a brewpub, each step has kept Novick and his team on their toes.
This was one of many things I recently learned when I met up with Novick and some members of the Alternate Ending (AE) family—family being the operative word here. I immediately got the feel how comfortably and naturally everyone fit in.
Since much has been written on Bow Tie Cinema turned brewpub and Novick's background in beer production, I chose to focus my interview on their current status, their global pandemic crisis management strategy, and the future. Lucky me, I was even able to score a chat with Steve Mignogna, owner of Talula's of Asbury Park, who has established his first partnership at AE.
Closeup on the Beer
Let's start with the beer! Seven IPAs, one lager, one stout, one pilsner and one Berliner all currently ice cold on tap. The pilsner, aka Royal Rug as stated on the menu, is the crowd favorite. "Definitely the biggest seller," reported Novick.
His own brew of choice? The lager-like German style Kolsch: Business is Booming. This one is a lighter offering in both appearance and crispness than the one I have come to crave since visiting: Jack's Revenge. This oatmeal stout is the love child of an award-winning beer and the best cup of coffee one could imagine. So rich and deep in flavors, from gingerbread to chocolate, it ends the evening perfectly. Still, I can't complete this article without a mention of the Berliner Jam.
Piggybacking on what Talula's in Asbury is notorious for, the Gin & Jam, this draft cocktail is just sublime. A homemade spoonful of cranberry jam is placed into a pint glass filled with the Berliner beer. The Berliner is a bit tart with a hint of lemon but when stirred with the jam and some lemongrass, it comes together like nothing you've ever tasted. Beer meets the candy aisle. Tart, sweet, a bit hoppy and irresistibly unique.
Looking Ahead
Speaking of which, what does Novick look forward to in 2021? "Bar seating!" he answers almost instantaneously. Yes, I presume a brewpub wouldn't be complete without a decent bar scene. And from the looks of the super-sleek bar and oh-so-nice bar manager Sarah Giordano, this will be a spot I'd like to post up on any Friday night. Besides the bar aspirations, Novick looks forward to being worry-free and less uptight about public health news, guidelines, and impact.
Still, I must note how incredibly careful and diligent he and his staff have been during the pandemic. Daily temperature checks for all staff and guests, onsite testing for all every other week, and more. All the tables are set quite far apart and walkways to different areas are open and free of obstacles that would hinder spacing recommendations. Disinfecting all surfaces is a must and of course, all you see of anybody besides those at your table are their eyes. A job well done…I'd say Dr. Fauci would approve.
Notes on the Food
The menu, which reads like a Playbill, was developed and is overseen by the dynamite team behind Talula's in Asbury Park: Steve and Shanti Mignogna. All items house made, crafted on location with local ingredients, offer patrons a taste of simplicity with a hint of guilt. This includes spicy wings, glazed in a fermented chile butter, or the California Dreamin' Burger: two smashed patties, cheese, caramelized onions, and a special sauce. Bar food elevated at least five notches in my book. The popcorn, for $5, is a must. The non-GMO corn kernels, which are sourced from Amish Country, sport a skin that, when popped, doesn't stick to your teeth. Where has this been all my life?
But really, the signature items here are the sourdough pizzas. While in Asbury you can only get a round pie, here they have designed pan pizzas. Think crispy fried cheese along the edges and thick slices that are baked just long enough to hold their form. Guests are encouraged to choose a base, from a red to white to pink, then "build" it with the mouthwatering array of toppings.
My vote? Go with the pink base, comprised of spicy vodka, both fresh and dry mozzarella, and ricotta. Then top that with meatballs. Sesame seeds stud the charred crust and you have an all-around winner. The menu also includes many vegan and vegetarian options, including vegan mozzarella and coconut bacon. Who knew?!?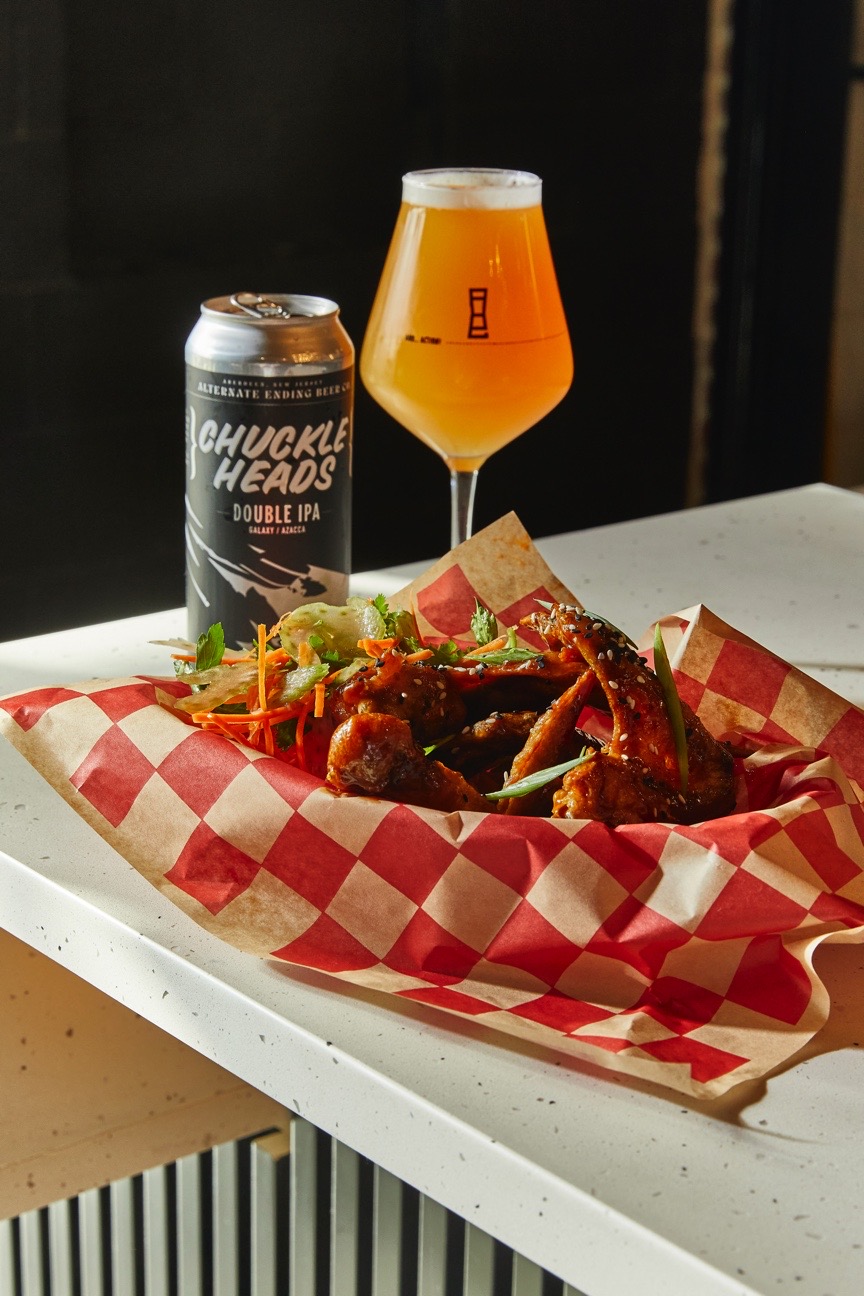 An Ideal Matchup
More importantly though, the marriage of AE and Talula's is one that stems from their shared belief in the building blocks of a great business. Novick noted that choosing to partner with Talula's was easy, as he "loved their food, knew how they are a great representation of community leaders and exemplify what good employers are."
"Basically, our ethos aligned," he stated. As for the Mignognas, they couldn't be happier with this partnership. "We have the same values, make things from scratch, care about each ingredient. Just as Novick does with his beer, we do with our food," Steve Mignogna said.
And it is a bright future between the two businesses for sure. While Novick looks forward to opening his doors for more people, Steve looks forward to expanding the already delicious menu. His favorite pairings are any pizza with an IPA or the fish tacos with a pilsner, and he is excited to create new stuff that will continue to set this pub apart. One item in particular he's psyched about? A Detroit-style nine-inch square pie. Thicker and a bit heartier than what's currently available, this pie has "serve with beer" written all over it. Even after a few too many, this beast will be sure to cure most hangovers.
Looking Forward to Movie Nights
Another thing to look forward to here? Movie nights! It is a reclaimed theater after all. And by reclaimed I mean booth seats that are the same ones used umpteen years ago, movie posters that are framed in the same hardware that decked the halls years back, and light features that were originally the movie signs that marked the different viewing rooms.
It really is such a neat place—one that's bringing the community together again and, "giving them a taste of normalcy," says Alexis Castellano, Novick's sister and marketing director. Castellano is behind the Movie Night planning and was super pumped to tell me all about what she has been working on.
In short, a "package" ticket will include popcorn, salad, pizza, and a full pour of a beer on tap. Naturally, your ticket includes your seat for viewing, too! Right now, movie nights are slated for 21+ but once they start hosting brunch in 2021, Sunday afternoons will be for family movie screenings. A cocktail, my kids watching a movie, some great grub—where do I sign up? This is genius and I personally can't wait to jump on this bandwagon. You nailed it, Alexis!
And the same can be said for Novick, his team, and Talula's. They have taken what would have been a torn-down cinema and transformed it into a destination where people can grab a one-of-a-kind beer, eat some crave-worthy dishes, and enjoy each other's company. That and enjoying a classic movie, which, if Novick has his way, would "have to be Braveheart." An ever-popular component of the business that has been talked about since its production. Sounds to me like exactly what Alternate Ending Beer Co. is achieving these days.
Find Alternate Ending Co.
Sign up for AE's newsletter at alternateendingbeerco.com to stay up to date on beer releases, future happenings, movie nights, and events. Their beer can be bought at BeerBroadcast.com for pickup in store. Growlers are now available as well.
Alternate Ending Beer Company
1057 NJ 34
Aberdeen, NJ
732-612-8422
Follow Gina Glazier at @ahungryteacher.