Instead of settling for your uncle's grilled burgers (which are usually frozen…and then overcooked), you're better off hitting up one of these spots as you travel up or down the Garden State Parkway this summer. I'd like to preface this list by saying this is simply my current list of 10 favorites that I have eaten so far. I'm currently eating one burger every single day for 365 days (see more on Instagram @burger.buff), and while I travel around the country, I've eaten quite a few in my home state of New Jersey. The beauty of the burger game is that there's something for everyone. There are so many great new burger spots popping up, so don't be offended if your favorite bar burger on a kaiser roll (from the past 30 years) isn't on here! These are my current favorites and I could honestly move them around for hours. They're all worth a visit!
601 Bangs Avenue, Asbury Park, NJ 07712
I'm usually a thin, smashed, double-patty type of guy but I was really impressed with the Mr. Smith burger at Pascal & Sabine. The blend of beef (hanger, skirt, and brisket) was bursting with flavor and cooked perfectly. Believe it or not , a lot of places just do not get the temperatures right consistently. At a place like this, the standards are HIGH. You can tell when you take the first bite of this burger.
---

705 Cookman Avenue, Asbury Park, NJ 07712
Not just a great spot for sandwiches, the Speakeatery's one and only burger on the menu—the Down 'N Out burger—is available in single patty all the way up to a whopping four patties. I personally go with the double. I'm a fan of the super fresh bun, well seasoned beef, special sauce and fresh veggies. You'll leave full but able to walk.
---

709 Arnold Avenue, Point Pleasant Beach, NJ 08742
The dry-aged beef burger at B2 Bistro really took me by surprise. It's such a simple burger—with yellow American cheese—but the flavor in the beef is just ridiculous. I will say the dry-aged flavor isn't for everyone, but for true meat eaters this is a must-eat burger!
---
358 River Street, Hackensack, NJ 07601
It's hard to leave the legendary White Manna off a list like this. Presentation isn't their strong point, but it doesn't have to be. Watching hundreds of these sliders being worked on their flat top is an art and a good enough reason to go. Theres always a line here for these greasy, double-patty sliders with onions. There's so much history here, you can taste it!
---

657 E. Bay Avenue, Manahawkin, NJ 08050
18th Street, Surf City, NJ 08008
I found a great selection of burgers here, with a build-your-own option that really lets you create the perfect burger. Shore Fire Grille's "5-Star Blend" beef is the way to go, cooked medium rare on a brioche bun. Friendly staff, family owned, just an all-around great place.
---

513 Bangs Avenue, Asbury Park, NJ 07712
This breakfast/brunch spot recently started serving dinner only on Friday's and Saturdays and I personally like places that have the confidence to do limited menus and hours. When they are open, Cardinal Provisions does everything really really well! The menu changes often here, but there's always some type of burger on there. The homemade bun is killer.
---
2010 Baltic Avenue, Atlantic City, NJ 08401
I haven't had much luck in South Jersey when it comes to burgers so far, but WingCraft in Atlantic City is doing things right! They offer double Pat Lafrieda-blend burgers with a variety of options for toppings. Their Mac Daddy Burger is a Big Mac on steroids, and worth the trip. If you're a beer drinker, you'll also want to hit this place for its 40-tap beer list as well.
---
118 Wilson Avenue, Newark, NJ 07105
The pride of the Ironbound in Newark, Krug's Tavern dishes out a no-nonsense, monster-sized 12-ounce patty burger with the option to add cheese and/or bacon. Cooked perfectly every time I've been there and full of juice! They've been around since 1932, the history of this place alone gets major props in the burger community.
---
788 Garfield Avenue, Jersey City, NJ 07305
This local bar feeds the true, old-school, Jersey City-neighborhood bar food, but the twist is they have a chef that knows his craft! The burgers at O'Leary's Public House are always on point and they always have crazy specials as well, especially if you're into mac 'n cheese burgers and options of that sort. Don't sleep on the wings, either!
---
Locations in Paramus, Bridgewater, Livingston, Marlton, Monmouth, and Wayne
I know I know, it's a chain fast-casual spot, but Shake Shack has really changed the game in terms of quality of ingredients in fast food. It's no coincidence that everywhere you find one, there's usually a line. Not to mention, they just opened one up at the Monmouth rest stop off the Parkway near Exit 98 (open 24 hours). With smashed Pat Lafrieda-blend patties and Martin's potato rolls, you can't go wrong.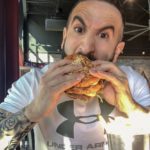 Nick Lepore is a content creator and food blogger. He has been traveling the world for past 7 years in search of the best burger. He runs the Instagram account @burger.buff and has worked with many small businesses, restaurants, and brands like (BurgerFi, Pat Lafrieda, Martin's Potato Rolls, and many more). He has consulted on burger recipes and is also perfecting his own signature double cheeseburger which he serves at "pop up cook outs." He is currently eating a burger every single day for 365 days.