This year, Memorial Day (May 28, 2018) is also National Burger Day! Several Jersey Bites writers weighed in with their favorite burgers from around the Garden State. Dig into this list, and let us know if you have another favorite on Facebook!
Melissa Beveridge / @MBeeWell
Pour House Restaurant, Shrewsbury
The Philly Burger, with cheddar cheese sauce
"The meat is simple, cooked on a hot griddle, topped with sweet, sauteed onions, and when you substitute the thick and creamy cheddar cheese sauce (that you will definitely be licking off the plate) for the American cheese, it's complete burger heaven."
Veronique Deblois / Food and Wine Chickie
South + Pine, Morristown
Beef Burger with fried egg, house-smoked cheddar and bacon aioli
"It's on an English muffin so the bun doesn't get soggy like with a standard roll. The beef is….beefy! The fried egg is a nice addition to the great bacon. Top-notch burger."
Leslie Delcid
Echo Tap & Grille, Mountainside
The Vegetarian
"Here's why: The avocado! When a burger comes with avocado it completes the meal and brings it to the next level."
A Lady Walks into a Bar, aka Gabrielle Garofalo (@aladywalksintoabar)
d'jeet, Shrewsbury
Classic Angus Burger
"The brilliance of combining Boursin with horseradish and ketchup jam!"
Julie Hartigan / Cooking w/ Julie
Onieals, Hoboken
The Onieals Famous
"Grgeously charred, thick, juicy, and cooked to pink perfection. This classic pub burger slays me every time and is hands-down, fav in Hoboken."
Terry Krongold / The Cook's Tour
Tree Tavern, Wanaque
Cheddar burger on brioche bun
"Full of flavor, simply grilled, always perfectly cooked medium-rare, on a wonderful brioche bun."
Deborah Smith, Jersey Bites founder and author of The Jersey Shore Cookbook
B2 Bistro + Bar, Red Bank and Point Pleasant Beach
Dry Aged Burger
"It's not topped with a million crazy add-ons. It's a simple burger made with quality ingredients and cooked to order perfectly."
Taylor Sumereau
Zinburger, Various Locations
The Zinburger
"It's a simple burger that isn't overwhelmed by too many toppings or ingredients. It is always cooked perfectly, the manchego cheese and braised onions bring the dish to a whole new level."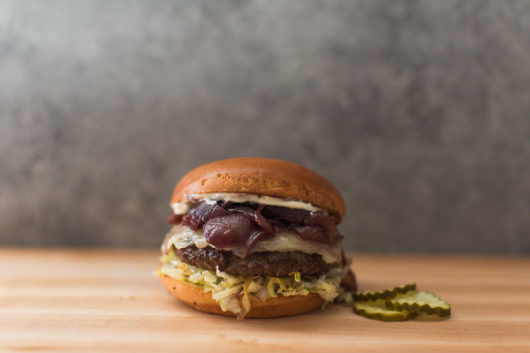 Mary Wozniak
J.D.'s Pub & Grille, Smithville
Black & Blue Burger: Blackened with cajun spices, topped with melted blue cheese, red onion, lettuce and tomato
"It's freshly made, juicy and perfectly medium rare…$6.99 Burger Mondays!"
Danielle Zilg (@platesandpours)
Dunellen Hotel, in Dunellen
Mushroom Swiss Burger
"The burger is cooked to perfection and you can't beat 'shrooms and swiss. I add onions for extra flavor. Tastes even better on Monday nights when burgers are buy one get one free!"
All photos are courtesy of their respective restaurants. Thanks to everyone who participated.