Whether you're brand new to the area or a longtime visitor or resident, you'll never run out of delicious dining options in Cape May County. This season, check out one (or more) of our top picks for breakfast spots to satisfy your sweet—or salty—breakfast cravings.
Brown's Restaurant
110 Boardwalk, Ocean City
Tucked away at the north end of the Ocean City boardwalk is Brown's Restaurant, a family-run, beachfront breakfast spot first opened in 1976. Customers line up at the donut window daily around 7 a.m. to get an order of house-made donuts, baked fresh each morning. The restaurant offers only six flavors: chocolate, vanilla, honey, plain, powdered, and cinnamon. "Nothing beats making someone smile when they have their first warm donut of the season," says owner Melissa Brown. "I just keep thinking, 'How lucky am I?'" On big weekends, Brown's sells more than a thousand donuts daily. The restaurant also serves breakfast and lunch and is open weekends from mid-April to Memorial Day, daily through September, and weekends in October.
Mrs. Brizzle's Buns
4601 Landis Ave, Sea Isle City
At Mrs. Brizzle's Buns, cinnamon buns are more than just a sweet treat. These fresh, fluffy buns are homemade and hand-rolled daily. They're topped with a thick scoop of delicious frosting and can be ordered individually, by the dozen, or any way you see fit. Owners Michael and Pamela Cardinale started Mrs. Brizzle's (named after a word Michael Cardinale's grandmother used to use) as a coffee and cinnamon bun shop, but the business quickly grew. Today, the shop—which dubs itself half bakery, half deli—also sells bakery treats like muffins and biscotti along with a lengthy lunch menu.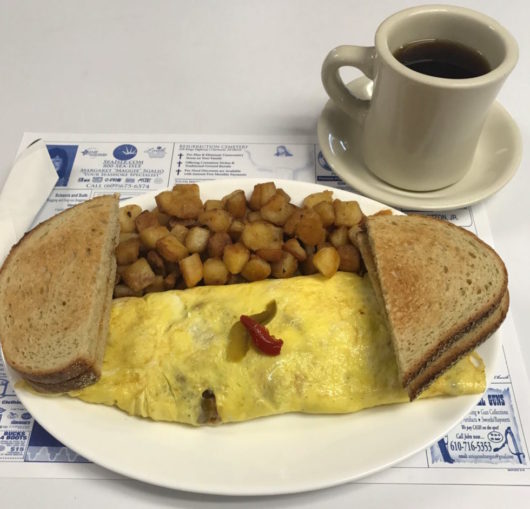 Marge's Diner
1974 Route 9 North, Clermont
"Eat here, get gas!" is the Marge's Diner motto that pays homage to the restaurant's roots—a former diner and gas station (now just a diner) with old-school, no-frills charm that keeps locals and tourists coming back for more. It's one of the only places on the list where you can get an omelet for around $5. The omelet options are endless, and the low prices don't affect the quality of the meal. Although it calls itself a diner, it's only open daily from 6:30 a.m. to 1:30 p.m. It closes for the season between Christmas and early March.
Fishin' Pier Grille
32nd & Boardwalk, Avalon
An Avalon staple, Fishin' Pier Grille has been serving breakfast on the boardwalk for nearly 30 years. Park your bike outside and stop in for all of the breakfast classics: loaded omelets, fluffy pancakes, and French toast that rivals any you've had before. This family-owned business makes for a pleasant experience no matter what you're in the mood for. Fishin' Pier Grille has two other locations: Fishin' Pier Grille South in Stone Harbor and their brand-new location, Fishin' Pier Grille North in Sea Isle City. All three locations are open for breakfast starting in April through mid-September (Stone Harbor is open through Thanksgiving), but seasonal hours to do vary by location.
The Jellyfish Café
5911 New Jersey Avenue, Wildwood Crest
The Jellyfish Café has only been around for a few years, but that hasn't stopped it from quickly becoming a breakfast spot of choice for many Wildwood area vacationers. Enjoy a modest $10 eggs benedict or indulge in the sweet "waffle supreme"—a massive Belgian waffle topped with fresh fruit, ice cream, and whipped cream. The Jellyfish's homemade cream chipped beef is another can't-miss option. In the warmer months, you can dine outside in the shade at the café's adjacent bagel shop. The café is open year-round and also serves lunch.
Surfside West Diner
5308 New Jersey Avenue, Wildwood
The John family has been in the restaurant business in Wildwood for more than 50 years. Today, they own and operate the Surfside West Diner, which serves classics like ham and cheese omelets and chocolate chip pancakes—but it's their French toast and "hangover" specials that set this place apart. The macadamia nut French toast is made with their homemade challah and topped with brown sugar, butter, and toasted macadamia nuts. For something a little saltier, try the "original hangover" with home fries, American cheese, cream chipped beef, and an egg. Greek, Cajun, and Italian variations of the dish are also available. They serve lunch as well and are open seasonally from 6:30 a.m. to 1 p.m.
Clary's Country Corner
W Hereford Avenue and Route 9, North Cape May
A breakfast menu that's two full pages means your options are bountiful at Clary's Country Corner. They're well known for their thick, cloud-like pancakes (and we're sure you'll go nuts over their banana-walnut pancakes). Order any pancakes with a side of pork roll for a perfect sweet and salty combination. If you're not in the mood for something sweet, check out the country fried steak and eggs or one of the 20 omelet options. If you're on a budget, get there weekdays between 7 a.m. and 8 a.m. for the 2-2-2 special (two pancakes or slices of French toast with two pieces of bacon or sausage and two eggs for $2.22). Clary's Country Corner is open year-round from 7 a.m. to 2 p.m.
The Blue Pig Tavern
200 Congress Place, Cape May
Adjacent to beautiful Congress Hall—one of the most famous resorts in the country, the Blue Pig Tavern (shown at top) has been serving Cape May's residents and tourists for years. The menu features breakfast favorites like old-fashioned waffles and buttermilk pancakes, but you can also dine on something more upscale, such as the smoked salmon platter or Beach Plum Farm benedict (made with eggs sourced from the restaurant's farm). This is one of the few places on the list with a liquor license, so sip on a bloody Mary or mimosa as you desire. They're open year-round for breakfast, lunch, and dinner.
The Mad Batter
19 Jackson Street, Cape May
The Mad Batter's Victorian charm only adds to the breakfast experience. Set on a small side street near downtown Cape May, inside the Carroll Villa Hotel, the restaurant would be easy to miss were it not for the constant stream of customers walking in or waiting. During the warmer months, dine on the front porch or the garden terrace for a change of dining-room scenery. "Customers love our orange and almond French toast," says restaurant manager Marta Cobleigh. "But my personal favorite is the Belgian waffles with pecans." The restaurant also serves a popular Chesapeake Bay benedict, which is traditional eggs benedict topped with jumbo lump crab meat. The Mad Batter is open year-round for breakfast, lunch, dinner, and cocktails.
The Red Store
500 Cape Avenue, Cape May Point
The Red Store serves two purposes: it's an award-winning restaurant and a general store. The original Red Store opened in 1946 but was remodeled and reopened under new ownership in 2012. With a James-Beard-nominated chef, it's hard to find anything you don't like at this Cape May Point restaurant. Breakfast and brunch options include quiche made daily, huevos rancheros, and Norwegian tartine. The restaurant is pricier than the others on the list, but take one bite of this chef's masterpieces, and there's no question why. The restaurant is seasonal, and brunch is served Saturdays and Sundays from 8:30 a.m. to 2 p.m. starting in the spring.
—by Julia Mullaney