For the first time in eight years, the judges' choice for best burger at the Jersey Shore ended in a tie. Eight restaurants came to battle it out for burger bragging rights and everyone was in it to win it at the Great Jersey Shore Burger Contest. It was my eighth year as a judge. I was joined by veteran judge Susan Weiner, of the Asbury Park Press, and first-time judge and four-time winner, Chef Doug Walsh, of Jersey Shore BBQ, in Belmar.
Each entry in the competition was judged on creativity (30%), taste (50%), and presentation (20%).
Some of the standouts for creativity were Brielle Ale House's Mac Daddy burger, made with a ground chuck/short rib burger blend, Land-o-Lakes American cheese, and house made sriracha aioli sauce placed between two hand-breaded mac and cheese buns. We had to remove one of the burger patties just to get it in our mouths. I was expecting the mac and cheese "bun" to be dry but it was surprisingly moist.
Another creative entry was the MA-22 from Burger 25 in Toms River, made with seasoned certified angus beef patty, topped with melted cheddar cheese, smoked pulled pork, a crispy onion ring, bbq sauce, house made sweet mayo, and pickle chips on a freshly baked onion roll.
At the end of the day, though, taste is what won the judges over, as it should. The Fromagerie's Blue Label Blend Burger, which uses a proprietary blend made of 35-day dry-aged ribeye, short rib and brisket "exclusively blended for the restaurant by Pat LaFrieda himself" was a melt-in-your-mouth home run.

And just when we thought The Fromagerie had sealed the win, Remington's brought in a game changer. It definitely wasn't going to win any prizes for presentation, but the flavor made us sit up and say, oh yeah! (American wagyu beef, smothered in worcestershire glazed onions & aged white cheddar, accompanied by spicy tabasco-bacon cole slaw.)
After eight burgers were nibbled, gnawed upon, devoured, and discussed, the judges' scores were tallied and we had our first-ever tie for first place. Congratulations to both Remington's and The Fromagerie.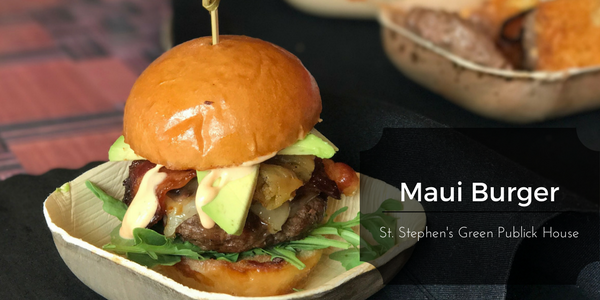 The guests of the Burger Showdown also got a say in who brought the best burger and as it turned out, they had a different winner in mind. St. Stephen's Green in Spring Lake Heights took home the People's Choice Award with their Maui Burger, a Kobe beef burger topped with teriyaki cured bacon, fontina cheese, baby arugula and sriracha mayo, served on a brioche roll.
Everyone who participated deserves a big round of applause. There was some fierce competition this year.
The other delicious entries included the following:
Reef & Barrel's 60/40 Burger: Twin patties made from a juicy blend of 60% sirloin and 40% bacon, with American cheese, shredded lettuce, diced raw onion and a special sauce, served on a Martin's potato roll.
Bar A's Brisket & Short Rib Burger: Ground-brisket-and-short-rib grilled burger, topped with house smoked applewood slab bacon, white cheddar cheese sauce, crispy onions and a drizzle of smokey bbq sauce.
The Committed Pig's Pig Mac: Two Pat LaFrieda burger patties, American cheese, sliced pickles, shredded lettuce, and onion, all topped with a special sauce.
Jersey Shore Restaurant Week celebrates its launch this Thursday with the Chefs' Invitational, at the Spring Lake Manor. The week of great deals on amazing meals runs Friday, April 21, through Sunday, April 30.