When people ask me to name my favorite New Jersey diner, I smile and reply that "it's not a fair question." It's a legit curiosity that frequently comes up with audiences throughout the state as I do talks on my book, The History of Diners in New Jersey. There are plenty of "favorite" diners to enjoy, such as the Broad Street Diner in Keyport or Mustache Bill's Diner on Long Beach Island, and new ones yet to be discovered, so there's no need to pick just one. But I explain to people that the one diner most near and dear to my heart is the Tick Tock Diner, located on the westbound side of Route 3, in my hometown of Clifton.
Back in the early 1970s, on Saturday nights, my buddies and I were fond of dropping in at the Tick Tock after 1 a.m. to grab a bite to eat. Sure, we were hungry, but for us the main attraction was to see who else would be in the joint at that time of the night. It was a most entertaining assortment of characters: hippies, truck drivers, businessmen, Jersey girls, tourist, cops, politicians, formally dressed members of wedding parties, musicians, young and old lovers, and all sorts of wayfaring strangers.
This is the roadside human drama that defines Garden State diners. They're part of our culture, part of our DNA. We drive fast, we eat fast, and there's always plenty to talk about. It doesn't matter who you are, where you come from, what you look like, or what time you show up—everyone always has a seat at a Jersey diner. As Pennsylvania diner historian Randy Garbin once told me: "diners are a haven for humanity. A meal at a diner can be 45 minutes of your life that you'll never forget."
These days I'm not much of a late-shift rambler. I'm usually in and out of diners well before the respectable hour of 11 p.m.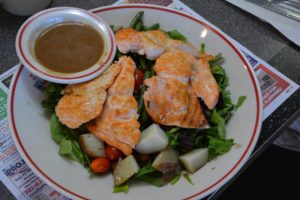 Recommended dishes at the Tick Tock? For supper, the Nicoise salmon salad is a delicious choice at the top of my list. The salmon is broiled to perfection. For lunch, the hot open turkey sandwich is a dependable classic and the best around. The lentil soup is a treat. What about breakfast? You'll never go wrong with two eggs over easy, accompanied by well-done hash and home fries. The coffee is good, consistent and mellow. Dessert? Allow me to suggest the regal lemon merengue pie.
Friends and family members who join me for a meal at the Tick Tock bring their own culinary perspectives and appetites and make winning choices. Greek salad with spinach wraps, chocolate/banana crepes, veggie burgers with red onion and humus, and beef patty melts all have received rave reviews. And customers seem to thrive on the Tick Tock disco fries.
There have been three distinct iterations of the Tick Tock, all at the same location on Route 3. The original Tick Tock was a stainless steel Silk City diner car, built by the Paterson Vehicle Company of Paterson, and installed in 1952. Business flourished at the diner and in 1956 Silk City installed a modular dining room extension to keep up with demand.
In early April 1977, a second Tick Tock was unveiled: a boxy structure with large windows, carriage lamps and seating for more than 200 people, built by the Musi Dining Car Company Inc. of Carteret. The late Nick Ramoundos—the original owner—decided it was time to retire the old Silk City car in favor of a larger, more modern diner, in order to seize the opportunity to attract more customers, due to the opening of the Meadowlands sports complex. It was, no doubt, the correct business move at the time. But Ramoundos, like most other Tick Tock faithful, felt sad to say goodbye to the old diner car.
The third and current Tick Tock, built by Kullman Industries Inc. at its factory in Avenel (and manufactured in seven sections), opened on June 1, 1994. (The Musi-built Tick Tock was transported to Mays Landing on Route 40, and became the Mays Landing Diner.)
The current diner features decorative neon lights, glass bricks, a crimson facade, and stainless steel, all of which radiate a retro/contemporary charm. It also retains the classic neon rooftop sign, crowned with the Eat Heavy clock. The avuncular, animated Ramoundos, a larger-than-life figure, coined the expression "Eat Heavy" to greet his customers. This was his friendly way of saying come in, sit down, relax and enjoy a good meal. It was as much about the spirit of the moment as the good food itself. During its lifespan of 64 years, the Tick Tock has come to symbolize all that was and is in the mythic Jersey diner saga.
"Eat Heavy" my friends. My devotion to the Tick Tock is eternal. And one of these nights, if there is a harmonic convergence of the moon, stars, comets, galaxies and earth-bound situations, maybe, just maybe, you might see me stumble through the Tick Tock's vestibule doors at 1:05 a.m.
Tick Tock Diner
281 Allwood Rd. (and Route 3 westbound)
Clifton
973-777-0511
Michael Gabriele is the author of The History of Diners in New Jersey, published by The History Press.