When it comes to winemaking, people often forget about Central Jersey. In fact, until the last decade, Cream Ridge was the only winery is the region. However, Monmouth and Mercer counties have both a rich agricultural tradition and quick access to the Parkway and the Turnpike, and so it's no surprise that more wineries have opened here in recent years. In other parts of the state, many of the winemakers come from families that had long grown grapes and made wine for personal consumption. Here that's not the case, and I feel that the lack of familial background has forced them to learn good winemaking technique and granted them the freedom to make wines that others might not consider. If one word could describe the winemaking of the Central Jersey region, it would be diversity.
I recently had the pleasure of interviewing Tim Schlitzer of Cream Ridge Winery, Pam Mount of Terhune Orchards, and Pierre Crawley of Peppadew Fresh Vineyards and Winery.
Cream Ridge Winery
Founded in 1988 by Tom and Joan Amabile, Cream Ridge Winery is located in the Cream Ridge section of Upper Freehold. Tom had been a network analyst at PSE&G for three decades, and upon retirement he turned a winemaking hobby into a second career. In its early years, Cream Ridge was best known for its Ciliegia Amabile (cherry wine), which won the Governor's Cup four times for the best fruit wine in the state. Tom passed away last year, but the winery is still owned by the Amabile family, and his winemaking tradition lives on at Cream Ridge.
Tim Schlitzer started working at Cream Ridge three years ago, and today manages the winery with his wife Jackie. Besides its Ciliegia Amabile, Cream Ridge has a wide selection of wines, including vintages made with apricots, elderberries, pineapples, and espresso. He stated that all real alcoholic beverages come from plants, and that all of their wines are made from natural products, and do not use artificial flavorings. Cream Ridge puts more emphasis on selling at the winery, rather than shipping wine or selling through outlets. Tim noted that he was heavily influenced by a trip to Spain with his wife where most of the restaurants featured locally made wines.  He mentioned that when wines are primarily consumed on site, far less sulfites are needed.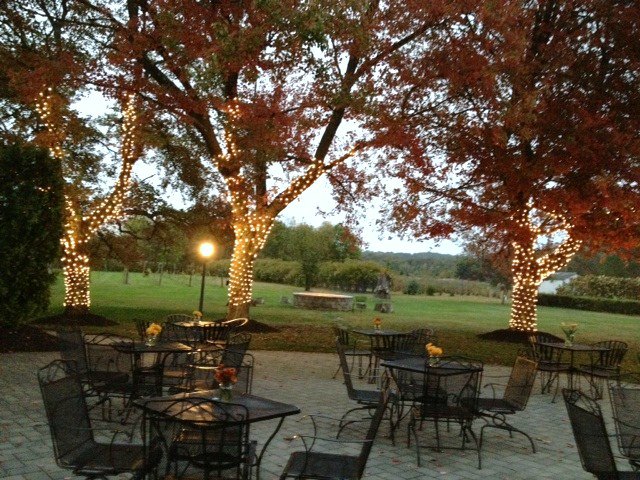 Peppadew Fresh Vineyards and Winery
During his 35 years as a food importer, Pierre Crawley became intrigued with the peppadew, a sharply-flavored pepper from South Africa that looks like a cherry tomato. He bought a 15-acre flower farm in Morganville, and in 2008 planted peppadews, becoming the only farm in the country to grow them. The United States Department of Agriculture awarded the farm $260,000 to expand peppadew production and distribution. Grapes were first cultivated in 2011, and a year later the winery opened to the public. Retaining the land's history as a flower farm, Pierre also grows azaleas, flowering quinces, hydrangeas, and pussy willows.
At this time, Peppadew Fresh only offers a handful of wines, but it is one of my favorite vineyards to visit. Pierre is very knowledgeable about the wine industry, and makes visitors feel as though they are at home. The winery hosts weddings and other events, and puts a large importance on the overall customer experience. Pierre noted that he picked the farm's location because of its soil and climate supported peppadew cultivation, and its proximity to New York City provides easy access to a large population base. The tasting room is in a 19th-century barn that was renovated to include modern heating, café-style tables, and big screen TVs, and outside is a fire pit and patio seating.
Terhune Orchards
Pam and Gary Mount are both lifetime New Jerseyans. Pam was raised in Princeton, and Gary grew up on a nearby farm. Both served in Peace Corps, and in 1975 they purchased a farm in Lawrence Township from the Terhune family. Over the last forty years, the Mounts have more than tripled the size of the farm, which is now 200 acres, and which has become a landmark known for its fresh produce and baked goods. Their daughter Tannwen lived in San Francisco after graduating college, and after being exposed to California viticulture, suggested that the family start a winery. Grapes were planted in 2003, and Terhune first sold wine five years ago.
Terhune Orchards is a bit different than most other wineries in that it functions as a winery, commercial farm, and tourist attraction all wrapped into one. The farm grows over 35 different crops, employs 25 full-time employees, and has around 500,000 visitors per year. Pam mentioned that having a winery has expanded their clientele with a lot more young adults now visiting the farm. Not surprisingly, besides red and white wines, the Mounts also make fruit wines from apples, blueberries, and peaches. Pam is deeply optimistic about the future of New Jersey agriculture, noting that in 1975 there were only six operating farms in Lawrence, whereas today there are fifteen. She added that the concept of "eat local, buy local" didn't exist 40 years ago, whereas buying directly from the farm is common today.
Recommendations
I strongly recommend trying Cream Ridge's Petite Sirah. This full-bodied red starts dry, ends with a spicy kick, and goes well with sausage.
When you visit Peppadew, order a glass of their Chambourcin, sit down, and enjoy the day conversing with Pierre.
My favorite wine at Terhune is Just Peachy, a blend of peaches and apples, which won the Governor's Cup in 2013. Just Peachy tastes like cider, but with a very smooth finish, and it pairs perfectly with homemade apple pie.
Cream Ridge Winery
145 Allentown Davis Station Road (County Road 539)
Cream Ridge
609-259-9797
Peppadew Fresh Vineyards
97 Harbor Road
Morganville
908-507-2240
Terhune Orchards
330 Cold Soil Road
Princeton
609-924-2310