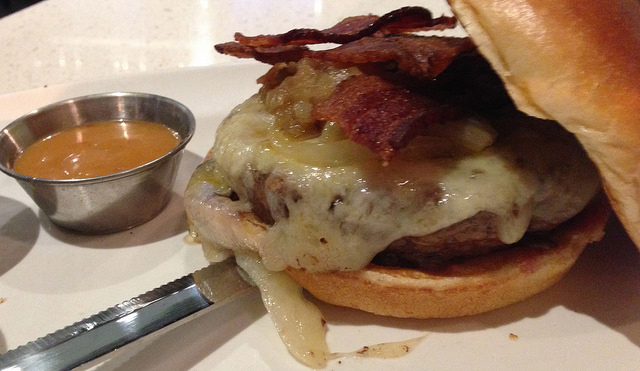 Question: What do you get when you cross NYC-style industrial chic décor with a creative build-your-own-burger approach?
Answer: The Counter – Custom-Built Burgers. 
Situated on busy Route 3 West in Clifton, this newest addition to north Jersey's burgeoning burger scene has staked out a cozy niche for itself. With an innovative cocktail program alongside a varied food menu, The Counter could become part of your regular go-to restaurant list. Needless to say, I was thrilled when they invited me to come check it out and try some of their offerings.
The food focus here is obviously burgers, but they turn it up a notch by allowing customers to "build" their burgers from the ground up, so to speak. A large checklist of burger options is clipped to the rear of the menu, and with the handy cup of pencils on your table, you simply check off how you'd like your burger to be built. Choose hormone/antibiotic-free beef, ground turkey, chicken breast, Ahi tuna, or even organic bison as your starting point.  Add one of several different cheeses, and then move onto sauces. Finding it hard to choose just one of the many interesting sauces? No need, you can get a "sauce flight of 3" for just 75 cents. But then the really hard work begins. There are close to 50 toppings you can select for your burger creation, ranging from sliced cucumbers and fresh jalapenos, to fried pickle chips and grilled Anaheim peppers. The list of choices feels endless! Finally, choose your bread. I am partial to brioche, but you could choose sourdough, pretzel, multigrain, or gluten free.
Not into burgers? The Counter has a nice selection of salads and sandwiches. Or if you'd rather have your burger without the bread, try their Burger Bowls. An innovative salad-style approach to burgers – choose the Mediterranean and you get ground turkey, lettuce, Greek feta, black olives, cucumbers, spicy peperoncini, tomatoes, and house-made tzatzki. Or choose one of the other enticing burger bowls.
We sampled the deviled eggs, delicious with cheddar, chopped bacon, and parsley for an appy, along with the Fifty-Fifty, a generous bowl of salty shoestring fries and crispy onion strings.
For dinner, our custom-built beef burger included Manchego cheese, bacon, and onion confit, topped with a delicious sweet siraichi sauce, all tucked nicely into a brioche roll. The burger was cooked perfectly medium-rare (warm pink center) and very juicy.

We also sampled the Grilled Black Forest Ham & Swiss Cheese sandwich served with house-made mustard on the side. A very nice cole slaw (not too much mayo, nor overly vinegar-y) accompanied the dish.
Although we didn't try any, The Counter has quite a few very tempting shakes, malts, and desserts, including some adult-only shakes like Bananas Foster, a delicious-sounding concoction of spiced caramel banana shake with Myers dark rum and Stoli vanilla. Definitely have to try one of those next time!
According to their concept statement, The Counter is on a mission to challenge the way people think about burgers. With locations from California to Virginia, Kuwait to Ireland, and now New Jersey, The Counter may just take over the world—one burger at a time!
The Counter
374 Rt 3 West
Clifton
973-594-8700
 Terry Krongold is a life-long, passionate baker. In addition to a full-time job in the pharmaceutical industry, Terry has been involved with food for many years, including co-ownership of a dessert catering company in the late eighties called I Love Cheesecake, specializing in fine cheesecake and unique desserts. Terry is the author of The Cook's Tour, a blog focused on food, baking, and travel. When not working, writing, or baking, she spends time planning vacations around restaurants to visit. She can be reached at terry@cookstour.net.