Where I Was
Triumph Brewing Co., Red Bank, NJ
When, Exactly
Friday, August 9, 12:21 p.m.
Where I Sat
Triumph is a big space and the bar is long and multisided. I sat toward the left side, sort of near the kitchen door. I realize that's an unusual spot but I like the vantage point with regard to the rest of the space and the particular notch I was nestled in.
Who Served Me
Steve. Great smile and welcoming.
Bartender's Favorite Bite
As soon as I asked the question, Steve started riffing…
"There's a lot on the menu I like a lot," he said. "Today I'm thinking about the fish sandwich. The grilled cheese is one of the most unusual grilled cheeses I've ever had—I mean the tomato jam! I don't even like tomatoes!"
"Then there's the maitake banh mi and when the chef first mentioned it, I was like 'Dude, I don't do mushrooms, no thanks.' I tasted it and was like 'OH MAN!' So you might wanna try it."
As he wandered down the bar, he started to consider entreés when I stopped him, "That's fine," I called after him.
The Vibe and My Vantage Point
The space has an ease about it; it's soothing. Back in the day, when I was part of the team to relaunch House & Garden, our incredibly talented editor, Dominique Browning, used the phrase "bringing the outdoors in." Triumph does a masterful job of just that. The design combines natural materials with organic elements and a subtle color palette.
I sat toward the far side of the bar to the left of the entrance. which gave me a full view of the restaurant.
What Quenched My Thirst
Paloma, $12
Libelula tequila, Pamplemousse rose liqueur, lime juice, simple syrup, and club soda, with salted rim and garnished with a grapefruit slice
I know, I know. I'm at a brewery. But guess what, guys? I'm no expert on the hops so I will leave that to those who know a little more than I. I did venture to taste two kinds of beer, which I will do my best to describe one of them below – to differentiate between two is a task too extreme for this lady! But before I do, you know I love me some cocktails! So here it goes.
The Paloma, surprisingly light, arrived in gorgeous form. Despite what you'd expect to be a smack, given the key ingredient, this sexy concoction wasn't what you might expect. The salted rim was a serious contrast to the fragrant flavor while club soda made the whole thing refreshingly delightful.
Irish Mild, $7
YUM. The head was lovely as the sip first hit my lip and the taste was a heavenly combo of sort of carmel-nutty with a hint of tartness at the back. Not sure what else to say here but I like that it didn't taste too IPA-like, and since I know nothing about how all this beer stuff works, I will leave it at that.
What Fed My Soul
Skirt Steak Tacos, $17
Corn tortillas, chimichurri slaw, cotija cheese, lime
Not sure why, but these just beckoned me. They seemed like a protein-rich, tasty, yet not heavy choice. I was stoked! They arrived with a punch of color—featuring almost transparent slices of radish and an eye-catching sheen on the bright and fresh slaw, complete with its greens and purple cabbages commingled into a gorgeous pile. I couldn't wait to dive in!
I quickly grabbed the lime wedge and squeezed it with serious umph over my taco and went for it. After my first bite, I waited…and waited a little more. Took a bite of slaw and thought, Hmmmm, let's try that again. I made my second bite with slaw on top of the steak and light dusting of cotija cheese and had the same experience.
I waited for the flavor explosion—the colors of the bite belie the taste. This left me pretty deflated. The steak was overdone and was waaaay under-seasoned. The cheese could've been more prevalent and I wouldn't have minded a little ramekin of hot sauce to spice it up a bit. The slaw lacked the vinegar intensity necessary to light up the steak in its current form. All of this, together, left my experience befuddled and wanting.

Maitake Banh Mi, $14
Avocado, pickled carrot and radish, serrano chile, cilantro, Thai basil, red pepper mayonnaise
Steve really sold this one—his whole face lit up as he described it. Now I have enjoyed some serious West Coast banh mi so was skeptical from the start, and to consider NYC authentic banh a good runner-up made this choice seem insane. Guess what? Again, I was bamboozled.
The color on the plate was stunning—the layers—the thin slice of chile looked so inviting, and then, nada. The first bite, while textured, was almost tasteless. It had little pop, even from the cilantro. There was no heat and the mushroom was fried tempura style so while it was interesting, it was not really tasty. I was now two for three and fully betting on the mussels.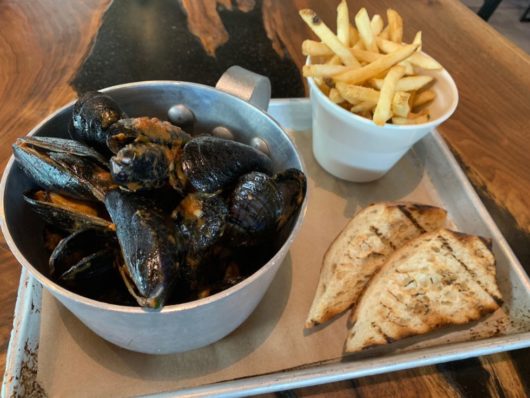 Maine Whitewater Mussels, $18
Thai red curry style (also available with Belgian Witbier); comes with fries and grilled bread
They arrived in splendor, with a perfect side of fries and some good-looking grilled bread. The pot the mussels were served in was deep, so the top mussels, while covered lightly with what looked like rough-strewn Thai curry, were not juicy like you'd expect. Tasty, but not juicy.
I decided it was the pot: if it had been half the height and twice the width, the broth—the beautiful curry broth—would have soaked the mussels, which I would've deeply enjoyed. The flavor was subtle at first, not fiery like some red curries, where the heat is apparent from the start.
This was a thicker curry than what you'd get at a Thai place for sure, and very tasty. Fries cooked with just the right amount of crisp-to-creamy-potato balance and dipped into the curry were extraordinarily delicious! These I would order again, but next time around I'll ask the chef to load the pot up with curry!
What's on Tap
All beer $7
Kellerbier
4.8% ABV
Bohemian Pilsner
5.7% ABV
American Pale Ale
6% ABV
Red Eye
5.8% ABV
Witbier
5.5% ABV
Bengal Gold
6.8% ABV
New England
7.4% ABV
Irish Mild
4.6% ABV
Black Lager
5.1% ABV
Belgian Strong
8.2% ABV
Extra Special Bitter
5.9% ABV

Selections may vary.
What's Uncorked
Rosé, $10
Ame du Vin – Provence, France
Whites2
Chardonnay, $10
Raeburn – Russian River Valley, California
Pinot Grigio, $10
Ruffino – Delle Venezia, Itay

White Pinot Noir, $10
Left Coast – Oregon
Riesling, $10
Red Tail Ridge – Finger Lakes, New York
Chenin Blanc, $10
Raimbault – Vouvray, France
Reds
Cabernet Sauvignon, $10
R Collection by Raymond – California
Pinot Noir $10
Left Coast, Cali's Cuvee – Oregon
Cote du Rhome, $10
Roger Perrin – France
Tannat, $10
Vinedo de las Vientas – Uruguay
Selections may vary.
What Else to Know
Triumph hosts brunch on Sundays in August. Click here for details on live music and events. A back room with sliding doors serves as a great party space. Menu changes daily/weekly depending on availability of fresh ingredients.
When to Show
Sunday to Wednesday, 11:30 a.m. to 12 a.m.
Thursday to Saturday, 11:30 a.m. to 1:00 a.m.
Know Before You Go!

Please check the Triumph Brewing Co.,Red Bank for the latest deets.
Triumph Brewing Co.
1 Bridge Avenue
Red Bank, NJ 07701
732-852-7300
info@triumphbrew.com

A Lady Walks into a Bar™ is owned and trademarked by Gabrielle Garofalo.