Rock and roll and…hot sauce? Pair a passion for each and you get Dexter Holland, best known as frontman of the Offspring. After decades of success in the music world, beginning Gringo Bandito was more of a side-gig idea for Holland, but the concept has grown into full-fledged business with over one million bottles sold. Not only is Gringo Bandito Hot Sauce finding its way onto shelves across the U.S, but the brand has made its way onto the international stage. It's now also sold in Finland, Canada, Germany, Belgium, and Japan. I was invited to stop by the Never-Ending Summer Tour's New Jersey show at the PNC Bank Arts Center in Holmdel to see the Offspring and 311, and to check out the Gringo Bandito!
In the Tent
The pop-up tasting tent featured the current varieties: super hot, original red, and green. To come up with new flavors, Holland says, "I work with my team on blending different peppers and ingredients to find the exact flavor of what we are looking for. It's not the easiest process, but the sauces come out great!" Each sauce adds a twist to any dish. Original red is thought to be a classic, with a mild level of heat. The green sauce swaps out tomatillos for unripened habañeros and amps up the heat a bit. Holland's favorite way to pair the green sauce is on huevos rancheros for breakfast. Finally, super hot is made with consumers in mind, and is the right level of heat while maintaining flavor. Scorpion pepper and buht jolokia (ghost peppers) are used to make this natural blend of hot sauce. Holland recommends trying super hot on carne asada burritos; these will add a kick to any meal! Making the sauces is no easy task, but Holland says enjoys the challenge.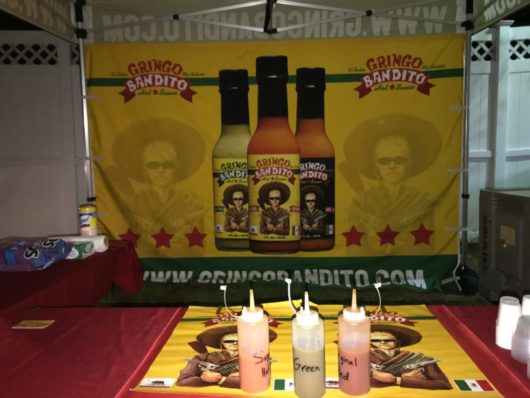 The Scoop on the Sauce
Gringo Bandito began over 12 years ago. "We originally thought it would be great to get it into local restaurants in southern California and maybe even a local supermarket, which [would have been] amazing," Holland told us.
Now an idea that started as Christmas gifts for friends has expanded to over 7,000 supermarkets and over 500 restaurants, including Whole Foods, Safeway, Kroger, and more.
Big things are coming to Gringo Bandito over the next year. "We are currently working on our 2019 Private Reserve blend," Holland told us. "Every year we create a special edition sauce that we make a limited amount of bottles of and release it before the holidays. It's a lot of fun!" In the past this has included special edition flavors, like Cheapskate for the 2017 Private Reserve.
Be on the lookout for this unique brand of hot sauce, coming to a retailer near you. You can also buy Gringo Bandito online on the brand's website or on Amazon, where it is a top 10 selling hot sauce. And while they're done with the Garden State (for now!), the rest of the official tour dates can be found here.
Wrapping Up, Jersey Bites Style
Just where is Holland's favorite New Jersey restaurant? "I love Mexican food and recently went to a place called Taqueria Downtown, in Jersey City, while on tour," he told us. "It had really great carnitas tacos and guacamole. All they needed was a little Gringo Bandito and it would have been perfect."
Photos by Lessly Delcid unless otherwise noted.
Photo at top by Chapman Baehler.