Where I Was
St. Stephen's Green Publick House in Spring Lake Heights, NJ
When, Exactly
Wednesday, March 14, 2:21 p.m.
Where I Sat
My fave spot in any bar. Alllllll the way at the end of the bar at the corner where I can look forward and take in the scene. My eyes immediately set on the green shamrock tie as the bartender warmly greeted regulars and made his way over to me. The bar sits apart from the dining area, and likely for good reason!
Who Served Me
Bill, known to regulars as Billy. Warm, professional, and I think, at first, all dressed up in high anticipation of the coming holiday only to find, this standard-issue uniform is what all staffers lucky enough to work front of house at St. Stephen's Green wear. He's been  at St. Stephen's for just about two years now. However, his ease and deep knowledge of the menu—and familiarity with all the regulars—suggest a longer history.
Bartender's Favorite Bite
First he asked, "Which menu?" You see, this fine Irish eating establishment has regular menu items and daily specials both at lunch and dinner! At first Bill steered me to about 10 items proclaiming "you can't go wrong, they really are all so good!" So I limit his response to regular, lunch-menu items that felt "Irish-y" without being cliché. He knew exactly where to go from there.
"The lamb sliders! Cooked medium—they are sooo good! And I also like the Emerald Isle mussels. And the drunken clams. Like I said, you really cannot make a mistake, they are both great." So, knowing I wasn't my normal staaaarving self, I knew my limit was two plates. I press Bill about clams versus mussels and without skipping a beat he tells me to go with the drunken clams.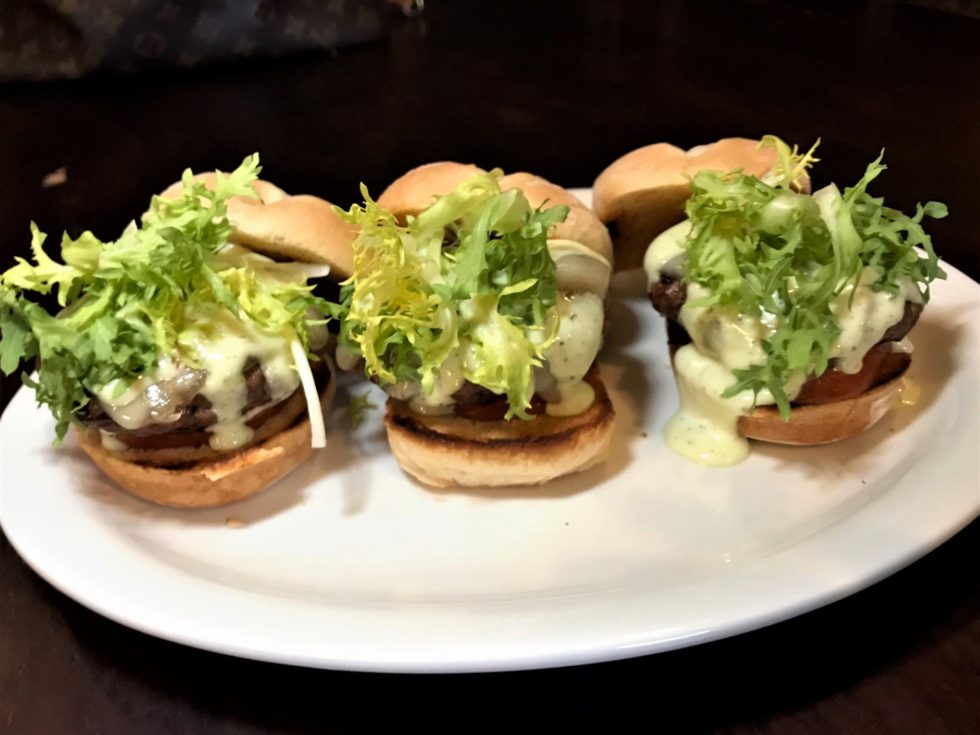 The Vibe & My Vantage Point
I noticed the phrase céad míle fáilte in several places throughout St. Stephen's—from the sign mounted on the side of the building as you enter from the parking lot to inside on the menu and its literal meaning is a hundred thousand welcomes.
The décor? Quintessential pub, as expected (dark wood, cushioned bar stools, low-glam), but with a warmth that I felt from the moment I walked in. An incredible experience—staff is family—regulars coming in and out—every name known, and not just by Bill but by all they came into contact with. The manager peruses the floor making jokes and engaging with the bar guests and diners. From Bill's audible warm "Welcome!" to the manager swinging by to see if I was settled, I felt at home immediately, even though it was evident the "local regulars" are the real mainstays of this institution.
Despite the dark wood, St. Stephen's has lots of light and the interior lighting is well managed for the range of customer ages I spotted finding tables throughout the dining room and the full length of the bar.
And then there was the faint but fantastic moan of bagpipes playing in the background. At first I didn't notice, but once I did I couldn't stop tuning in. A perfect Irish pub which makes me sorta wish I was a real Irish lass. Can't wait to come back—next time for the night!
What Quenched My Thirst
This was easy—what was the most quintessentially Irish choice that wasn't a Guinness Stout?!
Guinness-Tini $10
Stoli vanilla, Kahlúa, and Tia Maria topped with homemade Irish cream
This is SO not the kinda drink I gravitate toward, but as an Italian girl posing as an Irish lass, I figured, let's go all in! Besides, how many times can I share my deep love of gin and tequila?! (As it turns out…quite a bit…so look for more of those soon!).
So I went out on a limb and ordered this likely-too-sweet offering and marveled as Billy made this drink with attention and care. What I was not expecting was the insane beauty of this cocktail—both visually and in its flavor. It's sad my photo skills aren't all that as the pic hardly does it justice. As the drink was presented the heft of the gorgeous homemade Irish cream started to settle into the inky concoction below. While the drink sat during the photography, you could see the emulsification of the cream swirling into the depths of the glass. As I took my first sip, the not-yet-discovered liquid hardly penetrated the weight of the cream but when it did—ahhhhhh. Magically soft and sweet, with a nice kick of Jameson made this a drink I could eat! I loved it while remaining entirely grateful that I could only indulge in one—both for its caloric count and its power!
What Fed My Soul
Lamb sliders, $10.95
Lamb burgers, topped with fontina, cured tomato, frisee & rosemary garlic aioli on toasted buttered rolls
Promoted as a house favorite, I'm gonna say they really undersold it. UN-BLEEPING BELIEVABLE! YUMMMMMMMM. If you could have heard my audible mmmm when I took my first bite you would know how serious I am about this. And as a total lover of any and every condiment, trust me when I tell you the aioli is AHHHHmazing…the overall flavor was incredible. The tenderness of the burger was super juicy and just shy of a mess. The buns, while not homemade, were hearty enough to sustain the amass between its two sides. The bitter, slightly textured frisee, instead of the ho-hum choice of lettuce, is flipping genius. This subtle-yet-deliberate touch makes for a flavor profile that's simply divine—a beautiful blend of spice with the lamb's fragrance against the creamy, herby coating amidst the nuttiness of the toasted bun. Again, total yummy goodness.
Drunken clams, $11.95
Baker's dozen of littlenecks in seasoned Harp Lager broth with garlic toast
Immediately spotted on the menu was this Italian girl's favorite staple, which only needed Billy's buy in to seal the deal. The mound of littlenecks arrived in a shallow pasta dish with gargantuan pieces of gorgeously golden garlic toast. Hot pepper flakes spotted the clams which lustered with remnants of the deep, cloudy broth at the bottom of the dish, which I could not wait to dip into. The clams were delicious, plump and fresh—simmered to a perfect tooth. Now you know I love my breads, and this one didn't disappoint. Crusty on the outside, and soft, almost a little spongy on the inside. The essence of garlic and more hot pepper flakes dusted the top but didn't overwhelm when the bread got to doing its number one job: transporting the Harp Lager broth from dish to mouth without it dribbling onto my intentionally emerald green shirt! You know you're dealing with awesome soaking bread when it maintains its crunch when fully immersed into the drunken juice. I was devastated that I was simply too full to eat both pieces. And even as I paid my bill and prepared to leave, I had to stop ask where the bread is from: Il Panettiere Inc. in Staten Island, for all you crusty bread lovers out there.
As I headed to the door, I turned one last time and locked eyes with my new favorite bartender and said, "See ya later Billy—have a great night!"
Beyond the Bar
This local staple boasts generous daily specials and live music. They're available to host private parties. St. Stephen's offers Sunday brunch, gift cards, and catering package pricing. It's the perfect one-stop shop for all your delicious Irish fare needs!
When to Show
Open Daily
Monday thru Friday 11 a. m. to 2 a.m.
Lunch and dinner specials daily
Plus small plates 11:30 a.m. to 3 p.m., and bar specials like shepherd's pie and Guinness beef stew
Saturday and Sunday 10 a.m. to 2 a.m.
Know Before You Go!
Prices, hours, and menu items are subject to change. Please check the restaurant's website for the latest information available.
St. Stephen's Green Publick House
2031 Highway 71
Spring Lake Heights, NJ
732-449-2626
This article was not paid for, nor influenced by, the restaurant/bar featured in this column.