Earlier this week, I had the great pleasure of test driving Chef Bryan Gregg's tasting menu at the Orama Chef's Counter. If you've followed my food adventures, you'll know I'm a big fan of Chef Gregg and while I was sad to hear his Montclair restaurant, Escape, close a year ago, I'm thrilled to see him in such a gorgeous space in a prime location.
The Space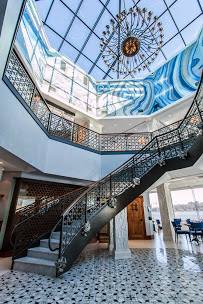 Orama is simply grand. There are amazing Hudson River and Manhattan views that get better as the sun sets. I'm especially impressed with the view of the George Washington Bridge: lit up and spectacular. Beyond the views, the setting is beautiful. Orama collaborated with Alex J. Morales, a talented muralist and artist from Uruguay, to create stunning interior and exterior art pieces.
The first floor features a backlit, blue quartz bartop, a grand piano where live music acts play and table/bar seating ideal for happy hour and cocktails. In warm months, the first floor opens to a patio area, steps away from the Hudson River. The color palette of the first floor complements the waterviews—tones of blues and pale gray marble.
The marble continues on a grand staircase leading up to the main dining room. "Wow" seems to be the appropriate response when the dining room comes into view. There are floor-to-ceiling glass panel windows providing amazing views from three sides of the building. Furniture is of the best quality, with white Italian chairs everywhere except at a large art deco-inspired table for eight guests in the center of the space.
There is a private dining room on the second floor with seating for 10 and audio/video capabilities perfect for a business meeting or small private event.
The open kitchen is expansive and offers a glimpse into the culinary world. The kitchen features the Chef's Counter, where we sat during our visit.
The Food & Drinks
I'd been to Orama for à la carte dinner and that was wonderful, but the Chef's Counter tasting takes the experience to the next level. I've enjoyed Chef Gregg's tasting menu many times prior to Orama, but he's outdoing himself at this new venue.
Following is the menu Executive Chef Gregg and Sous Chef Mike Smithling crafted for our group, using the most pristine ingredients available and based on our preferences:
Amuse bouche: 24-month aged mountain ham over apple. This bite set the tone for the rest of the meal. Ham aged that long takes on a bit of funk and the pairing with the crisp, tart apple was very smart.
Osetra caviar, chicken skin, sour cream. Come on, fried chicken skin with caviar and sour cream? Pork—fried, salty, creamy—brilliant.
Smoked yellowfin, smoked ponzu, charred radish. The charred radish was tucked into the fold of the ultra fresh tuna which was lightly smoked. Beautiful, great texturally and of course, tasty.
Sea urchin and wasabi root. Uni is my favorite food item. I was delighted when I saw this version designed in a roll that had me closing my eyes and taking a moment.
A5 Japanese beef tartare, quail yolk, yeast crackers. Neatly presented on a bed of lentils, this "chip" was everything: beefy, slightly fatty, unctuous from the yolk on a cracker that kept its crispiness under pressure.
Glazed scallop in foie butter. The bite of the evening, in my opinion. Chef Gregg is a master at seafood, especially scallops (he did win the Best Seafood Chef in NJ title a couple years ago, after all) and these scallops were cooked to perfection in foie gras butter then topped with a seared piece of foie gras. Knee-buckling bite.
Ostrich roasted over red cedar. The ostrich was served rare, my favorite meat temperature, with aromas of smoky red cedar permeating the dish. A smart display and meaty goodness.
Persimmon red wine sorbet. What a great way to segue from savory to sweet. Creative presentation for the sorbet in a frozen persimmon.
Pear, smoked vanilla ice cream, ginger crunch. I love pears and this dessert took me back to my childhood when my mother prepared many pear desserts for us. Playful use of ginger crunch with a moist cake packing big pear flavors and vanilla-scented ice cream. Tuck me in, I'm a happy girl. This was pure comfort food, artistically presented.
Chef ended the experience with a great slice of blue cheese from Wisconsin with a piece of toast. I'll take cheese over dessert anytime and this was a great way to end the meal and to finish my last sip of red wine and of Sauternes.
Orama has a creative cocktails list and an extensive wine list. We enjoyed several wines, including a 2005 Sauternes that paired beautifully with the foie gras course and the cheese.
Reservations for the Chef's Counter can be made over the phone—be sure to note that you're looking for the tasting menu and the counter. There are four comfortable seats at the counter with a view directly into the kitchen. Prices for the tasting vary based on the number of courses guests want to experience. Wine pairings are available to match the food served.
Orama
595 River Road
Edgewater, NJ 07020
201-945-2020
Cheers,
Veronique