The fourth annual Morristown Festival of Books takes place on Saturday, October 14, from 10 a.m. to 5 p.m. and food lovers won't want to miss it. The all-day, free Main Festival features more than 40 acclaimed authors including superstars in fiction, nonfiction, poetry, children's, and young adult categories. Whet your appetite and mark your calendar to meet these featured authors!
Meet the Cork Dork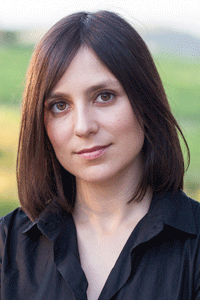 Bianca Bosker is an award-winning journalist who has written about food, wine, architecture, and technology. She didn't know much about wine until she fell headlong into a private world most casual wine lovers may be entirely unaware even exists.
In her knockout nonfiction book, Cork Dork: A Wine-Fueled Adventure Among the Obsessive Sommeliers, Big Bottle Hunters, and Rogue Scientists Who Taught Me to Live for Taste, she has crafted a unique work—part memoir, part investigative feature—that pulls back the curtain on an alternate universe where taste reigns and elite sommeliers dedicate their lives to the pursuit of flavor. She takes you inside underground tasting groups, exclusive New York City restaurants, California mass-market wine factories, and even a neuroscientist's fMRI machine as she attempts to answer the most nagging question of all: what's the big deal about wine?
Time to Cook with Nonna
Rossella Rago is the host of the popular web cooking show Cooking with Nonna. On the show, Rossella invites an Italian-American nonna to cook with her, sharing traditional Italian recipes and fond memories of childhoods in Italy. In 2010, Rossella, together with her mother and her Nonna Romana, won the "Italiano Battle" episode of the Food Network's 24-Hour Restaurant Battle.
Her debut cookbook, also titled Cooking with Nonna, features over 100 classic Italian recipes, along with advice and stories from 25 beloved Italian grandmothers. Rossella will share her book and lots of advice on how to make fresh favorites like homemade pasta, Sicilian rice balls, struffoli, ricotta cookies, and more. Rossella grew up in New Jersey and spent her childhood in the kitchen with her maternal Nonna Romana. It will be a treat to join her for a live talk that will leave you hungry for more!
A Taste of Shakespeare with Your Wine
The day caps off with a special closing event that combines two of life's joys: Wine & Words! Actors from the renowned Shakespeare Theatre of New Jersey will honor the great tradition of live storytelling by performing two contemporary short stories. The program will be directed by STNJ's Brian B. Crowe. Sip a glass of wine and enjoy as the printed page is brought to the stage. Event begins at 5 p.m. Tickets and more information available at morristownbooks.org.