Screamin' Hill is a farm brewery, located on the property of Bullock Farms in rural western Monmouth County, in the shadow of Six Flags Great Adventure, at Cream Ridge.
It is not a brewery located on a farm, but a farm brewery. Besides having a very cool name, which I will explain in due course, it also turns out great beer. If beer can commandeer the term terroir from the wine world, Screamin' Hill is certainly entitled to it. Of the four basic ingredients of beer, hops hold the spotlight and yeast does the magic. However, it's the malt bill that provides the heart and soul of a beer. Water is the canvas on which the art is painted.
OK, if that sounds a little poetic, forgive me. The rustic charm of the place will do that to you. Roughly 90% of the barley, wheat and rye malt used in Screamin' Hill beer is grown on the 500 acres of land owned and farmed by Bullock Farms. Only specialty malts are purchased from outside sources. You might think it's pretty handy having your own farm full of grain to make your beer. It's not. Grain doesn't become malt until it's, well, malted. For that they have to truck the grain an hour away to Pennsylvania and then bring it back to create their beers. In the end, it costs about twice as much as buying malt from an outside source would. It also means that you have to plan a recipe right from the seeds.
They also use well water from the farm. Waste water is reclaimed and used to water the fields. Spent grain goes to a local dairy farm and used as feed. It's a pretty green operation. Speaking of green, they grow hops, but only enough for a special batch after the harvest in the fall. So struck was I with this bucolic scene that I may have pledged to return and help hand pick their hop crop.
So how did this slice of genuine Jerseyana get its start? Owners and brewers, Brett Bullock and Ryan Cole (pictured at right) were childhood friends who caught the home-brewing bug. The rest, as they say, is history. And history is in plentiful supply here, too. Brett's family has been farming the land since 1860: that's six generations. The brewery and taproom occupy an out building that dates to the origin of the farm but was beat up badly in Hurricane Sandy. Even with heavy modifications it feels as if it's always been here.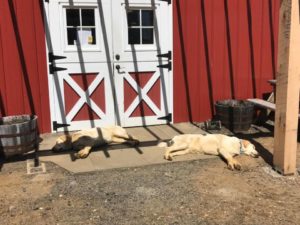 From the sleeping dogs basking by the sunlit entrance to the repurposed wire cable spools set up outside as pub tables, Screamin' Hill has a quaint, rural character. And then there's that name. Back in the late 19th century, in Cream Ridge, the Coward (or Cowart) family brothers built up quite a reputation for themselves as first-rate hooligans. That is until one brother was touched by the redemptive hand of religion. From the brewery, you can see Emley's Hill United Methodist Church, first established in 1790, perched on the neighboring hill. Early Methodist services were rollicking affairs and were made more so with the reformed Coward brother bellowing the gospel from the pulpit. It was said that he could be heard a mile away. With all that hollering, the locals took to calling the place Screamin' Hill. They were innocently unaware of what a great brewery name they had created. (I wonder what the Coward brothers would think!)
Well, I know what I think. If you like good beer, a ride in the country, and a little genuine Jerseyana, take a detour on your way to the shore and stop in for a visit. Right now, Screamin' Hill is the only place to get their delicious liquid.Check their website and Facebook page for current offerings.
Here's what we sampled during our visit:
American Wheat: Light in color and body with just a faint hint of the banana and clove notes you find in a Hefeweizen.
Screamin' Magnolia: Fruit and citrus with low bitterness. A summery IPA.
Rusty Farmer: Besides the great name it's a roasty amber ale with some coffee on the nose and a little fruit at the end.
Single Hop Pale Ale: Lemon or lime flavors you'd expect from Galena hops.
Blood Orange Pale Ale: Think orange rind instead of juice. A thoughtful take on a trendy style.
Red IPA: A moderate IBU (International Bitterness Units) IPA with a rich red and juicy malt backbone. A little hazy, too. I took home a growler.
Cocoa Currant Porter: A beautiful porter with a touch of smoke and sour cherry in the finish (the currants!). I would have taken home a growler if I'd have had another growler with me.
At top: Improvised pub tables line the approach to the Screamin' Hill brew house and taproom.
Screamin' Hill Brewery
83 Emley's Hill Road
Cream Ridge
609-401-2025