April 15: Come vote for the Best Burger at the Shore and enjoy the Annual Craft Beer Fest at The Great Jersey Shore Burger Contest. From 1 p.m. to 4 p.m., watch top Jersey Shore restaurants compete while you get to sample an extensive variety of artisan craft beers. New to this year's event is the Two Buck Shuck Oyster Bar sponsored by New Jersey's Fourth North Oyster Farms. Click here to purchase tickets. Bar A, Belmar.
April 20: Kick off Jersey Shore Restaurant Week with The Chef's Invitational, a chance to taste at least a dozen of the shore's top chefs' signature dishes. A complimentary wine bar will be available. The event takes place from 7 p.m. to 9 p.m. and tickets are $40 each. Click here to purchase. Spring Lake Manor, Spring Lake.

April 21: Tickets are now available for Rahway Taste of Spring! This one-
night event features culinary delights from more than 40 regional food establishments, tasting stations, fine wine, aperitifs, craft beer and live entertainment. Tickets are $30 in advance and $40 at the door price. You can purchase tickets at the Rahway Recreational Center, Witty's Fine Liquors, Beana's Para Siempre, Pinho's Bakery and here. Rahway Recreational Center, 275 E. Milton Ave, Rahway.
April 21 to 30: Come on out for Jersey Shore Restaurant Week! Enjoy a three-course meal with your choice of appetizer, entree and dessert for either $22.17 or $32.17. Click here for participating restaurants. Email jennifer@jerseyshorerestaurantweek.com with any questions. On April 22, Jersey Shore Restaurant Week teams up with Cross & Orange in Asbury Park to bring you Bourbon, Bacon and Bluegrass. Sip samples of bourbons, taste bacon treats and enjoy music from bluegrass band The Glimmer Grass from 1 p.m. to 4 p.m. Tickets are $45 each. Children under 8 are free, and children over 8 are $10 at the door, which will entitle them to food and lemonade. Click here to purchase tickets.
April 22: Haddon Heights In Progress brings you Rhythm and BREWS 2017, a festival featuring local music, art, food and brews! Local food trucks and restaurants will be serving dishes and a large beer garden will provide local craft brews by the 16 oz. glass. Over 10 breweries will be present. Admission is free. Rain date is April 23. Station Ave, Haddon Heights.
April 22 and 23: Waretown hosts its annual Waretown Spring Wine Festival at the Waretown Recreation and Lake Area! The event is from 12 p.m. to 5 p.m. each day, rain or shine. Festival-goers can sample wines from a variety of award-winning Garden state wineries. The event includes live entertainment, crafters, retail and food vendors, and a children's play area. For those over 21, tickets are $20 in advance and $25 at the gate. Click here to purchase tickets.
April 22 and 23: Come on out for the 4th Annual Fast Tracks and Food Trucks Festival at Six Flags Great Adventure. The food truck area is open from 12 p.m. to 7 p.m., featuring 15 food trucks including Carnivale Donut Bar, The Flying Pie Guy, and The Guac Spot. Wine sampling is open 1 p.m. to 5 p.m. as well and requires a ticket, which is $10.99 in advance. Admission to the festival is included with theme park admission or a season pass. Click here to purchase a discounted theme park tickets for the day or a wine sampling ticket. Six Flags Great Adventure, Jackson.
April 22 to 28: For Parkinson's Awareness Month support Parkinson's research by attending the 8th Annual Princeton Dines Out for Parkinson's Disease Research. Dine at any of the eight participating restaurants listed here and a percentage of the proceeds will be donated to The Parkinson Alliance. Kingston.
April 22 to 29: The Rahway Arts & Business Partnership presents Rahway's Restaurant Week. Participating restaurants in Rahway will offer a prix-fixe menu (excluding drinks, tax and tip) for either a lunch or a dinner, depending on the establishment. While you're in the area, consider checking out a show at the Union County Performing Arts Center (UPCPAC).
April 27: The Greater Hammonton Chamber of Commerce presents the 9th Annual International Wine and Beer Expo. The Expo will feature over 100 wines from Wineworks, beer and ale from Kramer Beverage, cheese from Bagliani's Market, olive oil samples and chocolates from Tales of the Olive, treats from Sweet Creations/The Cookie Cutter, and meat and pasta stations. Valet parking is available. Tickets are $50 each. Contact the chamber office at 609-561-9080 or email johnrunfolo@comcast.net for tickets and information. Tomasello Winery, Hammonton.
April 28, May 12: Check out the Roxey Ballet's Open Barre! Event is for ages 21 and up. Donation is $15 in advance or $20 at the door. Each event has a separate theme and will feature beer, wine, and snacks, along with an opportunity for great conversation and sneak peeks at an upcoming ballet. Click here for tickets. Canal Studios, Lambertville.
April 29: Calling all restaurant marketers, food bloggers, food influencers, and aspiring food stylists and photographers: Get the food photography education you need from Anne Herrmann and Natalie Maxwell, of Fish Eye Design, at this all-day, food photography and styling workshop, hosted by Jersey Bites. Click here for full details on this hands-on workshop, and email DSmith@jerseybites.com to register. 141 W. Front Street, Red Bank.
April 29: Join Princeton University students and the local Princeton community for Princeton Truckfest, a charity event hosted by the Community Service Inter-Club Council. From 1 p.m. to 5 p.m., over 15 food trucks will serve their signature dishes. Admission is free. Prospect Ave, Princeton.
April 29: Taste the River Horse Brewing Company's newest beer, Berry Lemon Head, and many other beers at the River Horse Spring Fling! From 7 p.m. to 10 p.m., guests can try new beers, learn what goes into making a kettle sour and listen to live music by The Springfielders. Brewers will be stationed around the warehouse to answer questions about the brewing process. Tickets are $20 and include a River Horse glass and a token to use for your first beer. Tickets must be purchased online. Click here to purchase. Guests must be 21 and over. River Horse Brewing Company, Ewing.
April 29 and 30: The Laurita BaconFest is back with 27 food trucks, 6 live bands, country wine dancing, wine, and a bacon menu! General admission for 17 and up is $8 and kids 16 and under are free. The festival is hosted by and will take place at the Laurita Winery in New Egypt.
April 29 and 30: Taste 15 wine samplings from Jersey wineries at Uncork Spring at Mercer County Park. From 12 p.m. to 5 p.m. on each day, you can have wine, food, visit artisans and crafters, enjoy live entertainment and kids activities! Advance tickets are now on sale for $15 (must be 21 or older to purchase). $20 at the door. Those under 21 are free but must be accompanied by a full paying adult.  For complete details about the festival and to purchase advance sampling tickets, click here.
May 1: The New Jersey Small Business Development Center presents Foodiepreneur: The Business of Food, a high impact, no-cost workshop geared towards people looking to grow or launch a food business in New Jersey. John Lawson of Whole Foods Market, Joe Leone of Joe Leon's Italian Specialties, and March Cogen of The Chicken or the Egg are just a few of the many panelists who will be speaking at the workshop. 9 a.m. to 12:30 p.m. at the Ocean County College in Toms River. Seating is limited, so click here to register or call 732-842-8585.
May 4: Save the date for the Chefs Gala at the Alpine Country Club, hosted by Table to Table. Enjoy wines and food prepared by all-star chefs including David Burke, Peter Kelly and Ben Pollinger. This year's fundraiser will honor Tom Valenti, executive chef at Le Cirque. Proceeds from ticket sales and the live auction will help fuel and fill Table to Table's trucks. Tickets go on sale April 1. The Alpine Country Club, Demarest.
May 6: The Toms River Food Fest features local food trucks, arts, crafts, vendor booths, free children's rides and live entertainment. Admission is free. Festival is open from 11 a.m. to 8 p.m. Rain date is May 7. Downtown Washington Street, Toms River.
May 6: Come on out to the Kearny Food Truck & NJ Craft Beer Festival, 
brought to you by Kearny Bank. The festival will feature 21 food trucks and the Garden State Craft Brewers Guild, who will represent over 12 NJ craft breweries. Live music, an outdoor marketplace and kids amusements will also be available. General adult admission and children 5 and over are $5 each, children under 5 are free. Purchase your tickets here. 12 p.m. to 7 p.m. Frank A. Vincent Marina, Kearny.
May 6: The Skylands Stadium hosts a family-friendly Food Truck and Craft Beer Festival from 12 p.m. to 7 p.m. Festival includes more than 20 food trucks, a beer garden, backyard games, a mechanical bull, live music and free parking. $5 per person, and kids 12 and under are free. Skylands Staduim, Augusta.
May 10: The Community FoodBank of New Jersey hosts its first annual Women Fighting Hunger Luncheon at the Canoe Brook Country Club in Summit. From 11 a.m. to 2 p.m., you can eat, network with professionals, assemble family packs, and learn about the fight against hunger. The luncheon will feature a chef-versus-chef competition between Ariane Kitchen & Bar's Chef Ariane Duarte and Executive Chef Paul Kapner. Proceeds will support feeding programs for New Jersey children. Deborah Smith, owner and founder of Jersey Bites, and Pete Genovese will judge. Click here to purchase tickets. 1108 Morris Turnpike, Summit.
May 12: The Avalon Chamber of Commerce and Fred's Avalon Liquor Store present a Wine & Spirits Festival at the Avalon Community Hall! From 6:30 p.m. to 9 p.m., check out more than 200 wines and spirits, hors d'oeuvres presented by island restaurants, a silent auction, live music and more. Tickets are $45 in advance and $50 at the door. Click here to purchase. You can also purchase tickets at Fred's Avalon Liquor Store, Fred's Stone Harbor Liquor Store and the Avalon Chamber of Commerce. Avalon Community Hall, Avalon.
May 19: The India Heritage Center presents its Spring Spotlight Event celebrating celebrity chefs. Enjoy signature dishes from 6 chefs representing top Indian Michelin starred restaurants. In addition, there will be wine, a bar, a DJ, and an opportunity to meet the Guest of Honor, Madhur Jaffrey. Click here for more details and tickets. 6 p.m. to midnight. Montclair Art Museum, Montclair.
May 20: Check out the Beer BBQ Bacon Showdown, New Jersey's first festival featuring only New Jersey beer, restaurants, and gourmet food trucks and chefs. There will be a competition with a panel of celebrity judges choosing the best BBQ and bacon creations, along with People's Choice awards for Best Dish and Best Beer. VIP hour is 12 p.m. to 1 p.m. and includes a VIP gift, appetizer samplings and more! General admission is 1 p.m. to 5 p.m. Currently, VIP tickets are $90 and general admission is $60, but prices will increase after May 6. Lewis Morris Park, Morristown.
May 20: Keansburg Recreation presents A Taste of Spring, Bayshore's first food truck and craft beer fest! From 2 p.m. to 8 p.m., enjoy free craft beer tasting, food sampling, music, parking, and shuttle service. A battle of the bands will also take place and the winner gets recording studio time. Admission is free.
May 20 and 21: The Chester Merchants Association hosts the first Chester Spring Brew Fest! The festival will feature eight breweries from all over New Jersey, as well as 50 crafters and vendors, and live entertainment from local musical performers. The event is from 12 p.m. to 5 p.m. both days and tickets are available for $15 in advance and $25 at the door. Two-day tickets are priced at $25 before the event and $35 at the door. For more information, call 732-946-2711 or visit allenconsulting.com.
May 21: Jersey Girl Cafe and the Hamilton Area YMCA presents food trucks and more at the Spring Food Truck Round Up at the Garden. The roundup will feature live entertainment, a huge tent for guests, inside and outside bars and food trucks! Admission is free—click here to register. 11 a.m. to 6 p.m. Cedar Gardens Banquet, Hamilton.
May 23: Table to Table's Viva Latino is back, ready to celebrate food from around the world at the Preakness Hills Country Club. You'll sample Latin dishes from North Jersey restaurants, accompanied by a variety of wines. The event will honor Chef Alex Raij, owner of Txikito, La Vara, El Quinto Pino and Tekoa. Proceeds will go to Table to Table's trucks that deliver food to the needy. Tickets on sale April 1. Preakness Hills Country Club, Wayne.
May 27: Celebrate Memorial Day weekend with the 4th Annual Trenton Pork Roll Festival, a unique, family-friendly food and music celebration. The day will include music entertainment, food and merchandise vendors, children's events, a pork roll recipe contest, and the 2017 Pork Roll Queen Pageant. A limited amount of advance tickets are available for $5 each, click here to purchase. Children under 10 are free. Mill Hill Park, Downtown Trenton.
May 28: Learn how 32 different wines were crafted at The Winemakers Co-Op Spring Portfolio Tasting. In addition to mingling with winemakers and proprietors, attendees will enjoy live music from Cold Weather Company and can taste gourmet pizzas from Fired Up Flatbreads. General admission is $34 and includes 4 hours of wine tasting, entertainment and bottled water. Dogs on a leash are welcome outside the tasting room. Beneduce Vineyards, Pittstown.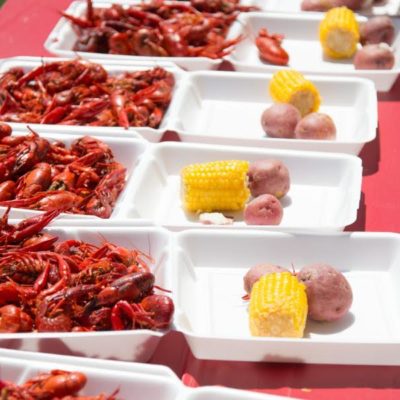 June 2 to 4: Kick off June with Michael Arnone's 28th Annual Crawfish Fest! Get a taste of Louisiana and New Orleans style music, food, and camping festival during these three days on Sussex Country Fairgrounds in Augusta. The festival will feature 24 bands and dishes from eight vendors at $10 or less. Other dining options include the Chef's Table, a five-course meal for guests 14 and over, at $500. Click here to purchase tickets.
June 3: Vote for the best food trucks from Jersey and Philly at the Jerseyfest Food Truck Mash-up 2017! From 5 p.m. to 11 p.m., guests can enjoy the beer garden, live music, kids' activities, harness racing and more. Early access tickets to enter two hours before the general public are $25 until April 16. Afterward, they are $35 online (plus taxes/fees) and $45 at the door. General admission starts at 5 p.m. and will be $5 online and $8 at the door. Click here to purchase tickets. Meadowlands Racing and Entertainment, East Rutherford.
June 3 and 4: Vote for the Atlantic City Food Truck Festival Champion at the 2nd Annual Atlantic City Food Truck Festival! Guests can check out food trucks, craft vendors, a beer garden, kid zone and live cooking demos by celebrity chefs Duff Bryan from Bar's Rescue and Meghan Gill, season 14 winner of Hell's Kitchen. The festival runs from 12 p.m. to 8 p.m. on June 3 and 12 p.m. to 6 p.m. on June 4. Claridge Hotel, Atlantic City.
June 4: Enjoy a day of free family fun and learn about Barnegat Bay at the 20th Annual Barnegat Bay Festival. From 10 a.m. to 4 p.m., participate in interactive programs and check out exhibits from various environmental groups and state and local agencies. Activities include decoy carving, interactive touch tanks, wildlife presentations, and environmental crafts. Wanamaker Complex, Island Heights.
June 5 to 11: Enjoy breakfast, lunch or dinner during the 7 Mile Restaurant Week in Avalon and Stone Harbor. Stay tuned for participating restaurants and menus, which will be posted here.
June 10 and 11: Tickets are now available for the 7th Annual Jersey Shore Wine Festival at FirstEnergy Park in Lakewood. Rain or shine, the festival is 12 p.m. to 5 p.m. each day and feature wine tasting, live entertainment, crafters, retail and food vendors, and a children's play area. Tickets are $20 in advance and $30 at the gate for those over 21. Click here to buy tickets.
June 17: Purchase tickets now for VegFest, a dairy-free, meatless, plant-based food festival. VegFest is a celebration of the health, environmental, and animal welfare benefits of a plant-based lifestyle. There will be vegan food to sample and purchase, engaging speakers, exciting performers, kids activities, and members from the local vegan community to answer questions and showcase what inspires them. The event is 12 p.m. to 6 p.m. and tickets are $15 each. Click here to purchase. The New Jersey Convention and Exposition Center, Edison.
June 24: Help kick off summer in Cape May with Blues & Barbecue, an all-day outdoor family festival that will feature local breweries, live music, food vendors, crafts and collectibles show and kids activities. The event is from 10 a.m. to 6 p.m. and is free to attend. (Costs vary for food, beer and craft vendors.) For more information, call 609-884-5404. Emlen Physick Estate, Cape May.
October 1: Come out to the Chowderfest Cook Off Classic, hosted by the Southern Ocean County Chamber of Commerce. This family fun festival features live music, activities and unlimited chowder tasting. Ticket holders also will have the opportunity to vote for their favorite red, white, and creative chowder. The rain-or-shine event takes place at the Taylor Ave ball field in Beach Haven from 11 a.m. to 4 p.m. General admission tickets are $25 each.