So is this place a diner, an intimate romantic bistro, a gourmet restaurant, or an off-beat eatery that features gluten-free baked goods?
The correct answer: all of the above.
Plum on Park, located on Park Street in downtown Montclair, is the creation of Natalie Colledge, an entrepreneur who launched the place in October 2010. Two years ago, to complement the business, she also opened Plum Bakery, on Glenridge Avenue (also in Montclair), where she produces a delightful assortment of gluten-free breads, rolls, bagels, pastries, muffins and cookies. Colledge honed her skills working for many years at her family's Styertowne Bakery, in Clifton.
Beneath the brown brick exterior of Plum on Park lurks the heart of a vintage, dazzling, stainless steel diner built by Jerry O'Mahony in Elizabeth. In fact, it's one of the oldest diners in New Jersey. When Colledge purchased the joint, she found tax records dating back to 1929. This time frame is accurate, cross-referenced with Richard J. S. Gutman, author of American Diner Then and Now and the leading expert on diner history and architecture. It's believed the eatery originally opened nearly 90 years ago as Jerry's Diner, then became the Park Street Diner, Greek Delights and the Market, before being christened as Plum on Park.
In December this reporter, along with his better half, the lovely and talented Ms. Julia, decided to celebrate New Year's Eve one night early (for no particular reason). We walked through the boxy, stylish vestibule, carrying our bottle of moderately priced white wine (yes, BYOB), and settled into a booth. Candles and dimly lit chandeliers created a subdued atmosphere that softly illuminated the diner's stainless steel interior appointments. The green, half-oval glass window panes represent a signature, decorative architectural highlight on O'Mahony diners from this era. And like all good Jersey diners, Plum on Park faithfully maintains its counter and stools.
The evening meal began with an appetizer of delectable, plump fried oysters with a corn-meal batter, served with a remoulade sauce. I could have easily devoured another dozen of those babies. The real surprise of the night was our basket of gluten-free bread, with a rich, red pepper-infused buttery spread. My goodness—they could have served it for dessert.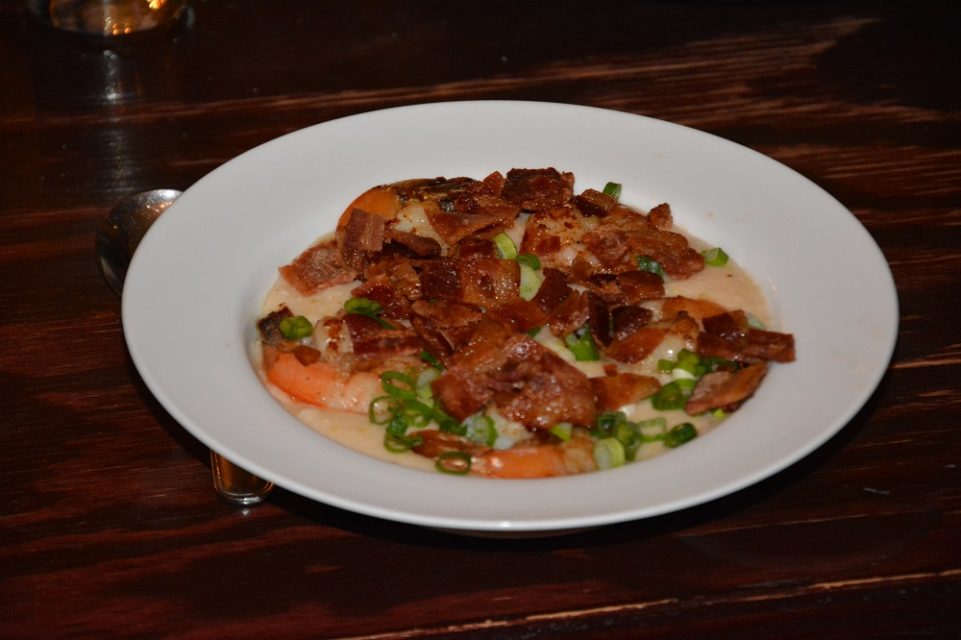 The wait staff was cheerful and friendly. For entrees, I enjoyed shrimp and grits, topped with a generous amount of crumbled bacon, and garnished with scallions. I was a happy man. By way of comparison, I've also enjoyed shrimp and grits in Charleston, SC: a different concept and presentation. Two delicious servings of shrimp and grits from two different states—I think that makes me an unofficial, unauthorized expert on the subject. Whatever.
For the wife, she had a grand time consuming the All-American burger on a brioche bun, topped with "secret sauce" and fries on the side. The clincher for this platter was the little vanilla milkshake. It. Was. So. Cute.
True to its diner roots, Plum on Park offers a respectable assortment of breakfast selections, all of which sparkle with an upscale twist. The eggs Benedict, baked bread pudding French toast, and Moroccan and chorizo "scrambles" all sound tempting. There's a healthy assortment of menu selections and specials for lunch and dinner, such as citrus marinated roasted cast iron chicken, and seared wild salmon. In addition, there are fresh vegetable and fruit juices and smoothies.
A week after the pre-New Year's Eve supper, I had the pleasure of chatting with Natalie early one morning at her bakery, over a cup of coffee and a few yummy gluten-free chocolate chip cookies. She reminisced about her years as a baker and her decision to open her two Montclair establishments.
These days many honorable consumers have a serious devotion with the concept of gluten-free and its intended health benefits. However, according to Natalie, there's a steep learning curve when it comes to mastering this school of baking. The trick, she said, is making gluten-free breads and pastries look good, taste good, with the proper texture. Considering the look in her eye and her voice of experience, I quickly caught the drift that achieving the gluten-free baking "trick" ain't easy.
Natalie also shared two inside tips. The first is that Plum on Park's prime time happens during weekend brunch. That's when the place really starts to rock and roll. The second tip is that, during the summer months, the diner offers al fresco seating in a side alley, adjacent to the building. She encouraged me to partake in both "plum" experiences.
It only took a split second, but something triggered a flashback deep inside my brain to a vision of those beautiful fried oysters, resting ever so gently and comfortably on that long white dish. Given this near-mystical experience, there's more than a good chance I'll return to Plum on Park.
Editor's note: Plum on Park will be undergoing aesthetic renovations in the near future. Also, be on the lookout for our interview with owner Natalie Colledge in an upcoming exclusive Jersey Bites Baker's Spotlight.
Plum on Park
14 Park St.
Montclair
973-744-7100
Plum Bakery
179 Glenridge Ave.
Montclair
973-509-7586