Way to milk Valentine's Day, universe! With the holiday falling on a Tuesday, celebrations kick off as early as Friday, February 10. Here are 8 ways to take the day (or weekend!) to new heights.
The White Horse Winery hosts a wine and chocolate tasting this weekend, February 10 to 12. For $25, you can sample five wines, each paired with a variety of gourmet chocolates. Saturday and Sunday hours feature live music, and tastings will happen every half hour. For times and more information on prices, click here. 106 Hall St., Hammonton.
Salt Preserving in the Kitchen
When you think of preserving, there's a good chance jams and pickles come to mind. But don't forget salt! Spend a some time on Valentine's weekend getting an education in salt preserving! Class is $65 per person and takes place on February 11 at 11 a.m. 3200 Lawrenceville Road, Lawrence Township.
On this narrated three-hour tour, guests will try desserts and (adult) beverage pairings from several eateries in downtown Jersey City. A goodie bag and a sampling of desserts to take home are included. The tour takes place from 3 p.m. to 6 p.m. on February 11 and tickets are $65 per ticket. Tour stops include Cocoa Bakery, CoolVines, featuring Milk Sugar Love, Choc-O-Pain Bakery & Café, L'atelier du Chocolat, and Talde. 275 Grand Street, Jersey City.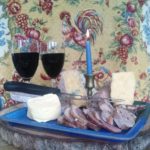 Sharpen your charcuterie skills on Sunday, February 12, from 1 p.m. to 5 p.m.! In this class, you'll learn how to use a meat grinder to make pate de campagne which you can take home in addition to a loaf of Bobolink bread, and a coupon for fine ale at local landmark brewery, the Ship Inn. $75 for each person. 369 Stamets Road, Milford.
Carlo's Bake Shop Cake Class
Learn how to make you very own Valentine's Day chocolate box cake with Carlo's team of decorators! From 10 a.m. to 12 p.m. on Sunday, February 12, you will be guided by experienced decorators as you make either a vanilla or chocolate cake with chocolate fudge filling, covered in fondant and buttercream decorations. Participants in this class must be at least 10 years old, and all those under 18 must have a legal guardian enrolled in the class. $125 per attendee. 12 Wilsey Square, Ridgewood.
Kids in the Kitchen at Montclair B.A.B.Y.
Grab the kids for a fun, interactive workshop where they will be taught how to essential cooking skills and how to prepare healthy items for Valentine's Day. For children ages 3 to 6 years old, $35 per child. The program takes place Sunday, February 12, from 4 p.m. to 5:30 p.m. 113 Walnut Street, Montclair.
Enjoy dinner on the water with Spirit Cruises on Valentine's Day: February 14. The Valentine package includes cuisine, skyline views, entertainment, access to the rooftop deck and a table for your party size for $99.90 each. Additional packages and add-ons are available for purchase. The cruise will be from 7 p.m. to 10 p.m. with boarding time at 6:30 p.m. Departing from Lincoln Harbor.
Celebrate Valentine's Day in the sky! Choose from a variety of packages including a hot air balloon ride paired with an elegant dinner. Call 888-301-2383 to make reservations. 1045 State Highway 173, Asbury.