With the holidays just around the corner, we invite you to take a break with the latest edition of Jersey Bites Buzz, where we take a look at some key openings around the Garden State. Have a restaurant/food outlet opening, closing, or other key development to share? Email your news to info@jerseybites.com.
Now Open!
Chicken Supreme
366 River Street
Hackensack
201-880-7560
Building on the success of its iconic 40-year-old establishment in Paterson and large, loyal following, family-owned fried chicken restaurant Chicken Supreme (owned by the Lambrinides family) opened a second location in Hackensack on November 14. Launched on the site of the former Old Harley's Pub and offering seating for about 25 people, the open-layout restaurant will continue to delight diners with its fresh and homemade fried chicken as well as such menu favorites as the four-piece meal and popular side dishes including french fries, mashed potatoes, mac and cheese, cole slaw, rice, macaroni salad, and biscuits. "Our grand opening event will take place on Saturday, November 26, during which time we'll be offering 10% off of all orders at both locations all day, donating food to a local charity, and giving away over $500 worth of gift cards, which people can enter to win via our Facebook page," says spokesperson Ed Pirone. "We're excited to expand to Hackensack and are confident that our new guests will find such a personal touch at Chicken Supreme—the restaurant truly knows its customers and cares about the community."
Freshii
100 Reaville Avenue, Unit 24
Flemington
908-367-5691
Opened on November 1, this casual quick-serve restaurant—the first New Jersey location for this rapidly-growing Toronto-based franchise—offers a range of fresh salads, wraps, bowls, burritos, soups, juices, smoothies, and snacks as well as artisan coffee (branded under the Fair Grounds Coffee moniker). "Our bowls are built on brown rice, quinoa, rice noodles, or kale, to which guests can add vegetables and a protein such as chicken, steak, tofu, or falafel," explains Stefanie Sheriff, a Flemington native, who owns the 44-seat restaurant with her husband, Stephen. Based on its healthy menu and centralized downtown location, traffic to the new restaurant has been strong in its opening weeks. The Sheriffs report that they're excited to serve the local community and to bring healthy, affordable meal options to area residents and visitors. 
Giovanni's Bistro & Bar
449 Springfield Avenue
Berkeley Heights
908-464-6464
Previously in operation from 2012 to 2013, Giovanni's Bistro & Bar in Berkeley Heights was officially relaunched on September 14 by original owners and restaurateurs Bob and Nadine Tokash (who named the restaurant after their grandson) and under the new culinary leadership of CIA-trained Chef Chris Ita, who previously served as Executive Chef at Hamilton Farm Golf Club in Gladstone. Among the 38-seat restaurant's signature bistro fare menu items are its organic pan-seared boneless half chicken, rock shrimp with spinach, homemade potato gnocchi, double-cut pork chops, and New York-style cheesecake. "We like to think of ourselves as friends serving friends," says Greg Gibbs, who is the general manager and a master sommelier. He oversees the restaurant's small but inclusive wine list and invites diners to enjoy the restaurant's casual atmosphere and friendly service.
Naf Naf Grill
7000 Midlantic Avenue
Mount Laurel Township
856-258-0711
Opened in late October, Naf Naf Grill offers hearty, tasty, and flavorful Mediterranean cuisine and is the most recent extension of the Illinois-based chain. The new Mount Laurel site of Naf Naf Grill represents the first in New Jersey, the second on the east coast. (It's 24th in the company's nationwide network of outlets.) According to Destiny Millett, general manager, guests can stack a pita or a bowl with hummus, basmati rice, cous cous, or lettuce topped by a protein (chicken, steak, or falafel), their choice of vegetable, and any of five sauces (including tahini, chile and pepper-based harissa, garlic and mayonnaise, skhug jalapeno-based hot sauce, and pickled mango). "We're like Chipotle with Middle Eastern flare," explains Millett. With indoor and outdoor seating for 80, the cozy eatery decorated in orange, gray, and white tones is also high on customer service. "All of our staff members are trained to give 'Naf Love' and to go above and beyond expectations," says Millett of their friendly team of servers. "Our food is very healthy, like a home-cooked meal."
Oh My Cod
103 Forest Street
Montclair
973-744-7COD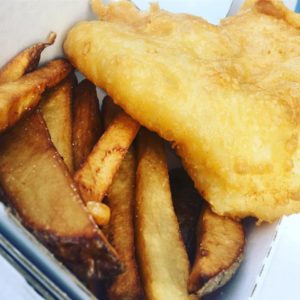 Holding its soft opening in mid-November (with its grand opening coming after Thanksgiving), this quick service sit-down and take-out establishment, launched by the owners of nearby Montclair Bread Company, hopes to fill a niche in the community's culinary scene. "We're an Irish-style fish and chips place," explains Co-Owner Jessica Woodward. "It's a basic idea that we'll specialize in using great ingredients and techniques and a product people love that's missing in the area." In addition to cod and other seafood options and a unique housemade curry sauce for its fish and chips, "we'll be offering authentic sodas and potato chips imported from the U.K.," Woodward says of the eatery, which features a blue nautical décor (including a boat-themed light fixture) and seats up to 20 people. "We're all about high-quality food, friendly service, and a relaxed environment in which you can get in and out quickly," she says.
T.S. Ma (pictured at top)
637 Wyckoff Avenue
Wyckoff
201-891-8878
Officially opened on September 26, this new Wyckoff eatery represents the second location for T.S. Ma, an upscale and high-quality Chinese restaurant whose renowned flagship location in Montclair has been in operation for the past decade. At both the existing and the new 45-seat location in Wyckoff, manager/co-owner Christopher Ms says, "We provide a fresher and healthier preparation than your typical Chinese restaurant without sacrificing the natural flavor of the dishes," referring to such signature menu items as their Shanghai meatballs (pictured at top), braised in one of the chef's signature sauces and served on a bed of baby cabbage and cellophane noodles, and sautéed fish filet with ginger and scallions served on a bed of fresh mixed vegetables. For more traditional diners, the restaurant's sesame chicken and General Tso's chicken are also standout sellers. T.S. Ma also prides itself on its over 20 different housemade sauces prepared fresh daily. With a contemporary, warm, and inviting décor that features natural materials with red and gold accents, "we provide a high quality of customer service to elevate the dining experience," explains Ma. "We felt that Wyckoff was a great community for us to grow in and look forward to providing our customers with the best dining experience possible."
Coming Soon!

Satis Bistro
289 Glenwood Avenue
Bloomfield
973-743-1097
Set to open in December, Satis Bistro in Bloomfield will represent the second location for this Mediterranean-style salumeria, which has been a well-trafficked dining destination in Jersey City for the past six years. "We serve typical bistro food—elbows up to the table and enjoy," says chef and owner Michael Fiorianti, of the eatery where "classic dishes and flavor profiles have been rethought and recreated with respect to their origins." Among the restaurant's most popular items are its short ribs with chorizo goat cheese mashed potatoes and au poivre sauce as well as its bouillabaisse and housemade ricotta gnocchi with white beans, escarole, and garlic. At the restaurant's new 3,000 square-foot Bloomfield location, which seats over 90 people between its dining room and bar, "we really just tried to restore the beauty and craftsmanship of the original space, which was a gorgeous old tavern dating back to the late 1800s," Fiorianti says of the décor in the over century-old site, which features brown and copper tones and such original details as brick walls, tin ceilings, and wood trim work. "I've always made it my goal to ensure that when people sit down at Satis Bistro it should be comfortable, unpretentious, and enjoyable, like sitting at a family home," Fiorianti says. "To now have the opportunity to expand our concept to Bloomfield makes me so incredibly excited and we hope that guests will enjoy the experience and return many times over."