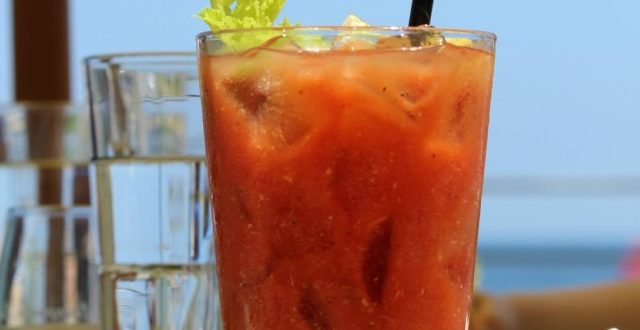 It is said that every dog has his day. Now, the hair of the dog has his day, too. Yes, there is a special day set aside to honor the ubiquitous restorative elixir famously sipped after a night of one too many, and it's known as the bloody mary.
And which day is it, you ask?
It should come as no surprise that National Bloody Mary day is January 1. Since the early part of the 20th century, the bloody mary has been restoring color to the cheeks of New Year's Eve revelers on New Year's Day. It's hard to say for sure who (or where, for that matter) came up with the idea of introducing vodka to tomato juice, but it was most certainly perfected by Fernand Petiot at the St. Regis hotel in New York. He was the one who added spices and served them up to the likes of Hemingway, DiMaggio and Dali. For a brief period the name was changed to red snapper, but bloody mary is the name that eventually stuck.
The bloody mary may be the most versatile cocktail in world. Some swear by Clamato juice and Old Bay.  Others insist on cayenne to spice it up instead of Tabasco. Horseradish or cracked black pepper? Heck, gin can be substituted for vodka if you so desire. If you like a little saltiness, celery salt or worcestershire sauce can answer the call. Garnishes run the gamut from the traditional celery stalk to olives and are limited only by your imagination. If you like to tinker, the bloody mary is the perfect cocktail on which to unleash your creativity.
Every canvas needs a starting point, though. Here are my ingredients for a base-model bloody:
Tomato juice or Clamato
Vodka
Worcestershire sauce
Tabasco
Horseradish
Cracked black pepper
Celery salt
Celery stick garnish
I haven't included any measurements because I always make them to taste. That means that with just those ingredients an infinite range of flavors are possible.  However, as New Jersey bartenders know, it's not just all about the base. Let's have a look some truly inspired bloody marys.
Jockey Hollow Bar + Kitchen
"Our bloody mary mix features our signature Cannonball Sauce, a brandy barrel-aged Thai chili sauce with sherry vinegar. The chilies are local from Ralston Farm in Mendham." —Christopher James, Head Bartender. 110 South Street Morristown, 973-644-3180.
Zinburger
Bacon-infused Smirnoff vodka, Worcestershire, cracked pepper, bacon strip garnish. Promenade Shops at Clifton, 850 State Route 3, #105, Clifton, 973-272-1492.
Langosta Lounge
"Bloody Mary by the Shore." 1000 Ocean Avenue, Asbury Park, 732-455-3275.
Union Republic
"Union Republic's Bloody Caesar is a twist on the bloody mary, made with Clamato in place of tomato juice," said Noah Sexton, owner, Union Republic. "The result is a thinner, lighter cocktail and the perfect cure for the previous night's indiscretions. This recipe came from my dear friend John Neves who only shared [it] on the condition of absolute secrecy. After four years drinking them regularly, I was never able to exactly duplicate his drink until he shared the full recipe! Some of the more recognizable ingredients are celery seed, fresh dill, fresh horseradish and lemon, the rest you will have to figure out on your own." 340 Third Street, Jersey City, 201-279-5094.
The Strip House at the Westminster Hotel
The rim of the Strip House bloody mary uses the same sea salt and cracked black pepper combination they use to season their perfectly charred steak. A splash of their Strip House steak sauce adds sweet and savory flavor and the sriracha hot chili sauce is truly an eye opener! 550 Mount Pleasant Ave., Livingston, 973-548-0050.
Thanks to each restaurant for providing photos.
Peter Culos is the editor of "Beer Bites," Jersey Bites' coverage of breweries, bars and good beer in the Garden State. A graphic designer by day, and a lifelong New Jersey resident, Peter was first introduced to the novel idea that beer could actually have flavor during several visits to the UK. He's been riding the craft beer bus ever since. It has been called the ultimate social lubricant and Peter's philosophy on beer is, "I'd rather split my last good beer with a friend than drink the whole thing by myself." Besides beer he also likes history, dogs, Jeeps and painting. In the past, he has written a History and Art blog for the Weider History Group and occasionally contributes to his own blog, history-geek.com. Life is short. Drink good beer.