THIS WEEKEND
October 17 to 19: The traditional German celebration of Oktoberfest comes to Cape May. The Town Fire Bank Company hosts an Oktoberfest featuring seasonal and regular beers provided by the Cape May Brewery, live music and food from Smoke-n-Bones. The event is free with a $5 suggested donation to benefit the Fire Company. Cape May Airport, 415 Breakwater Rd., Rio Grande, 609-886-5511.
October 17 to 19: St. Leon Armenian Church enthralls Armenian food and culture lovers with their Food & Arts Festival. Catch the live chef demonstration on Saturday from 1 p.m. to 5 p.m. They are also looking for kitchen volunteers! St. Leon Armenian Church, 12-61 Saddle River Road, Fair Lawn, 201-791-1329.
October 18: Bricktoberfest totally brings the fun: great food, games, rides, and beer. The event, held from 11 a.m. to 5 p.m., features several food trucks and a beer and wine garden. Brick Township Municipal Government, 401 Chambers Bridge Road, Brick, 732-262-1165.
October 18: Point Pleasant Chamber of Commerce invites the public to the Rhythm and Chowder Festival, held from 11 a.m. to 6 p.m. The event features 10 of the state's best chowders and a beer garden. General admission is free, but for $5, you can sign up as a judge and sample all the chowders! Inlet Drive, Point Pleasant Beach, 732-899-2424.
Through October 18: Seventeen New Jersey grocery stores continue their participation in National Bulk Foods Week, sponsored by the Bulk Is Green council, an organization dedicated to raising awareness of the environmental benefits of buying bulk. The week includes discounts and events at stores across the state. Visit here for a list of participating retail stores.
October 18 and 19: Chatsworth holds its 31st Cranberry Festival! Artists, crafters, and of course, cranberry lovers will present their creations from 9 a.m. to 4 p.m. Admission is free, but a donation of $5 is requested for parking accommodations. Proceeds benefit the restoration and preservation of the White Horse Inn. Downtown Chatsworth, 609-726-1459.

October 19: Combine your two favorite indulgences – food and music – at the Just Jersey Jazz & Food Truck Festival, starting at 11 a.m. on the beautiful Horseshoe Lake-Island. The event includes more than 25 gourmet food trucks to the background of three different jazz bands. Admission is $5 or $4 with a donation of a non-perishable food item. Donations benefit the Roxbury Food Pantry. Horseshoe Lake, 72 Eyland Avenue, Succasunna, 973-927-2794. Sponsored Listing
October 19: From 4 to 7 p.m., Farmer Meg from Seven Arrows Farm in Locust hosts Friends of the Farm, an event offering farm-fresh bites, local brew, and chilled oysters. Proceeds help Farmer Meg continue to run the Homestead at Seven Arrows, an organic farm. Tickets are $75 and children under 10 are free. Navesink Hook & Ladder Co., Monmouth Avenue, Navesink, 347-790-4622.
October 19: The Rutherford Civil Rights Commission hosts a fundraiser from 5 to 7 p.m. Plenty of options are on the menu, including panini, burgers, and quesadillas. Tickets are $20 for adults and $10 for children. Rutherford Pancake House, 40 Park Avenue, Rutherford, 201-340-4171.
Through November 2: Terhune Orchards offers fall harvest festivals every weekend until Nov. 2. The events features apple picking, pumpkin picking, sampling of the orchard's many products at their "food tent," and live music from noon to 4 p.m. Admission is $5 and children under 3 are free. Terhune Orchards, 330 Cold Soil Road, Princeton, 609-924-2310.
AND BEYOND
October 20: The second annual March of Dimes Signature Chefs Gourmet Gala returns to The Terrace at Biaggio's Restaurant in Paramus. Guests will experience an upscale night of dancing, spirits, and food from dozens of North Jersey's top chefs. There will also be a silent auction and chances to win great prizes. The Terrace at Biaggio's Restaurant, 299 Paramus Road, Paramus, 201-652-0201.
October 20: The Kiwanis Club of Glen Ridge hosts its first October Feast at the Women's Club of Glen Ridge. Local brewers will provide drinks to accompany the meal, composed of food and wines from Glen Ridge restaurants. Tickets are $50, and proceeds will go to the Kiwanis campaign to end maternal and neonatal tetanus and to fund scholarships. Women's Club of Glen Ridge, 219 Ridgewood Avenue, Glen Ridge, 973-699-7198.
October 20: Enjoy gourmet selections from Monmouth County's best vendors while helping families in need receive counseling services. The CPC Behavioral Healthcare's 11th Annual Culinary Adventure runs from 6 to 9 p.m. and offers food from local restaurants, as well as fine desserts, wine and beer. It also includes a special chef's demonstration at 5 p.m. featuring Drew Araneo, winner of Beat Bobby Flay. General reservations are $75 per person while VIP access is $115. All proceeds go towards providing vital counseling services to CPC's children. Trump National Golf Club, One Trump National Boulevard, Colts Neck, 732-935-2222. Sponsored Listing
October 24: Veggification, a nonprofit dedicated to healthy food advocacy, partners with amp your good to offer Food Day from 1 to 2 p.m. The event kicks off the organization's An Apple a Day campaign to support healthy eating for the hungry and low-income families. For more information on New Jersey-based Food Day events, visit here. Summit Area YMCA, 67 Maple St, Summit, 908-273-3330.
October 26: Langosta Lounge hosts its annual Boobs for Life event, a charitable brunch in support of those whose lives have been affected by breast cancer. From 11 a.m. to 3 p.m., guests will enjoy a three-course prix fixe brunch menu, live music by After the Reign, and ongoing prize giveaways. Tickets are $35, with $20 of the proceeds benefitting Mary's Place by the Sea, a nonprofit that provides a place for women with cancer to heal. Langosta Lounge, 1000 Ocean Avenue, Asbury Park, 732-455-3275.
October 28: Jersey Girls Food Tours brings some of its favorite vendors to one place at its first-ever Fall Chef Showcase. The event will feature food from seven select vendors, as well as live music and local brews. Tickets are $75 and proceeds benefit The Sharing Place, a Jersey City food pantry. Art House Productions, 136 Magnolia Avenue, Jersey City, 908-420-2590.
Through October 29: Join Rosie's Weenie Wagon, Mexi-Flip Taco Truck, Fork in the Road NJ, and others forFood Truck Wednesdays, held from 11 a.m. to 2 p.m. in Overpeck Park. The events includes free yoga and live music along with its many food options. Admission is free. Overpeck Park, 40 Fort Lee Road, Leonia.
November 2: Use creole food and music to support a woman's fight against cancer. Come to the "Creole Girl Gala ~ A Benefit to Support Tracie Orsi-Godier," held from 5 to 9 p.m. at The Headliner nightclub in Neptune. The event will include a gift auction with items donated from the community. Tickets are $20 and support Traci Orsi-Godier, of Ragin' Cajun Restaurant in Belmar, as she undergoes treatment with Cancer Treatment Centers of America. Headliner Night Club, 1401 State Highway 35 South, Neptune, 732-713-0813.
November 7 to 16: Jersey Shore Restaurant Week invites guests to enjoy three-course meals for either $20.14 or $30.14 at participating restaurants, which include Cibo E Vino, Casa Comida, Doolan's Shore Club, and Brooklyn Bistro. The event has expanded from 56 restaurants in 2009, its first year, to more than 75 this year. For more info, call 732-859-5643.
November 9: The Freehold Food Fest takes place from noon to 5 p.m. The event, which benefits the Lung Cancer Program at CentraState Medical Center, includes food trucks such as The Outsider and The Original SoupMan, a beer garden, and live music. Admission is free. 110 Schanck Road, Freehold.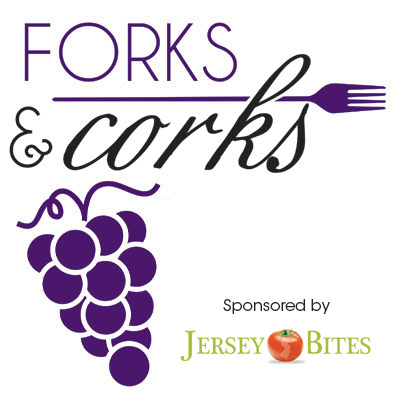 November 17: Forks and Corks combines just that – the best of food and wine in New Jersey. Sponsored by Jersey Bites, the event features more than 25 bars, restaurants and other vendors from 6 to 9 p.m. There will also be live entertainment from The Paul Marino Band and The Joey Evans Band. Tickets are $65 before Nov. 1, $75 after Nov. 1, and $700 for a 10-person VIP table. The Mill, 101 Old Mill Road, Spring Lake Heights, 732-528-4336. Sponsored Listing
Want to be featured in Foodie Things to Do? Let us know about your event! If it's a community-wide happening, like a Restaurant Week, if it's for charity, or if admission is $5 or less, we'll list it for free! All other listings can be set up through our sponsored content program. Email info@jerseybites.com for details or to share your event.