THIS WEEKEND
October 4: Atlantic City hosts Smoke on the Water's Smokin' Hot BBQ competition, where the lucky public can sample a variety of barbecue plates from teams across the region. Competitors are vying for $20,000 in prizes! Admission is $5. Parking Lot on Pacific Avenue, Atlantic City, 866-746-5336.
October 4: Cape May's Oktoberfest features a beer garden, live music from an authentic German Oom-pah band, and plenty of craft vendors and food, from 10 a.m. to 5 p.m. on historic Jackson Street. Admission is free. Jackson Street, Cape May, 609-844-5508.
October 5: The 14th Annual Highlands Oktoberfest, held from noon to 8 p.m., has authentic German food, activities, live entertainment and of course, plenty of beer! Admission is free. Veterans Park, Bay Avenue, Highlands, 732-291-4713.
Through November 2: Terhune Orchards offers fall harvest festivals every weekend until Nov. 2. The events features apple picking, pumpkin picking, sampling of the orchard's many products at their "food tent," and live music from noon to 4 p.m. Admission is $5 and children under 3 are free. Terhune Orchards, 330 Cold Soil Road, Princeton, 609-924-2310.
AND BEYOND
October 9: The New Jersey Chef's Tableside Dinner hosts ten acclaimed chefs, each offering a five-course menu with wine pairings for ten selected guests each. Chefs, who will be matched with guests at random at the door, include Rudy Cornea from Stockton Seaview Hotel and Golf Club and Kevin Takafuji from Blue Morel at Western Governor Morris. Reservations are $200 and benefit the Community FoodBank of New Jersey. Stockton Seaview Hotel and Golf Resort, 401 South New York Road, Galloway, 908-355-3663. Sponsored Listing
October 10: From 3 to 6 p.m., Classic Cake hosts a Philadelphia Flyers pep rally with Flyers alumni to benefit the Flyers' charities. The event will have face painting, a chocolate fountain and giveaways. Admission is free.Classic Cake, Short Hills Towne Center, 480 Evesham Road, Cherry Hill, 856-751-5448.
October 11: The Jon Bon Jovi Soul Kitchen, a pay-as-you-wish volunteer kitchen, hosts its 3rd Anniversary Celebration from 1 to 4 p.m. – with the help of some firefighters! Local firehouses will show off their best chili recipes for attendees to sample and vote for their favorite. Admission is $10 for adults and $5 for children under 12. JBJ Soul Kitchen, 207 Monmouth Street, Red Bank, 732-842-0900.
October 11: The Big Brew Beer Festival brings more than 250 unique tastings for you to try. Held at the Morristown Armory, the event is the perfect opportunity to meet other beer aficionados with a slew tastings to warm the socializing. General admission is $55. The $85 VIP admission includes an additional hour of tasting and 25 more brews. Use code JERSEYBITES for $10 off your ticket when you order online! Read more about the event here. Morristown Armory, 430 Western Avenue, Morristown, 973-927-2794. Sponsored Listing
October 16: It's "Cru Meets Brew" time! Highlawn Pavilion hosts a collaborative wine- and beer-paired charity dinner from 6:30 to 10 p.m. Proceeds from the five-course meal—featuring wines and beer from Amanti Vino of Montclair—benefit both Intensive Therapeutics and MACHE (Montclair Academy for Culinary and Hospitality Education). General admission for the event is $165 per person. Highlawn Pavilion 1 Crest Drive, West Orange, 973-731-3463. 
October 17 to 19: The traditional German celebration of Oktoberfest comes to Cape May. The Town Fire Bank Company hosts an Oktoberfest featuring seasonal and regular beers provided by the Cape May Brewery, live music and food from Smoke-n-Bones. The event is free with a $5 suggested donation to benefit the Fire Company. Cape May Airport, 415 Breakwater Rd., Rio Grande, 609-886-5511.
October 18: Bricktoberfest features the best parts of October: great food, games, rides, and beer. In fact, the event, held from 11 a.m. to 5 p.m., features several food trucks and a beer and wine garden. Brick Township Municipal Government, 401 Chambers Bridge Road, Brick, 732-262-1165.
October 19: Combine your two favorite indulgences – food and music – at the Just Jersey Jazz and Food Truck Festival, starting at 11 a.m. on the beautiful Horseshoe Lake-Island. The event includes more than 25 gourmet food trucks to the background of three different jazz bands. Admission is $5 or $4 with a donation of a non-perishable food item. Donations benefit the Roxbury Food Pantry. Horseshoe Lake, 72 Eyland Avenue, Succasunna, 973-927-2794.
October 20: The second annual March of Dimes Signature Chefs Gourmet Gala returns to The Terrace at Biaggio's Restaurant in Paramus. Guests will experience an upscale night of dancing, spirits, and food from dozens of North Jersey's top chefs. There will also be a silent auction and chances to win great prizes. The Terrace at Biaggio's Restaurant, 299 Paramus Road, Paramus, 201-652-0201.
October 20: The Kiwanis Club of Glen Ridge hosts its first October Feast at the Women's Club of Glen Ridge. Local brewers will provide drinks to accompany the meal, composed of food and wines from Glen Ridge restaurants. Tickets are $50, and proceeds will go to the Kiwanis campaign to end maternal and neonatal tetanus and to fund scholarships. Women's Club of Glen Ridge, 219 Ridgewood Avenue, Glen Ridge, 973-699-7198.
Through October 29: Join Rosie's Weenie Wagon, Mexi-Flip Taco Truck, Fork in the Road NJ, and others forFood Truck Wednesdays, held from 11 a.m. to 2 p.m. in Overpeck Park. The events includes free yoga and live music along with its many food options. Admission is free. Overpeck Park, 40 Fort Lee Road, Leonia.
November 7 to 16: Jersey Shore Restaurant Week invites NJ residents to enjoy three-course meals for either $20.14 or $30.14 at participating restaurants, which includes Cibo E Vino, Casa Comida, Doolan's Shore Club, and Brooklyn Bistro. The event has expanded from 56 restaurants in 2009, its first year, to more than 75 this year. For more info, call 732-859-5643.
November 9: The Freehold Food Fest takes place from noon to 5 p.m. The event, which benefits the Lung Cancer Program at CentraState Medical Center, includes food trucks such as The Outsider and The Original SoupMan, a beer garden, and live music. Admission is free. 110 Schanck Road, Freehold.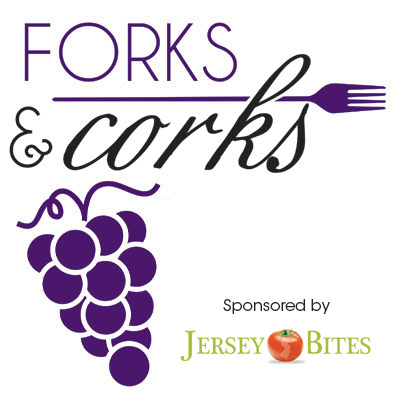 November 17: Forks and Corks combines just that – the best of food and wine in New Jersey. Sponsored by Jersey Bites, the event features more than 25 bars, restaurants and other vendors from 6 to 9 p.m. There will also be live entertainment from The Paul Marino Band and The Joey Evans Band. Tickets are $65 before Nov. 1, $75 after Nov. 1, and $700 for a 10-person VIP table. The Mill, 101 Old Mill Road, Spring Lake Heights, 732-528-4336. Sponsored Listing
Want to be featured in Foodie Things to Do? Let us know about your event! If it's a community-wide happening, like a Restaurant Week, if it's for charity, or if admission is $5 or less, we'll list it for free! All other listings can be set up through our sponsored content program. Email info@jerseybites.com for details or to share your event.