THIS WEEKEND
September 26 to 28: The Sea Isle Food Truck Fest brings together the best food trucks of the Jersey Shore including Ahh! La Cart, Waffle De Lys, Cha-Yen, Shore Shake, Lincoln Grill, Churro Heaven and On a Roll Street Food. It also hosts children's activities and entertainment. Admission is free. Kix McNutley's, 63rd and Landis Ave., Sea Isle City, 609-318-4504.
September 26 marks the kickoff for Pilsener Haus' third annual Oktoberfest in Hoboken. Come for their keg-tapping ceremony and live polka music, but stay for their large selection of beer and full Oktoberfest menu. Pilsener Haus, 1422 Grand Street, Hoboken, 201-683-5485.
September 27: Guests at Paulsdale Uncorked: The Alice Institute's 7th Annual Wine Tasting can revisit the summer by trying different wines on a wraparound porch at Paulsdale, the birthplace of suffragist Alice Paul. Members of the South Jersey Personal Chefs Association will cater the event. Tickets are $60 in advance and benefit the restoration of Paulsdale. Paulsdale, 128 Hooten Road, Mount Laurel, 856-231- 1885.
September 27-28: The Foodshed Alliance Wine and Food Festival raises funds for the Foodshed Alliance, a nonprofit that supports sustainable farming in New Jersey. The event will feature local chef cooking demonstrations, tips on local food cooking from celebrity cookbook authors, and tours of the vineyard. Admission is $35. Alba Vineyard, 269 Route 627, Milford, 908-995-7800.
September 28: Celebrate music and seafood at the 5th Annual Red Bank Guinness Oyster Festival. The event, a fundraiser for Jane H. Booker Cancer Center, has exactly what it advertises: plenty of beer and oysters, as well as live music from seven different bands. Admission is $5 and kids under age 10 are free. White Street Parking Lot, Red Bank, 732-829-1104.
AND BEYOND
October 2: The Community FoodBank of Monmouth and Ocean Counties hosts its 30th Anniversary Open House from 12:30 to 4:30. The charity will provide a tour of the FoodBank facilities, including their organic garden, warehouse and mobile pantry. Admission is free, but visitors are asked to bring a non-perishable food item for the FoodBank. Community FoodBank of Monmouth and Ocean Counties, 3300 Route 66, Neptune, 732-918-2600.
October 9: The New Jersey Chef's Tableside Dinner hosts ten acclaimed chefs, each offering a five-course menu with wine pairings for ten selected guests each. Chefs, who will be matched with guests at random at the door, include Rudy Cornea from Stockton Seaview Hotel and Golf Club and Kevin Takafuji from Blue Morel at Western Governor Morris. Reservations are $200 and benefit the Community FoodBank of New Jersey. Stockton Seaview Hotel and Golf Resort, 401 South New York Road, Galloway, 908-355-3663. Sponsored Listing
October 10: From 3 to 6 p.m., Classic Cake hosts a Philadelphia Flyers pep rally with Flyers alumni to benefit the Flyers' charities. The event will have face painting, a chocolate fountain and giveaways. Admission is free. Classic Cake, Short Hills Towne Center, 480 Evesham Road, Cherry Hill, 856-751-5448.
October 16: It's "Cru Meets Brew" time! Highlawn Pavilion hosts a collaborative wine- and beer-paired charity dinner from 6:30 to 10 p.m. Proceeds from the five-course meal—featuring wines and beer from Amanti Vino of Montclair—benefit both Intensive Therapeutics and MACHE (Montclair Academy for Culinary and Hospitality Education). General admission for the event is $165 per person. Highlawn Pavilion 1 Crest Drive, West Orange, 973-731-3463. 
October 17 to 19: The traditional German celebration of Oktoberfest comes to Cape May. The Town Fire Bank Company hosts an Oktoberfest featuring seasonal and regular beers provided by the Cape May Brewery, live music and food from Smoke-n-Bones. The event is free with a $5 suggested donation to benefit the Fire Company. Cape May Airport, 415 Breakwater Rd., Rio Grande, 609-886-5511.
October 20: The second annual March of Dimes Signature Chefs Gourmet Gala returns to The Terrace at Biaggio's Restaurant in Paramus. Guests will experience an upscale night of dancing, spirits, and food from dozens of North Jersey's top chefs. There will also be a silent auction and chances to win great prizes. The Terrace at Biaggio's Restaurant, 299 Paramus Road, Paramus, 201-652-0201.
October 20: The Kiwanis Club of Glen Ridge hosts its first October Feast at the Women's Club of Glen Ridge. Local brewers will provide drinks to accompany the meal, composed of food and wines from Glen Ridge restaurants. Tickets are $50, and proceeds will go to the Kiwanis campaign to end maternal and neonatal tetanus and to fund scholarships. Women's Club of Glen Ridge, 219 Ridgewood Avenue, Glen Ridge, 973-699-7198.
Through October 29: Join Rosie's Weenie Wagon, Mexi-Flip Taco Truck, Fork in the Road NJ, and others for Food Truck Wednesdays, held from 11 a.m. to 2 p.m. in Overpeck Park. The events has free yoga and live music along with its many food options. Admission is free. Overpeck Park, 40 Fort Lee Road, Leonia.
November 7 to 16: Jersey Shore Restaurant Week invites NJ residents to enjoy three-course meals for either $20.14 or $30.14 at participating restaurants, which includes Cibo E Vino, Casa Comida, Doolan's Shore Club, and Brooklyn Bistro. The event has expanded from 56 restaurants in 2009, its first year, to more than 75 this year. For more info, call 732-859-5643.
November 9: The Freehold Food Fest takes place from noon to 5 p.m. The event, which benefits the Lung Cancer Program at CentraState Medical Center, includes food trucks such as The Outsider and The Original SoupMan, a beer garden, and live music. Admission is free. 110 Schanck Road, Freehold.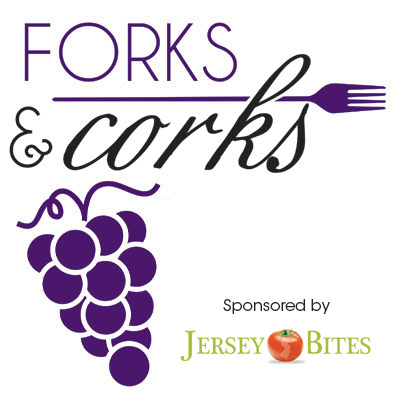 November 17: Forks and Corks combines just that – the best of food and wine in New Jersey. Sponsored by Jersey Bites, the event features more than 25 bars, restaurants and other vendors from 6 to 9 p.m. There will also be live entertainment from The Paul Marino Band and The Joey Evans Band. Tickets are $65 before Nov. 1, $75 after Nov. 1, and $700 for a 10-person VIP table. The Mill, 101 Old Mill Road, Spring Lake Heights, 732-528-4336. Sponsored Listing
Want to be featured in Foodie Things to Do? Let us know about your event! If it's a community-wide happening, like a Restaurant Week, if it's for charity, or if admission is $5 or less, we'll list it for free! All other listings can be set up through our sponsored content program. Email info@jerseybites.com for details or to share your event.