I am honored to be blogging about this delicious Beef Bourguignon a la Hassan recipe, created by Chef Floyd Cardoz and brought to you by Dreamworks Pictures' The Hundred-Foot Journey (a gastronomic movie set for release on August 8). It's packed full of many delicious flavors, from a full head of garlic to minced ginger to burgundy wine to brown sugar and Aleppo pepper. It's a succulent, fall-off-of-the bone, gourmet short-rib meal, and I can't wait for you to try it!
I love preparing satisfying food at home and making a recipe come to life. I always start by chopping and measuring out all of the ingredients before I begin cooking. This recipe comes together pretty fast so I suggest you do the same!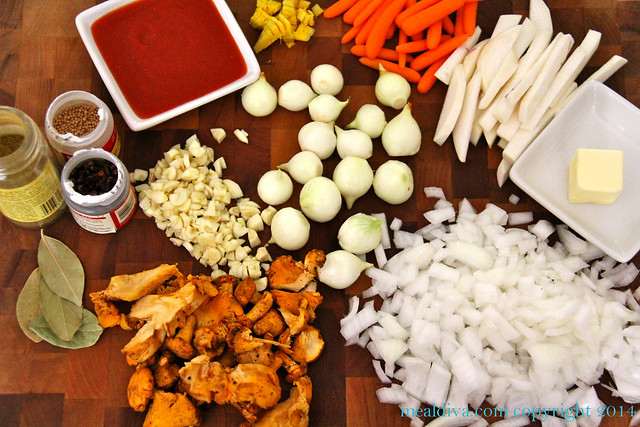 First, cook the bacon until the fat is rendered. Using a slotted spoon, remove the bacon to a paper-towel-lined plate and set aside. Then start browning the short ribs. Once the short ribs are nicely seared, it's time to brown the pearl onions, carrots, turnips and chanterelles. (I could not find baby turnips so I cut a large turnip into smaller pieces and it worked well!)
Once the vegetables have been browned and are set aside, it's time to get the butter and onions into the pot to soften. Mmmm… it smells delicious! In goes the garlic, ginger, cumin, brown mustard seeds and tomato paste, pepper and Aleppo pepper (a variety of capsicum). Wait until you smell this mouth-watering combination! Next, deglaze the pan with the red burgundy wine, making sure you get the brown bites off of the bottom. Then add the white beef stock (yes, white beef stock). I made the white beef stock from scratch because I could not find it in the supermarket. It's fairly easy to make and what makes it "white" is that the animal bones are blanched instead of roasted before you make the stock.
Add the short ribs and bacon back into the pot and turn the heat up to bring it to a boil. Then add the thyme sprigs. Once the pot is heated, put it into the preheated oven and cook for 2½ hours before adding the remaining vegetables and seasonings. Once they are added, cook for an additional 30 minutes then add sugar, remove cloves and bay leaves. Add the chanterelles and season with a pinch of salt. I put my stew in the fridge overnight and whipped it out for Sunday night dinner the next day! It doesn't get much better then these oh-so-luscious short ribs that melt perfectly in your mouth. Enjoy!
Beef Bourguignon a la Hassan
Created by Chef Floyd Cardoz
Makes 6 to 8 servings.
Ingredients:
4 tbsp. canola oil
2½ lbs. boneless short ribs of beef, fat removed and cut into 1½ x 1½ inch pieces.
Salt and pepper
¾ cup all purpose flour
6 oz. smoked bacon, cut into ¼ inch pieces
2 tbsp. butter
4 cloves, tied in a string
2 bay leaves
18 small pearl onions, peeled
18 baby carrots, peeled and cut into half if longer than 2 inches (otherwise kept whole)
18 baby turnips, peeled and cut into half's
½ lbs. chanterelles mushrooms, cleaned and trimmed and cut in half
2 onions, diced
1 garlic head, cloves separated, peeled and chopped
1½ tbsp. fresh ginger root, minced
1 tbsp. freshly ground cumin
1 tbsp. ground brown mustard seeds
2 tbsp. tomato paste
½ tsp. black pepper, freshly ground
½ tbsp. Aleppo pepper
1 (750 ml) bottle red burgundy wine
1 quart white beef stock
4 sprigs fresh thyme
2 tbsp. brown sugar
For garnish:
½ cup parsley
¼ cup chervil, pickled
Directions:
Preheat oven to 325°F.
Season the beef with salt and pepper and lightly coat with the flour. Keep at room temperature for 30 minutes. Reserve extra flour.
Place a large stew pot over moderate heat and add the bacon and oil. Cook until fat is rendered. Remove bacon.
In the same pot, sear the short ribs until lightly colored. Take care not to burn the pan.
Remove the beef and add pearl onions cook for 2 to 3 minutes. Remove onions and reserve.
Repeat this process with the carrots and turnips.
Add the chanterelles and sauté for 1 minute, remove and reserve.
Add the butter to the left over oil and add the cloves, bay leaf and cook for 1 minute. Add minced onion, garlic and ginger, cooking for 4 to 5 minutes until transparent.
Add the ground spice and cook for 2 more minutes. Add the left over flour and the tomato paste and cook for 2 more minutes.
Deglaze with the wine and bring to a boil add the beef stock and bring up to a boil.
Add the bacon and the short ribs to the pan. Bring up to a boil reduce heat. Add thyme. Season.
Place the pot in the oven and cook approximately 2 to 2½ hours.
Add the carrots, turnips and the pearl onions. Cook for 30 more minutes.
Take out of oven, add sugar and remove cloves and bay leaves. Add the chanterelles. Preseason with salt.
At this time the stew should not be as saucy and a bit thicker.
This stew tastes better the next day.
Garnish with parsley and chervil.
On Thursday, July 31, join Jersey Bites and Dreamworks Pictures for a FREE screening of The Hundred-Foot Journey at the Bowtie Clairidge Cinema in Montclair. Click here to reserve your seat! (Please only reserve if you will definitely be able to come, as seating is limited.)
Jennifer Miller: I am a mom on a mission: to help others foster a love of eating and preparing wonderful food. I am a passionate home cook, wine enthusiast, meal-planning specialist and budding food blogger, with a love of eating, drinking, food photography and serving fresh farm to table meals. As a mother of three, I am committed to raising  "foodie" children who enjoy farmer's markets, restaurants and artisan food shops. In addition, I share healthy, in-season recipes and tips on my website http://mealdiva.com and on Facebook as MealDiva. I am very excited to be contributing to Jersey Bites from Hunterdon County!