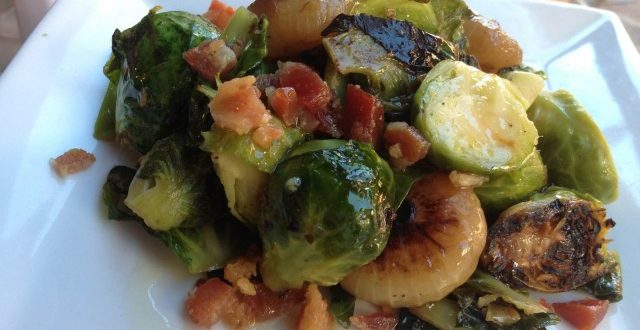 With all this talk of Thanksgiving, the Jersey Bites team wondered what some New Jersey chefs love digging into as they sit down for their own Thanksgiving dinners, so we got the scoop. If you're still deciding what to serve (or bring!) this Thursday, check out the recipes that accompany several Garden State chefs' responses. Enjoy!
Tim Fischer, Executive Chef, Crystal Springs Resort
"The one dish I cannot do without is the cranberry relish. I'm not sure why, but some of my family doesn't eat it. It just reminds me of one of the last of the fall harvests, flooding of the cranberry bogs wading in and getting scoopfuls at a time like an Ocean Spray commercial, and bringing the bounty back home and putting them all in a big stockpot with some cinnamon sticks, orange zest, some sugar and allspice and your house smells fragrant all day long. I always jar some up in my jelly jars and save it for my waffles pancakes, and toast. Yum!"
Zod Arifai, Chef and Owner, Blu
"I hate all Thanksgiving food except the turkey leg. I've even had turkey leg osso buco at Next Door. I like a soup my mom makes with the turkey innards, liver, neck, heart, gizzards and lots of dill. It's similar to chicken noodle soup, but [also] nothing like it."
=
=
=
=
=
==
Executive Chef Anthony Bucco, The Ryland Inn"I'm a fan of tradition, especially on Thanksgiving, and I must say I cannot live without sausage stuffing to go along with the turkey. I realize its generic but, it is the one thing I look forward to about the day."
Executive Chef Robert Bennett, Classic Cake
"Pumpkin roulade is a holiday tradition on my Thanksgiving table. It smells so good when baking and tastes even better."
Pumpkin Roulade
You'll Need:
Roulade:
6 eggs
1 ½ cups sugar
1 ½ cups pumpkin puree (whip until thick)
Add and mix in thoroughly.
2 cups cake flour
2 tsp baking soda
1 ½ tsp cinnamon
½ tsp cloves
1 tsp ginger
½ tsp nutmeg
½ tsp salt
Directions:
Line 2 jelly roll pans with parchment paper. Divide the batter between the 2 pans. Bake at 400°F approximately 10 minutes, or until puffed and slightly browned. Remove from the oven and immediately remove roulades from their hot pans. Cool to room temperature. Moisten with simple syrup (recipe below). Spread chestnut cream on top (recipe below). Roll up. Dust with confectioner's sugar.
Serve.
Simple syrup:
1 cup water
1 cinnamon stick
1 cup sugar
Bring the water and cinnamon stick to a boil.
Add sugar. Return to a boil.
Remove from the heat. Let cool to room temp.
Chestnut cream:
1 qt heavy cream
1 lb sweetened chestnut cream
2 tsp vanilla extract
Combine all and whip to firm peak.
Serves 12 and freezes well.
Chef Anthony Pino, Anthony David's
Maple Roasted Brussels Sprouts with Pancetta
You'll Need:

2 lbs Brussels sprouts, halved
¼ cup maple syrup
¾ lb pancetta, medium diced
½ lb cippolini onions, peeled
4 to 5 ounces extra virgin olive oil
3 sprigs fresh thyme
salt and pepper, to taste
Directions:
In a large mixing bowl, combine all the ingredients together. Lay the ingredients out on to a cookie sheet giving some room for the ingredients to roast evenly.
Roast in oven at 350°F until nice and golden brown. About 30-40 minutes.
Executive Chef Ralph Romano, Red Knot
 "I cannot live without spicy braised mushrooms with my turkey. This is my mom's recipe and she's a nice meat-and-potato Irish/English gal."
How did spicy mushrooms appear on an Irish/English menu 50 years ago?
"Well, my mom married a nice Italian boy whose family loved spicy foods and that was a staple on their first generation Thanksgiving celebrations, following the tradition and mode of travel of the Pilgrims. The point is she was nice, really nice, and she loved to cook for and please people which really is what cooking should be about, especially on Thanksgiving. I am blessed to still have my mom and dad in my life and this is the first year I am entrusted to do the cooking. My mom being 83 and my dad 88."
Spicy Braised Mushrooms
Serves 4
You'll Need:

2 lbs assorted mushrooms (such as cremini, button, shiitake, portobello, oyster)
Directions:
Heat 2 tbsp olive oil in a pan and add 3 to 4 cloves of whole garlic and 2 to 3 arbol chilies.
Add mushrooms and sauté til mushrooms begin to slightly caramelize.
Cover the mushrooms with water and slowly braise for about 2 hours.
Season with salt and pepper. Broth should be spicy and garlicky.
Chef Todd Villani, Terre à Terre
"Stuffing, also called dressing, is mostly a seasoned mix of vegetables and starches and sometimes eggs that are stuffed within the cavity of the turkey—or more recently, alongside the turkey. Stuffings can be made with sausage, oysters, crab meat, or any combination of meats, bread and potatoes. And now even those of us who are gluten-free can even enjoy this holiday staple."
"While we'll never really know if the Pilgrims actually stuffed their birds during that first Thanksgiving, we do know that we've loved our stuffings for a really, really long time. In fact, various kinds of stuffings go as far back as the Roman Empire, which included a collection of stuffing recipes in a kitchen anthology called Apicius. The French have also been avid fans of stuffings through the ages with so many recipes and variations on recipes that it would be impossible to estimate a number."
"But while stuffing is a mainstay on the Thanksgiving table, Americans just aren't as creative as our European brethren. Most of us tend to stick to the classic bread stuffing or the old reliable Stove Top. But for the more adventurous, the stuffing doesn't have to be the sidekick of the Thanksgiving table. With the right ingredients, you can spice up (literally) the table and create a new family tradition, replacing Aunt Sue's ho-hum stuffing with a tasty alternative."
Chorizo Stuffing

 You'll Need:

1 lb chorizo, casings removed
½ cup butter (1 stick)
3 cups onion, chopped
2 cups celery, chopped
1 tablespoon fresh sage, chopped
2 tablespoons fresh parsley, chopped
6 cups croutons
½ teaspoon ground allspice
¼ cup maple syrup
2 cups dried cranberries
1 cup diced apples
1 cup pecans, toasted and chopped
2 cups chicken stock, plus extra as needed
2 tablespoons fresh thyme, chopped
Salt and pepper
Directions:
Sauté chorizo in a large skillet over medium-high heat until cooked through, crumbling chorizo with the back of a spoon, about 10 minutes.
Preheat oven to 350°F.
Transfer chorizo with a slotted spoon to a large bowl. Discard sausage fat in pan. Add butter, onions, apples and celery to skillet and sauté until tender, about 10 to 15 minutes. Add to sausage, along with herbs and croutons, mix to combine.
In a medium bowl, combine allspice, maple syrup, cranberries, pecans, and chicken stock. Add to crouton mixture. The mixture should be moist, but not soggy. Add more chicken stock, if necessary. Transfer stuffing to a baking dish and cover with foil. Bake for 1 hour. Uncover and bake for another 20 minutes, or until the top is golden.
Chef Ariane Duarte, CulinAriane
Pavo en mole (turkey in mole)
"My father in law is Mexican and when we spend Thanksgiving with them, we enjoy Pavo en mole (turkey in mole.)  We start roasting the turkey and after about an hour we baste it with the sauce. We keep basting it every 30 minutes or so until the turkey is cooked. We obviously reserve some sauce to enjoy with the turkey. The mole imparts a spiciness and toasted flavor to the turkey."
Mole
 34 ancho and pasilla chiles, toasted and seeded
4 tbsp peppercorn
12 in cinnamon stick
16 cloves
3 cups raisins
1 plantain
2 cups almonds, toasted
2 cups sesame seeds, toasted
2 onions
1 tbsp lard or vegetable oil
chicken stock
Toast and seed the chiles. Rehydrate in hot water. Pulverize the peppercorn, cinnamon and cloves. Puree the chiles, raisin, plantain, onions and both nuts. Add the spices and pulverize.
To finish sauce, heat oil in sauce pot. Add ½ cup of mole base and fry until aromatic. Add enough chicken stock slowly, until sauce thickens, incorporating it well before adding more. Continue to simmer for at least 30 minutes. Add more stock as needed.
Chef José Velez, Toscania Trattoria
"This is a recipe that I learned from my mother in law. As per my request she has made this Thanksgiving dish for me many times. My restaurant (Toscania Trattoria) is open for just about every holiday with the exception of Thanksgiving."
"It's the one Holiday that I look forward to taking the day off, relaxing with family and letting someone else do the cooking! This years menu will include pheasant, glazed ham, turkey, yams, roasted root vegetables, rice and peas and of course, my favorite, Norma's Thanksgiving stuffing.
Norma's Stuffing
You'll Need:
4 to 6 celery stalks peeled (remove stringy stuff) and diced
1 green bell pepper, diced
1 medium to large Vidalia onion, diced
turkey neck, gizzard, heart
two 20 ounce bags of stuffing (store bought)
1 (+ ½) sticks of butter
fresh herbs (sage, thyme)
whole allspice (¼ tsp ground for broth and ¼ tsp for celery, pepper and onion mixture)
stockpot for the broth
saucepan for the vegetables
mixing bowl to combine
baking dish (prepared with a tablespoon of melted butter)
Preparation:
Broth from turkey neck, heart, gizzard:
Cook turkey neck, heart and gizzard with a sprig of fresh sage, fresh thyme, whole allspice (or ¼ tsp if ground) in about 3-4 cups of water (covered) for about 45 minutes and allow to cool. Remove the heart and gizzard and finely dice to add to the stuffing mix.
Vegetables:
celery peeled (i.e. remove the stringy stuff) and diced
diced pepper
diced onion
2 cloves of garlic, thinly sliced
½ tsp fresh thyme leaves
¼ tsp ground allspice
½ tsp salt
½ tsp freshly ground black pepper
In a large sauce pan, sauté the onion, garlic and allspice in 1 (or more if tastes better) stick of butter until both are cooked. Then add the gizzard and heart for just a few minutes on low heat. Add the diced pepper, celery, salt and pepper. Combine and heat through but do not fully cook.
Combine Stuffing and Vegetables:
In a large mixing bowl add the stuffing, then mix in the vegetable combination to get a sense of how much moisture is needed and combine with broth to moisten (by adding slowly) without making it soggy. Add to the baking dish with 6-8 small cubes of cold butter then place in a preheated oven for 30 to 45 minutes at 350°F (covered for 15 min) and uncovered to crisp the top for the remainder.
Chef Bill Zucosky, Westminster Hotel & Strip House uses a recipe his grandmother shared with him as she prepared for Thanksgiving at their family home each year. Now he takes his family recipe to the kitchen at Strip House to share his traditional Thanksgiving dessert.
Cranberry Upside-Down Cake
You'll Need:

For the topping:
4 tbsp (½ stick) unsalted butter
¾ cup packed brown sugar
¾ lb cranberries
¼ Kirsch (optional)
For the cake:
1 ½ cups all-purpose flour
2 tsp baking powder
¼ tsp salt
8 tbsp (1 stick) unsalted butter
1 cup granulated sugar
2 eggs, separated
1 tsp vanilla extract
½ cup milk
⅛ tsp cream of tartar
zest of 1 orange
Directions:
To make the topping: Butter a 9-inch round cake pan. Put the butter, brown sugar and the Kirsch in the prepped pan and warm the pan using medium heat. Stir the mixture until the butter is melted and the sugar is dissolved. Scatter the cranberries over the mixture. Set aside.
Preheat the oven to 350°F.
To make the cake: In a bowl, mix together the flour, baking powder and salt. In another bowl, using an electric mixer, beat the butter and granulated sugar on medium-high speed until light and fluffy, 2 to 3 minutes. Add the egg yolks one at a time, beating well after each addition. Add the vanilla and zest and mix well. Using a silicone or rubber spatula, fold in the flour mixture in three additions, alternating with the milk.
In a bowl, using a whisk or an electric mixer, beat the egg whites until soft peaks form. Add the cream of tartar and continue to beat until stiff peaks form. Using the spatula, fold the whites into the batter.
Spoon the batter over the cranberries in the cake pan, spreading it evenly. Bake until a skewer inserted into the center comes out clean, 55 to 60 minutes. Transfer the pan to a wire rack and let it cool for 15 minutes. Run a knife around the edges of the pan to loosen the cake. Invert onto a serving plate, let stand for 5 minutes, and then lift off the pan.
Chef Robyn Reiss, A Toute Heure
"Cornbread! No, if it's something that I absolutely have to have on the Thanksgiving table then I would go with stuffing, maybe a corn bread stuffing! That would be amazing. A cornbread stuffing to soak up all the turkey gravy. I haven't actually made cornbread stuffing before. But my family never used to have cornbread at Thanksgiving, then I decided we had to have it. So maybe this year I'll start the cornbread stuffing tradition."
=
=
=
~
~
~
Chef Kevin Cronin,
Atlantic City Bottle Company
Cornbread Stuffing
"If you want to make your own cornbread, here is a standard recipe or you can purchase mix in the store, Jiffy is a brand that works well."
Cornbread:
1 cup all purpose flour
1 cup yellow cornmeal
½ cup sugar
1 teaspoon salt
3 to 5 teaspoons baking powder
1 egg
1 cup milk
1/3 cup vegetable oil
2 tbsp unsalted butter (for pan)
Preheat oven to 400°F, take 9-inch square baking pan and grease heavily with unsalted butter.  Place all dry ingredients in large mixing bowl. Then mix in wet until incorporated fully. Pour the batter into the pan and place in oven for 20 to 25 min. Test with toothpick or pairing knife—if inserted into the center it should come out clean. Let cool on counter (about an hour), then remove from pan and dice the loaf into large pieces. Don't worry if it crumbles a bit. Place diced bread in a large mixing bowl.
For the stuffing:
3 small carrots
3 stalks of celery
½ large spanish onion
1 clove of garlic
4 leaves of sage
¼ cup of chives
2 bay leaves
salt and pepper, to taste
5 to 7 cups of chicken stock
7 or 8 links of good chorizo or merguez (lamb) sausage
Bring chicken stock to a simmer with bay leaves. Mince garlic, dice sausage and mirepoix (carrots, onions, celery). Cook sausage in frying pan until mostly crispy, then add diced vegetables and brown. Mince sage and chives, and place in mixing bowl with cornbread add the sausage, mirepoix and half of the grease from sausage into the bowl. Mix thoroughly with herbs and bread, Place stuffing mix into a 9-inch pan (disposable aluminum works well). Press down and even out stuffing in the pan. Begin to add the stock, minus the bay leaves, into the pan, making sure to evenly distribute the stock throughout the stuffing.  Depending on your own preference, use all the stock to make a wetter stuffing or scale back by a cup or two if you prefer a drier stuffing. Place in 350°F oven covered for about 2 to 2½ hours—until you've reached desired consistency. Cook uncovered for a half an hour to let brown. Serves 10 to 12.
Chef James Muir, Órale
S

w

eet and Spicy Butternut Squash
Yields 5 quarts
4 quarts butternut squash (peeled and large dice)
1½ lbs brown sugar
½ cup orale spice
2 tbsp cumin
2 tbsp cinnamon
2 tbsp oregano
½ lb butter
2 cups heavy cream
Melt butter in a saucepan and transfer to a large mixing bowl. Add sugar, and spices to mixture. Whisk until a paste is formed. Add squash to bowl and toss to evenly coat squash. Line a hotel pan with foil making sure all sides are covered and an excess of 1 foot is left out side of the pan. Pour squash mixture into the pan. Fold the sides of the foil over the squash and fold over to form a steaming poach. Place another piece of foil across the hotel pan to fully seal it. In a 350°F oven, cook the squash for 20 to 25 minutes. The squash should not be cooked through, it should have a little bite to it. Transfer the squash and cooking liquid to a large pot. Add heavy cream and mix thoroughly. Cook over medium heat until the sauce is thickened and the squash is cooked through. Transfer squash to a sheet pan lined with plastic and cool. Store in a plastic container and refrigerate.
Chef Francesco Palmieri, The Orange Squirrel
Cranberry Chestnut Stuffed Quail:
"Why wait 2 to 4 hours for a big old turkey to cook when you can get these delicious little guys out in 25 to 30 minutes?"
Yields 4
You'll Need:
 4 whole boneless quails (or you can use cornish game hen or squab)
For the stuffing:
One whole crusty loaf of bread cut into small cubes to dry out – lay flat on a sheet pan and place in oven overnight with only pilot light on.
½ lb fresh chestnuts
Split shell and roast about 20 minutes in oven at 350°F. Cool, shuck and discard shell (or use canned chestnuts with no shells).
Cut chestnuts into quarters and sauté in 2 tbsp. whole butter and add 2 tbsp. honey for 5 minutes.  Set aside.
½ lb celery diced small, sauté in duck fat (or chicken fat or lard)
1 cup fresh cranberries. Steep in 1½ cups fresh squeezed orange juice with a bay leaf, sprig of thyme and a few sage leaves. Discard herbs. Strain any excess liquid and reserve for use as needed.
In bowl add all ingredients together. Make sure stuffing is well seasoned with salt and fresh ground black pepper. Add additional reserved liquid as needed for moist stuffing. Stuff the quails (or other small bird) with cranberry chestnut stuffing. Place on a baking rack and roast at 375°F for about 25 to 30 minutes or until juices run clear.
Chef Sam Fertik, Orange and Olive Caterers and Chef's Table
Roasted Cauliflower with Brussels Sprouts and Applewood Bacon
Serves 6
You'll Need:
1 head of cauliflower, trimmed and cleaned
6 oz of Brussels sprouts, cleaned and trimmed
2 oz of applewood bacon
2 tbsp whole grain mustard
2 tbsp butter
2 oz heavy cream or milk
salt and pepper to taste
olive oil as needed
Place a large pot of water onto the stove and salt it heavily. Trim the cauliflower into small florets. Take about half of the florets and place them into a saucepan with a small drop of olive oil, salt, pepper, and just enough water to barely cover them. Add the milk or cream and simmer until tender. Meanwhile take the Brussels sprouts and quarter them and drop them into rapidly boiling salted water until barely fork tender. Drain and reserve. Cut your bacon into lardoons (a julienne of the bacon) and reserve. Once the cauliflower in the saucepan is tender take the cauliflower and a little of the liquid and blend it until it is extremely smooth, then reserve it warm. In a large sauté pan, start by adding the bacon, and let it sweat out a little then turn up the heat and add the cauliflower florets cooking them on high to let the tips and edges brown. Add the Brussels sprouts and season with salt and pepper. Let them brown as well. To finish, drop in the butter and mustard mix around in the pan. On a large platter, spoon down some of the cauliflower purée, and place the sautéed cauliflower and Brussels sprouts on top.
Executive Chef, Richard Diemer, The Gables
Butternut Squash Sformato
You'll Need:
4 cups roasted butternut squash flesh
3 eggs + 2 yolks
½ tsp grated nutmeg
1 ½ cups grated pecorino
pinch cinnamon
zest of half an orange
Purée in food processor until well blended and smooth.
Fill buttered ramekins.
Bake in water bath at 350°F for approximately 20 minutes, until set, covered with aluminum foil.
Remove foil, and bake another 10 minutes until golden brown.
Serve with your favorite salad greens, cranberry sauce, shaved pecorino or other garnishes of choice.
Chef Jesse Jones, Personal Chef
Sweet Potato and Pecan Sticky Buns
Yields 8 pieces
You'll Need:
1 storebought puff pastry (12 oz sheet)
1 egg, 1 tbsp water (egg wash) need a brush
3 sweet potatoes (bake for 1 hour or until soft, cool to touch and peel)
1 cup cinnamon sugar (1/2 sugar, 1 tbsp cinnamon)
2 cups pecans, toasted and crushed
To make sweet potato filling:
Mash sweet potatoes in a bowl, add 1/2 cup condensed sweet milk,1 egg, 1 tsp pure vanilla extract, 1 tsp allspice, pinch of salt, 1/2 cup butter. Mix well, let cool for later.
To assemble strudel:
On a flour surface roll puff pastry, from left to right, up and down, to make even dough. With a pastry brush, brush egg wash on all four corners of pastry, sprinkle the pastry with cinnamon sugar all over, with a fork poke a few holes in pastry, spread sweet potato filling evenly. Sprinkle with pecans all over, roll up in log form. With a knife, cut into round circle. Place buns sn a nonstick muffin pan. Bake at 375°F for 20 minutes, until golden brown. Drizzle with bourbon glaze.
To make the glaze:
1/2 cup unsalted butter
1/2 cup brown sugar
1/2 cup Bourbon
Add glaze ingredients to a saucepan over high heat. Allow bourbon to flame and cook out alcohol. Then reduce to a syrupy consistency, cool and pour over buns.
Chef Tracie Orsi, Rajin' Cajun
Pumpkin Bread with Bananas
You'll Need:
3 ½ cups flour
1 large can packed pumpkin
3 cups sugar
1 cup melted butter
2 tsp baking soda
2 tsp vanilla
1 tsp salt
2 eggs, slightly beaten
3 tsp cinnamon
2/3 cup water
1 ½ tsp nutmeg
2 bananas, sliced
1 tsp ground cloves
1 pint heavy cream
2 tsp allspice
2 cups sugar
1 tsp ground ginger
1 tsp mace
Directions:
Preheat oven to 350⁰F.
In a large bowl, sift together the dry ingredients leaving a well in the center. Add the pumpkin, butter, vanilla, eggs and water. Mix until batter is moistened. Pour into 2 9×5 loaf pans. Bake for 1 hour, 15 minutes or until knife comes out clean.  Let cool for ten minutes. Remove from pans and cool completely on wire racks.
In another bowl, mix 1 pint heavy cream with 2 cups sugar on high until peaks form. Place a piece of bread on a plate, slice bananas over top and dollop with whipped cream. Loaves make great gifts for the holidays!
Chris Cannon, Jockey Hollow Bar & Kitchen
Opening April 2014 inside Morristown's historic Vail Mansion
Butternut Squash Soup with Thai Red Curry, Apple, Ginger and Coconut Milk
Serves 8-10
"It's something I made up in the last two years as I have been home working on Jockey Hollow. It has become an instant classic Thanksgiving favorite of the whole family!
You'll Need:
2 medium butternut squash, peeled and diced large
I medium sized Spanish onion, minced
2 cloves of garlic, minced
2 tbsp fresh ginger, minced
4 fresh curry leaves
2 tbsp Thai fish sauce
1/2 tsp Aleppo pepper
1 1/2 tbsp Thai red curry powder
1 large pinch of saffron
1 can of Thai coconut milk
1 Granny Smith apple
8 cups chicken stock
Salt to taste
2 tbsp grapeseed oil
3 tbsp toasted pumpkin seeds
Directions:
Sauté the onion in the oil until translucent. Add 1/2 the ginger, the curry leaves, the squash, the Aleppo pepper, salt and the red curry and sauté for another two minutes over medium heat. Add the chicken stock and the saffron and simmer for 30 minutes until tender. Add the coconut milk and the Thai fish sauce and cook another five minutes. Peel and core the apple and add half of it and the remaining ginger to a mixer and process with the soup until smooth and the consistency of a velouté. Serve in bowls with finely diced apple and toasted pumpkin seeds on top.
Executive Chef Chris Siversen, Maritime Parc
"I can't live without my grandmother's sausage and mushroom stuffing made with great Italian bread. I could eat that with gravy by itself and forgo everything else! The food I love the day after is … wait for it … the stuffing! Reheated in a pan to get it a tad crispy, then drizzle with gravy. Amazing!"
Vince Carrabba, Owner, Millie's Old World Meatballs & Pizza

Can you guess what dish he has to have on his Thanksgiving table? That's right: meatballs. And why? "Because they're a beloved holiday tradition for my family. Specifically, my Grandma Millie's Meatballs—lovingly prepared by my mom, Marlene, and proudly served seven days a week at my nine-month old restaurant. Made from top-grade sirloin, the meatballs are hand-rolled, then fried and served in a marinara sauce."
Executive Chef Peter Larsen, HAVEN
Photo by Verdini Studio
Favorite non-traditional dish: Red Fall Octopus Salad with cranberry beet purée, freeze-dried cranberries, hazelnut crumble, maple syrup, hazelnut vinaigrette and orange oil over a salad of red sorrel, orach and nasturtium leaves. (Orach is also known as mountain spinach.)
"This dish uses the colors of the season and a lot of traditional ingredients from Thanksgiving, such as cranberries, maple syrup, hazelnuts and orange. It's a dish I recently developed and I could see it becoming a staple on my Thanksgiving table. This year, I'm cooking Thanksgiving dinner at my home in Westwood for 50 people. Everyone in the family is going to the parade in NYC, but my eldest daughter, Olivia, wants to stay home with me and cook. I'm usually working but HAVEN will be closed, so this will be a very special day for my family. We lost our house in Hurricane Irene two years ago, and this is the first holiday we're enjoying in our new home."
 These recipes were provided by professional chefs but have not been tested by anyone at Jersey Bites. We cannot make any representation as to the results.
Anthony David's
,
Anthony Pino
,
Blu
,
Chef Ariane Duarte
,
Chef Todd Villani
,
Chefs
,
Chorizo Stuffing Recipe
,
Classic Cake
,
Crystal Springs Resort
,
CulinAriane
,
featured
,
HAVEN
,
Jesse Jones
,
Jockey Hollow Bar & Kitchen
,
Maritime Parc
,
Millie's Old World Meatballs & Pizza
,
pumpkin bread
,
rajin' cajun
,
Richard Diemer
,
Robert Bennett
,
Terre a Terre
,
Thanksgiving
,
thanksgiving recipes
,
The Gables
,
Tim Fischer
,
tracie orsi
,
Zod Arifai