The popular food truck, The Taco Truck, has opened a store-front restaurant in the heart of Morristown. The environmentally-friendly brand founded in 2009 has seen significant growth with trucks now in Jersey City, Newark and Boston, a kiosk at Manhattan's The High Line and another store-front in Hoboken (LEED-Certified). Since I've yet to find a decent taqueria-style taco in Morris County, I was thrilled to read about The Taco Truck making its way west.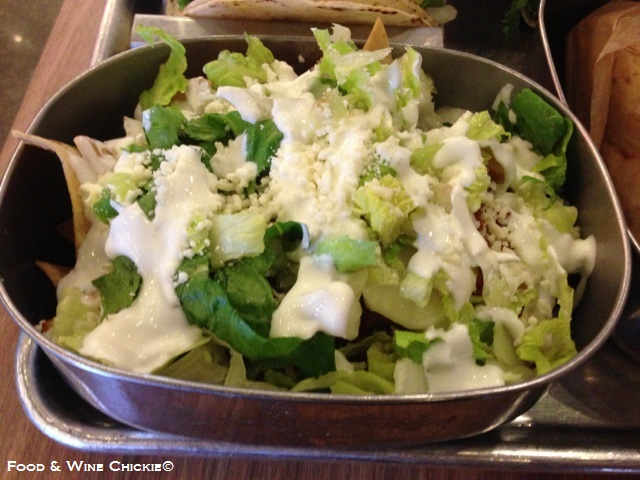 Morristown's flagship store seats 70 guests and there are plans for an outdoor sitting area accommodating 40 additional taco fans. The look and feel of the place is reminiscent of an outdoor food truck with two windows for ordering and picking up complete with the flipped doors much like a typical truck would have. There's a wall of recycled skateboards, fun signs, counter and table seating, large screen televisions and an environmentally-conscious garbage and recycling area. The Taco Truck features biodegradable materials, trash composting and water-conserving bathrooms and rainwater collection system for plant watering. The space put a smile on our faces.
During a recent visit, I was pleased to learn that the food is locally-sourced and organic. We walked up to the curved "truck" ordering window and ordered what felt like one of each of the menu items. The staff member taking our order was courteous, professional and explained our wait for the food would be 5 – 10 minutes. With that clear timeframe in mind, we made our way in the dining area with our drinks to wait. There is so much to take in within the dining room that the 5 or so minutes flew by.
We ordered the Chilaquiles El Guero ($7), Taco Pescado ($5), Tacos Al Pastor ($6.75) and the Torta Carnitas Michoacan ($6.50). The Chilaquiles are The Taco Truck's version of elevated nachos and we ordered the dish at the recommendation of the staff member who assisted us. The shareable portion is served in a metal bowl and at first, looked more like a salad than nachos. As we dug into the crisp lettuce and crema topping, we found flavorful Guajillo grilled chicken, black beans, Queso Cotija and crisp corn chips. It's a fun and tasty dish that we'll order again. We love fish tacos and the Pescado with its crispy catfish, red cabbage, Mexican tartare sauce and pico de gallo is a nice rendition. The Tacos Al Pastor feature the marinated pork we often crave, and are adorned with sweet pineapple. Combined with a generous topping of fresh cilantro and green salsa, these are the tacos one "requires" after a long night of over-indulging (the place closes at 2AM on the weekends). The item we feel felt short was the Torta. The ratio of slow-braised sweet pork to bread was just off and we ended up removing the top bun to eat the filling with a fork. Great flavors, just too much bread.
We'll be coming back to The Taco Truck for flavorful, fresh tacos and accompaniments. There's even 'real' Mexican Coca Cola!
50 Morris Street, Morristown, NJ 07960. 862-260-9300.
Hours: Sunday – Thursday: 11am to 10pm (Delivery 11am to 10pm). Friday – Saturday: 11am to 2am (Delivery: 11am to 11pm).
Veronique Deblois, Food & Wine Chickie: Veronique is a food and wine writer based in Morris County, NJ. As the author of the popular blog, Food & Wine Chickie Insider, Veronique shares recipes, wine and restaurant reviews and insight into the travel industry of which she's a 15-year veteran. Follow Veronique on Twitter or like her Facebook page.