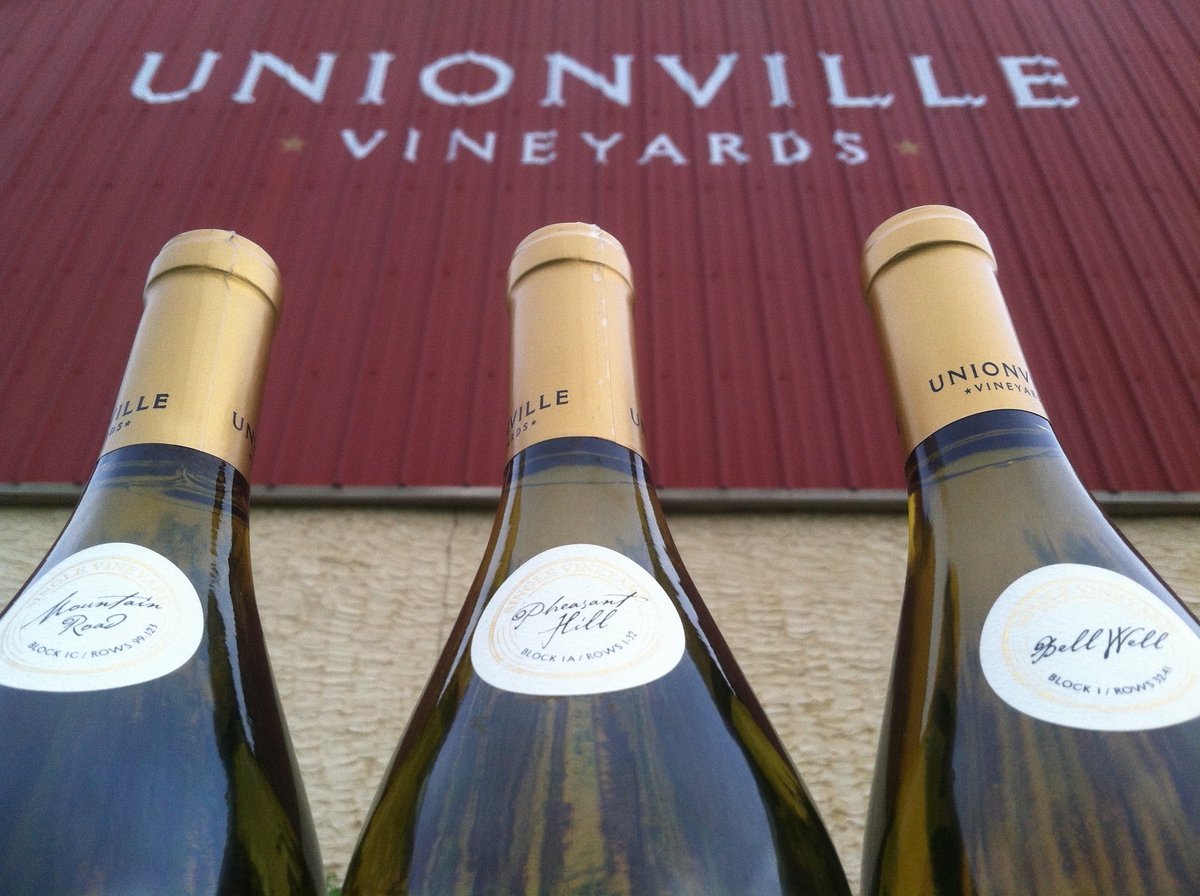 There is an idyllic winemaking operation tucked away in the hills of Hunterdon County, where a small passionate few believe they are about to change minds about wines that come from New Jersey. The air at Unionville Vineyards is thick with excitement and marked by bold, excited statements. The wines from the Pheasant Hill, Mountain Road, and Bell Well Vineyards are certainly the most highly-anticipated releases since the winery's 1993 opening, and for winemaker Cameron Stark, it marks perhaps the greatest achievement in his career. "I say with confidence that the Chardonnays we are releasing next month, and the Pinots that are coming in November are the finest wines I've ever grown, and that includes anything I did during my time in Napa," says Stark.
Twenty years ago, Stark, an East Coast native, stepped into the promised land of American wine production; the Napa Valley. It was still a growing wine industry at that point, and there was much for the young winemaker to learn as the wineries around him matured and grew as well. After spending nearly ten years at Napa mainstays Robert Sinskey Cellars and Merryvale Vineyards, Stark was left with a refined understanding of what it meant to create great wine- and a desire to make a name for himself in the business. He was ready to return to the East Coast and take the helm at a rising star in Hunterdon County-based Unionville Vineyards. The opportunity afforded him the flexibility to experiment and explore the possibilities here, a chance long since passed in old wine country like California.
"I came back here because by the time I was done with Napa, the discovery and exploration was complete, it had been done," Stark muses. "It is much more gratifying to pioneer and champion a new industry, and really shock people with what can be accomplished in an area not typically favored as a grape growing region." For the past nine years, Stark has combed through Unionville's 54 acres, testing, planting, and when necessary, ripping vines out and replanting based on what grows best in each soil profile and microclimate. Unionville's estate vineyards span across three counties in New Jersey, so there is tremendous variation in elevation, slope, and soil.
In particular, what Stark has identified as ideal central New Jersey grapes are the famed plantings of Burgundy- Chardonnay and Pinot Noir. Unionville's "Single Vineyard Series" showcases how these varietals differ from one vineyard to the next, using the consistent planting year, clone, and rootstock of the vines as the control to their experiment. "You get two wildly different wines from the two sites on opposite sides of the Sourland Mountain. One is austere, bright, and clean, while the other is rounder and fuller, with delicious Meyer lemon flavors. It's like having Chablis and Cote d'Or, just three miles apart."
It won't be the first time that Unionville has bottled small production Chardonnay of high caliber. The 2008 Pheasant Hill Vineyard shocked the judges at the 2010 International Wine & Spirits Competition in London, earning Gold-Best in Class. It was the only wine from the United States to do so, besting entries from Grgich Hills, Mondavi, and Cakebread in the process. Two years later, they scored again as the best scoring NJ wine in the Judgement of Princeton in June, a blind taste competition between New Jersey wines and big names of Burgundy and Bordeaux. International wine writer Stuart Pigott gave high marks as well, comparing Unionville's bottle to single vineyard offerings from California powerhouses Kistler and Marcassin.
Hampered by inexperience during the infancy stage of New Jersey winemaking, the state has been waiting for the watershed moment that will propel its wine industry onto the international scene. Unionville's Director of Operations, John Cifelli, feels the Chardonnays represent that exact opportunity. "There are world-class wines being produced in this state, and there has been real momentum recently. You can feel things taking off for us and we fully expect these wines to change the way the world looks at grape growing in New Jersey."
Tucked away on 90 acres of preserved farmland, Unionville will debut these wines Labor Day Weekend in grand fashion; with live music, catered grilled specialties, and bread & cheese tastings from Bobolink Dairy & Bakehouse each day. The Tasting Room is open from 12-5pm daily, and they will be offering tours of the winery or vineyard at 1:00 and 2:30 on Saturday, Sunday, and Monday.
Unionville is one player in a coalition of northern New Jersey Vineyards known as Vintage North Jersey. These wineries, united in a commitment to quality and raising the bar of New Jersey winemaking hold several events and special wine trails throughout the year. The unique terroirs of New Jersey do not begin and end at Unionville's properties, as glacial retreat at the end of the ice age left the hills of northern and western New Jersey with a rich diversity of soil types and microclimates. To explore these wineries, visit www.vintagenorthjersey.com.