The weather is beginning to hint at the change from summer to autumn and the excitement is building as kids get ready to begin a new school year. But don't worry, you've still got time left to savor the flavors of summer! Just fill your Labor Day weekend with the bounty of Jersey's summer produce in these fabulously delicious recipes. Grilled Corn with Tomato Basil Butter, Balsamic Portobellos Caprese and Grilled Rosemary Lemon Chicken will be the perfect addition to your barbecue menu as you slow down the end of summer, relax with family and friends and savor the fresh flavors of Jersey. Summer never tasted so good!
Recipes and photos by Gwynn Galvin, Culinary Consultant & Creator of Swirls of Flavor
Balsamic Portobellos Caprese
1/4 cup Balsamic vinegar
1/4 cup olive oil
1 clove garlic, minced
1 Tbs. chopped fresh basil
1/2 tsp. kosher salt
4 Portobello caps, about 9 oz.
4 slices fresh mozzarella, 4 oz.
1/4 cup Pesto Florentine OR store bought prepared pesto
8 slices Jersey tomatoes, 2 tomatoes
fresh basil leaves
1. In small bowl combine Balsamic vinegar, olive oil, garlic, chopped basil and kosher salt until blended.
2. Transfer mixture to ziplock plastic bag. Add Portobello caps. Seal and marinate 30-60 minutes, turning once. Remove portobellos from bag and discard marinade.
3. Meanwhile, preheat grill for direct heat grilling.
4. Grill portobellos until tender, turning once, 9-10 minutes per side.
5. Arrange portobellos on serving platter. Top each with mozzarella slice, 1 Tbs. pesto, 2 tomato slices and fresh basil leaf.
Makes 4 servings.
Recipe can be doubled.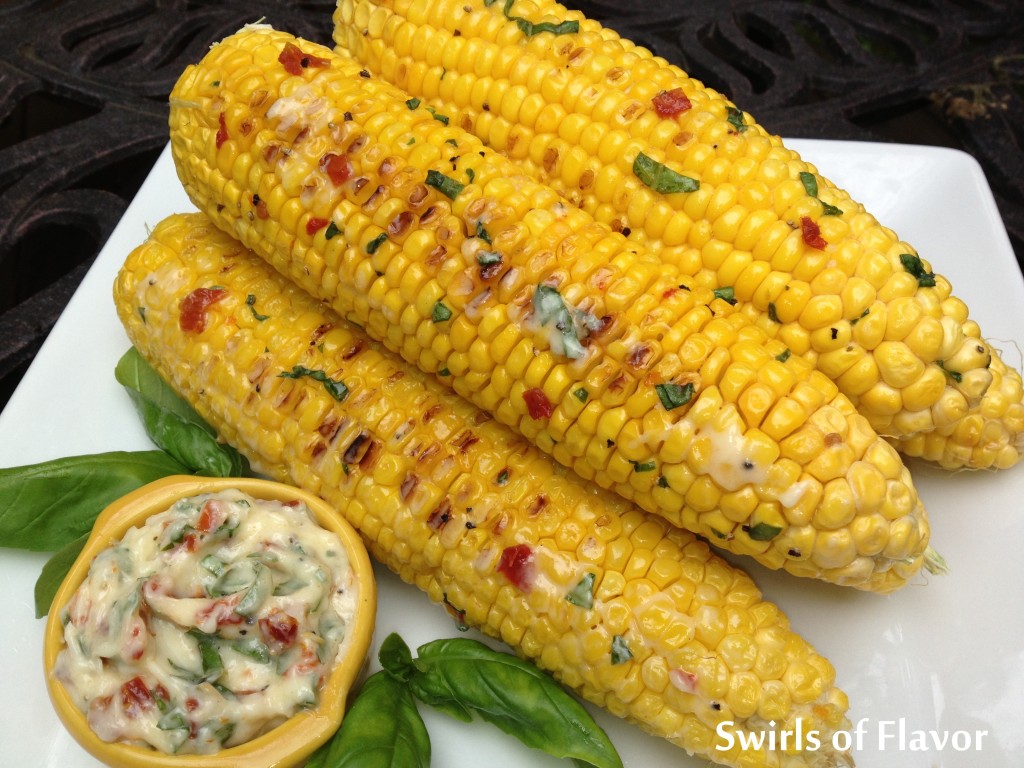 Grilled Corn with Tomato Basil Butter
8 Tbs. butter, at room temperature, divided
2 Tbs. chopped fresh basil
1 Tbs. sundried tomatoes packed in oil, patted slightly, finely chopped
1/2 tsp. kosher salt
1/4 tsp. cracked black pepper
1/4 tsp. garlic powder
6 ears Jersey corn on the cob, husks removed
1. Preheat grill for indirect grilling.
2. Reserve 1 Tbs. butter. In small bowl combine remaining 7 Tbs. butter, basil, sundried tomatoes, kosher salt, pepper and garlic powder.
3. Melt reserved 1 Tbs. butter. Brush evenly over corn.
4. Grill corn until kernels intensify in color to a bright deep golden yellow and begin to caramelize with brown spots, turning occasionally, 10-15 minutes.
5. Remove corn from grill. Brush with some of the Tomato Basil Butter. Serve with remaining flavored butter.
Makes 6 servings.
Recipe can be doubled.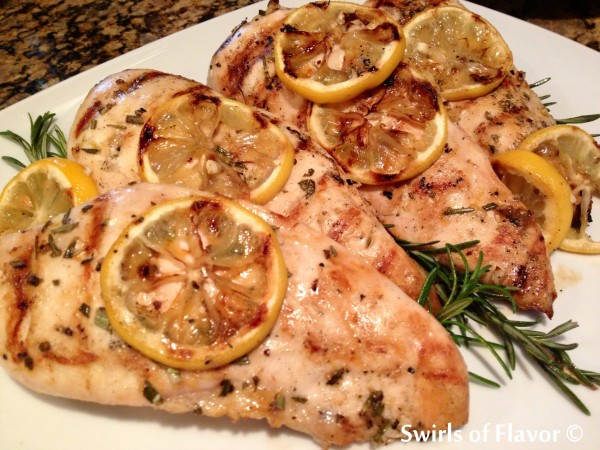 Rosemary Lemon Grilled Chicken
1/2 cup lemon juice
1/4 cup olive oil
2 cloves garlic, finely minced
1 Tbs. lemon zest
1 Tbs. finely chopped fresh rosemary
1/2 tsp. kosher salt
1/4 tsp. cracked black pepper
4 boneless skinless chicken breasts
1 lemon, thinly sliced crosswise, about 8 slices
1. In bowl combine lemon juice, olive oil, garlic, lemon zest, rosemary, kosher salt and cracked black pepper until blended. Reserve 1 Tbs. lemon mixture.
2. Transfer remaining lemon mixture to ziplock plastic food storage bag. Add chicken. Marinate in refrigerator 2-4 hours, turning once.
3. Preheat grill for direct-heat grilling.
4. Remove chicken from marinade; discard marinade.
5. Grill chicken until juices run clear and meat thermometer reads 165F, turning once, and brushing with reserved lemon mixture during last 5 minutes of grilling.
6. Remove chicken from grill. Arrange on serving dish. Let stand 5 minutes.
7. Meanwhile, grill lemon slices until just caramelized, about 2-3 minutes, turning once. Serve lemon slices with chicken.
Makes 4 servings.
Recipe can be doubled.
Gwynn Galvin, Chef and Blogger, is delighted to share her original recipes on Jersey Bites. Born and raised in Jersey and a lifetime resident of Bergen County, Gwynn is Jersey through and through!  Having been in the culinary field for over twenty years, you can say that Gwynn is definitely well seasoned! With over a decade as Test Kitchen Director for a nationally published magazine as well as working for major food corporations and being partner and chef of a family-owned cupcake shop, Gwynn is also the creator of her blog,Swirls of Flavor. Her award-winning recipes have been featured in national ad campaigns, cookbooks, magazines, social media and on the internet. If you've ever made a recipe that was on the package of a food product or in a magazine or cookbook, chances are you've already made one of her fabulously delicious recipes!