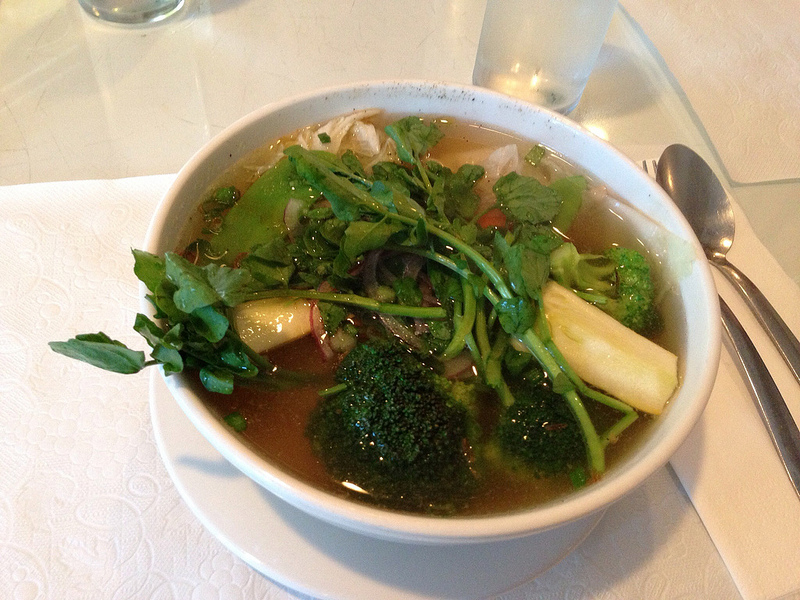 The only thing small about Little Saigon is the size of the restaurant. This Vietnamese gem established in 1990 is located just up the street from  AC's famous White House Hoagies, close to the Tanger Outlets and a short walk or ride from the famous AC Boardwalk and Casinos. You've got to put this spot on your list of go to restaurants when you come into town! The food will blow you away! Their extensive menu has something for everyone. Meat, fish, noodles, rice, veggies you name it. Everything is fresh and flavorful and oh so00 pretty. And your taste buds are in for the time of their lives. (do taste buds have lives?) It's like a party in your mouth. Crispy, bright veggies masterfully julienned, chopped,serrated, sliced, spiraled into spaghetti,and served with fresher than fresh cilantro, lime and Tai basil just to name a few of the herbs and spices used and infused.  All the dishes are cooked to order with tremendous care and it shows and this is true for their take out which is what we did this night. But you need to go and eat " in"  first to experience the food the way it was meant to be served and enjoyed. You can ask questions, they are so accommodating and friendly!  And learn how to add the herbs and spices in just the right combinations to bring out all the lively flavors to finesse the dishes the way they are meant to be eaten. It is an art you see. Something American food doesn't focus on, which is the whole olfactory involvement used in other cultures.
Their Noodle Soups are chock full of yummy noodles, rice or egg. We had the Deluxe Beef Rice Noodle Soup complete with tendons. It may sound strange but it brings such richness to the  broth, and is so flavorful and let's not forget all the noodles! You will be addicted! My son's favorite! He loved the tender crunchy tendons. He eats them on the chicken as well. As do I. Like mother like son. We also had the Vegetable Noodle Soup (see above) with rice noodles and big chunks of veggies and cilantro, fabulous! The Spring Rolls are delicious works of art. See through rice wrappers filled with sliced pork and shrimp and the thinnest veggies packed to perfection that you dip in a secret sauce. I asked, but was not successful in obtaining. They also come fried and are delish too.
I ordered the Salad with cucumber, turnips and special spicy dressing, which is so tasty and fresh. The dressing is a perfect foil to the crunchy veggies.  I am already planning my next visit!  (like tomorrow!) Next up was the Grilled Shrimp on a Sugar Cane appetizer. A tasty morsel of shrimp that is batter dipped and sitting on a sugar cane. Love the look and taste. They would be great at a cocktail party! It has a slight sweetness combined with the shrimp making for a tasty bite. They went fast! Then came the Scallion Pancakes warm and full of scallions and a great dipping sauce sweet and savory which we all scarfed down with lightning speed.
Our main courses were Lemon Pepper Chicken over Rice Noodles with a squeeze of lime and cilantro and some crispy sprouts to top it off. And Short Ribs in Red Wine with Pea Pods a big hit with the men folk. The taste is hard to compare and verbalize when you are not used to eating this kind of food. And I can not do it justice with words, this is food you have to experience. The sights and tastes have to be yours to truly understand the many sweet and savory tastes bombarding your senses! Please try this wonderful cuisine it is a sightseeing trip to the far east in your mouth. The prices are very reasonable so you can order and try many different dishes.
Try the French Coffee to top off your meal for a real treat and a Young Coconut water which has the perfect sweetness and refreshing taste and is great for you! ( They used  it as a replacement in blood transfusions in war time because it is so close to our own!) You  never know what you may learn reading JerseyBites! LOL  Cash Only. No credit cards. BYOB.
Little Saigon, 2801 Arctic Ave., Atlantic City, 609-347-9119
Michele Errichetti is from South Jersey born and fed. She comes from an Italian family where they eat, live, and breathe FOOD. Michele was cooking and eating under her grandmom's feet every Sunday for "gravy" and at home with her mother (a Medigan or American) during the week. Nowadays, she cooks for her two sons, husband, and father most days of the week. She takes "Girl Road Trips" with her friends at least once a month that always culminate with you guessed it, FOOD. She hopes fresh, local, organic, and free range will become the norm. Michele is searching Atlantic County for everything that has anything to do with good food and she's taking you along for the ride. – See more at: http://www.jerseybites.com/the-team/#sthash.52m1nBL7.dpuf