Samba is a cozy Brazilian restaurant just off bustling Bloomfield Avenue in the heart of Montclair. The space is warm and inviting, perfect for date night, with its interesting artwork and display of various cooking utensils. The popular Essex County restaurant had developed quite a cult following since its opening in 2011. The key to Samba's success is due in large part to owner Ilson Goncalves finding a chef who cooks like his mother used to. That chef is Brazilian native – Roger Gomes. Prior to joining Goncalves at Samba, Chef Gomes spent 10 years in various kitchens in the Ironbound neighborhood of Newark. Knowing there is more to Brazilian cooking than Rodizio, the grilled skewered meats found in many all-you-can-eat Brazilian restaurants, Chef Gomes designed a dinner menu that is eclectic and where one dish sounds more delicious than the next.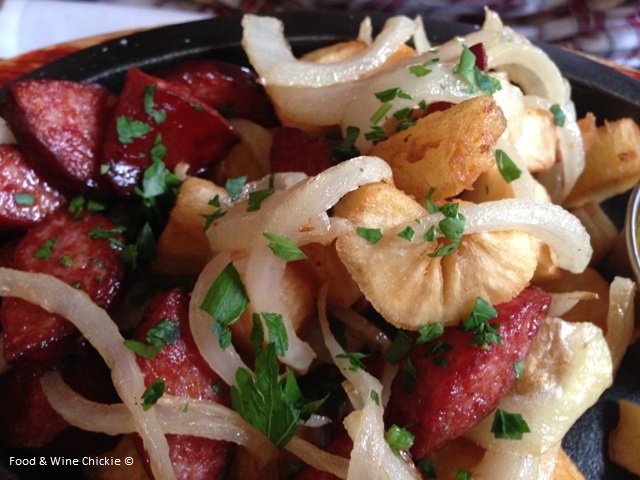 On the evening we visited for our date night, we started with two outstanding dishes, the Mandioca Frita Com Linguica Calabresa e Cebola ($7.95) and a special of the night, Mussels in Tomato Sauce ($11). The first dish consisted of fried yucca with Brazilian pork sausage and caramelized onions. It's simple in its presentation but full of interesting flavors. The mussels might be some of the best we've enjoyed. I say this because of the spicy tomato concoction the mussels are served in which is incredibly tasty and perfect for sopping up with the various breads offered at Samba.
Although it was difficult to narrow our entrée selections to just two, we finally opted for the Feijoada ($21.95) and the Bife Acebolado ($17.95). The Feijoada is Brazil's national dish and served only on Fridays and Saturdays at Samba. It's a meat and black bean stew served in a little pan with sides of white rice, fresh orange and collard greens. There's a juicy sausage and several pieces of fall-off-the-bones meat that were simply stellar. The Bife Acebolado is Samba's version of steak frites with a thin, pan-fried steak with caramelized onions and served with rice, beans and fries. A country vinaigrette gave the rich dish a great dose of acidity.
Desserts are priced at $5.95 and range from a traditional Flan Caramel to a Passion Fruit Mousse. I can't imagine ever saving room for dessert at Samba, but Chef Gomes' desserts are made in-house and look and sound decadent.
The service is attentive yet we did feel a bit rushed which was somewhat understandable considering Samba seats 32 and it was the beginning of a busy Saturday evening.
If you've not had the opportunity to enjoy a date night at Samba, make a point to stop in. The food is some of the most flavorful you'll find in the Garden State, the prices are very affordable and the atmosphere is welcoming. Oh, and yes, it's a BYO so bring a bottle that can handle some of the spice found in the starters, perhaps a Riesling or a Gewürztraminer then bring a meat-friendly bottle for the entrées.
7 Park St # 1, Montclair, NJ 07042
(973) 744-6764
Dinner summer hours:
Monday -Thursday: 5:30 p.m. to 9:30 p.m.
Friday & Saturday: 5:00 p.m. to 10:00 p.m.
Sunday: Closed
Lunch summer hours:
Monday – Thursday: 11:00 a.m. to 4:00 p.m.
Friday – Saturday: 11:00 a.m. to 3:00 p.m.
Sunday: Closed
Veronique Deblois, Food & Wine Chickie: Veronique is a food and wine writer based in Morris County, NJ. As the author of the popular blog, Food & Wine Chickie, Veronique shares recipes, wine and restaurant reviews. Follow Veronique on Twitter or like her Facebook page.