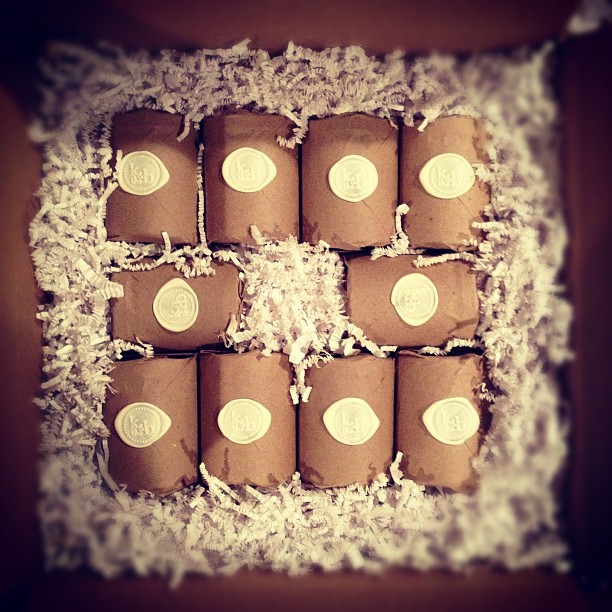 Looking for a delicious gift for your hard to please food-obsessed friends? How about preserves with unique flavors, made by hand with local produce, in beautiful packaging? Let me introduce you to Kitten and The Bear.
I met the founders of Kitten and The Bear, Sophie Kaftal and Bobby Zielinski, a few months ago after reading a blurb in the WSJ about their products. Since we live relatively close, we met for coffee and a sampling. Actually, once I tasted their jams, the coffee sat untouched. Sophie is a graduate of culinary school and Bobby is a photographer. They met in Toronto but now reside in NJ. They have combined creative forces to develop a line of small batch preserves cooked in old-fashioned French confiture unlined copper pans (made by a family in France). The flavors they produce are nothing like your typical grape jelly. Their process and ingredients are very traditional and these products contain no commercial additives or pectin.
Their brand concept is that the flavors never reoccur. They only use ingredients that are available from their local suppliers or farmer's markets. I asked how they develop their flavors and Sophie told me they use "flavor mapping," similar to Chef Grant Achatz in Chicago. She keeps a scrap book and prowls ethnic markets for interesting spices and distillates. Just read some of the flavors and dream of ways you can use them:
Strawberry Eucalyptus
Donut Peach, Basil, and Lime Zest
Ruby Pluot Cinnamon, Apple, and Aperol
Cherry Wood Smoked Italian Plum
Yuzu and Red-skinned Plum
Spiced Tomato and Tawny Port
Concord Grape and Violet
How about the Smoked Italian Plum on a burger or with pork tenderloin? The Donut Peach would be heavenly mixed into Greek yogurt. If you're more of the savory type, try the chunky Spiced Tomato (with a hint of cayenne, cloves, and cinnamon) on a thick slice of hearty toast.
As the seasons change, so do the flavors. The web site has the current availability, but I have a sneak peek for you at the next collection about to be released:
Green Apple & Eucalyptus Jelly
Quince & Evergreen Jam
Persimmon & Rooibos Chai Jam
Ground Cherry, Quince & Vanilla Marmalade
Concord Grape & Orange Blossom Jam
Hickory Smoked Pear, Hazelnut & Vanilla Bean Jam
Seckel Pear, Tobacco & Rye Jam
Winesap Apple, Pomegranate & Pimm's Jelly
Quince & Fresh Anise Marmalade
Can you say "heavenly?"
Sophie and Bobby do everything themselves, from macerating the fruit and jarring it, to packaging, and finally to writing each note that goes into every box. Nothing is outsourced to maintain the quality.
As I view their web site, I see some flavors are already out of stock so don't get left out (like me). If you've got palate discerning friends, order some of these preserves and give them something they won't get anywhere else, truly unique combinations of fruit forward preserves. Your friends are sure to thank you, and if you're lucky, maybe they'll share!
Terry Krongold is a life-long passionate baker. In addition to a full-time job in the pharmaceutical industry, Terry has been involved with food for many years, including co-ownership of a dessert catering company in the late eighties called I Love Cheesecake, specializing in fine cheesecake and unique desserts. Terry is the author of The Cook's Tour, a blog focused on food, baking, and travel. When not working, writing, or baking, she spends time planning vacations around restaurants to visit. She can be reached at terry@cookstour.net.