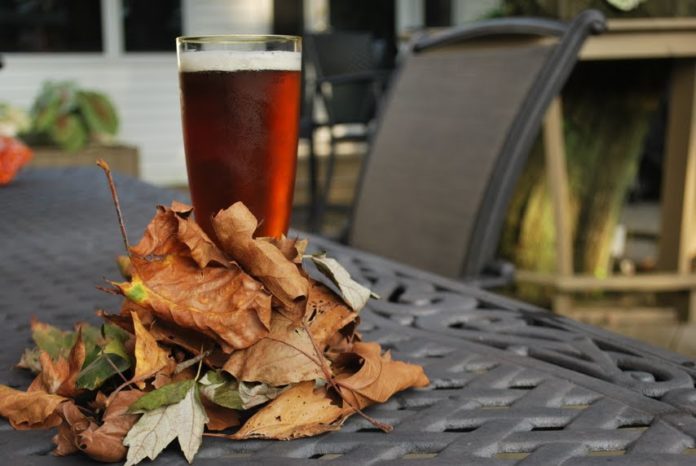 The weather is getting cooler, football helmets are getting buckled on, and the baseball pennant races are heating up.  For school kids, the faces are getting longer as the days get a little shorter and the academic year begins.   Summer in New Jersey is wonderful and we'll miss it, but for craft beer lovers there is solace. For enjoying beer, there is no better season than the fall .  If you can't make it to Germany for Oktoberfest, don't worry.  We don't know from Lederhosen, but we sure know beer.
Fall conjures up visions of piles of russet colored leaves and the ubiquitous pumpkin.  For traditionalists that means Oktoberfest and pumpkin beer.  Oktoberfest, with its toffee and spice notes lies between Pilsner and Bock in terms of strength.  "With the cooler weather your taste buds gravitate to some richer flavors in both food and drink." says Gene Muller of Flying Fish. Their newly expanded green brewery in  Somerdale should be turning out  it's Oktober Fish in plenty of time for the cooler temperatures.  Dave Hoffman of Climax Brewing has German beers styles right in his wheelhouse.  His Oktoberfest is due out soon and it too can give Munich a run for its money.  Plus, it will go perfectly with those brat's you just threw on the grill.  It seems like there are almost as many pumpkin beers as there are pumpkins these days.  There are stand outs however, and River Horse's Hippo Lantern Imperial Pumpkin is one.  It's big and full of Jersey attitude.  It comes in a four pack and dares you to drink all four.  Don't plan on bobbing for apples when you're done though.  Pour a glass with your apple or pumpkin pie.
Beer geeks take comfort in tradition, but they really like to mix things up too.  Let's look at some New Jersey Brewers that are thinking outside the pumpkin.  In fact, there're thinking about apples.  Apple cider is a fall staple, but make beer with it?  Crazy.  How about reducing it and then using  it in a Belgian strong ale instead of candi-sugar?  I wish I'd thought of that but Kane Brewing is the one who did.  You really experience the apple cider up front but, like all of their beers, it finishes dry.  It's called  Malus and look for it in bottles in now.   Cape May Brewing is thinking about apples too.  They've worked up a bready and biscuity  malt bill then fermented their creation with apples.  Cape May Apple Pie ale sounds like a must try to me.  They didn't stop at apples either.  A cranberry wheat and their first pumpkin beer are both in the works.
Leaf peepers love to lace up the hiking boots and hit the trail to revel in the blazing fall foliage.  That's what Carton Brewing was thinking about when they created GORP (Good Old Raisins and Peanut trail mix).  A beer that tastes like trail mix?  According to them it has a "porter malt bill with peanut butter and chocolate added to the boil, then fermented on black raisins with Belgian and Chico yeasts."    I might have to hike up to Atlantic Highlands and fill up a growler.  If you like tradition with a twist, how about Pumpkin  Cream Ale?  It's a high gravity cream ale with roasted pumpkin, peppercorns and orange oil.  Throw in some candied ginger to the boil and you have a very different take on pumpkin beer.  Carton Brewing advises you to "Drink Pumpkin Cream Ale because there are spices on the shelf behind the nutmeg."  Indeed there are and I can't wait to try it.  It will be in retail stores next week.
So, as you pack away the shorts and bathing suits and unpack the sweaters, take heart.  The flavors of fall beer lie just ahead.  When you're done with the leaf raking and the hiking, and it's time to sit down and watch some grid iron action there will be plenty of beer to chose from.
Peter Culos is the editor of "Beer Bites," a new monthly feature about breweries, bars and good beer in the garden state.  A graphic designer by day, and a life long New Jersey resident,  Peter was first introduced to the novel idea that beer could actually have flavor during several visits to the UK.  He's been riding the craft beer bus ever since.  It has been called the ultimate social lubricant and Peter's philosophy on beer is, "I'd rather split my last good beer with a friend than drink the whole thing by myself."  Besides beer he also likes history, dogs, Jeeps and painting.  In the past, he has written a History and Art blog for the Weider History Group and occasionally contributes to his own blog, history-geek.com.  Life is short.  Drink good beer.