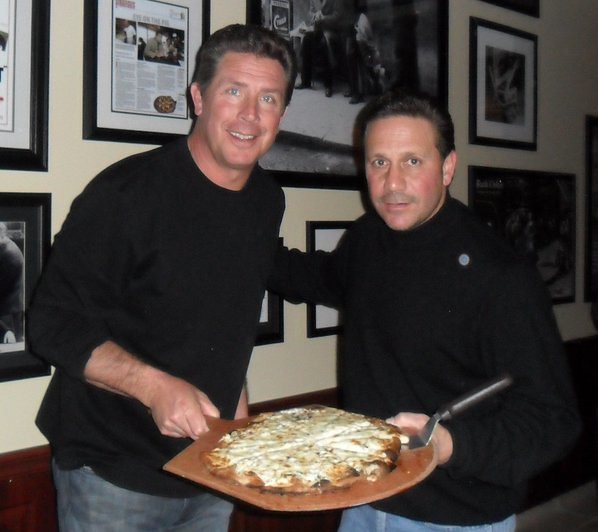 The Jersey Bites team was invited to the grand opening preview of the first New Jersey location of this well-known Florida pizza chain. Now if it's one thing we've got a ample supply of in New Jersey, it's pizza restaurants.  And, of course, everybody has his or her favorites. Whether it's Kinchley's in Bergen County, or Pete & Elda's at the shore, and a hundred others in between, people here know their pizza!  We kind of consider it our birthright to have access to not just good pizza, but great pizza. So needless to say, there is a fair amount of pressure on Anthony Bruno (founder) and his partners to live up to our standards.
Well, we are here to tell you that Anthony's Coal-Fired Pizza makes the grade. And it's not all about the pizza. Anthony's offers a wide variety of salads, pastas, and what they call "Italian Soul Food."  More about these other offerings shortly, right now, back to the pizza.  The restaurant's motto is "our pizza is well done," and yes, the pizza comes out crispy, thanks to the 800-degree proprietary coal-burning oven. But it's also flavorful. We sampled two delicious pies – Arugula (served over their traditional pie), and White Pizza (a luscious mixture of ricotta, mozzarella, and Romano cheeses).
While we thoroughly enjoyed the pizza, there is no lack of great dishes on this extensive menu.  First up, the Pork Ribs with Vinegar and Peppers. These are spare ribs as you've probably never had them before. Roasted in the coal ovens with garlic, rosemary, spicy vinegar peppers, and white wine, they were juicy and succulent.  Also cooked in the coal ovens, Anthony's version of Chicken Wings. Roasting the wings, rather than traditional frying, really brings out a smoky flavor.  Caramelized onions atop the wings were oh so sweet.
One other sampling from the "Italian Soul" collection was the Broccoli Rabe and Sausage.  This "old world" side dish, sautéed in garlic and olive oil, was not at all bitter, as is sometimes the case with broccoli rabe. This makes a really nice add-on to your meal at Anthony's, as it complements almost any of the pizza selections.
On hand for the opening, football great, Dan Marino. Dan is not only a partner in the business, but he created one of the restaurant's signature dishes, Eggplant Marino. This is another very traditional dish, but well done at Anthony's. So many versions of this classic end up greasy and heavy. This eggplant was paper thin, battered and pan-fried. The result was light and delicious – as it should be.
Anthony's offers a cozy, full bar, an impressive wine selection and a comfortable atmosphere for families, groups, and couples.
As noted at the top of the post, this is the first site in NJ, however, soon to come are Ramsey and Edgewater. We did get the inside "bite" that they are also looking at possible locations in Clifton and Wayne.
So while we've got more than our share of pizza spots to choose from, with their unique take on pizza and other menu items, Anthony's Coal-fired Pizza is sure to be a hit here.
Anthony's Coal-Fired Pizza
80 Parsonage Road
Edison, New Jersey
732-744-1500
www.anthonyscoalfiredpizza.com
Co-authors: Beverly Beveridge, Monmouth County Regional Editor and Terry Krongold, Passaic County Regional Editor