When I saw the press release announcing the "Jersey's Finest" Beer tasting at Iron Hill Brewery in Maple Shade on January 15th, I knew I had my next Jersey Bites article. Jersey's Finest is a collaboration between Iron Hill's, Chris LaPierre, and Flying Fish's, Casey Hughes. Collaborations are all the rage in the craft brewing world and this one certainly caught my attention.
Iron Hill in Maple Shade, New Jersey is one of eight brewpubs owned by Kevin Finn, Mark Edelson and Kevin Davies who opened the first one in 1996. So this is no franchise. Each location shares common branding, menu items and the same 5 core beers but Chris LaPierre revealed that he is free to create recipes of his own as well. That's a good thing because Chris is a pretty creative brewer. People at Iron Hill will tell you they are a "restaurant first and a brewery second." I can confirm that the menu is very inventive (Philly Cheese Steak egg rolls and malt pizza dough!) but the beer is certainly no after thought.
If you're a beer lover in New Jersey, then you've heard of Flying Fish. Their "Exit Series" of beers received flak from the state's Turnpike authority who somehow believed that naming beers after turnpike exits promotes drinking and driving. I don't get it either, but cooler heads prevailed. Flying Fish was an innovator right from the start. They pre-marketed their beer on the internet in 1995 (the brewery opened in 1996). Yes, there was an internet in 1995. Casey Hughes, the head brewer, has been there for 8 years.
"Jersey's Finest" was the beer that everyone came to taste on this particular day . It came about when Chris went over to see Casey at Flying Fish to borrow some yeast. That might sound a little strange, but it turns out Chris and Casey are long-time friends and live within blocks of each other in Philly (they also have connections to Sly Fox and Dogfish Head too….sounds like a block party to me!). Casey just happened to be finishing up Flying Fish's Exit 13, a stout brewed with Belcolade chocolate, when Chris was offered a taste and inspiration struck.
Chris brews a Sumatran coffee stout named Luca Brasi that he thought would blend nicely with Exit 13. So, while batches of both beers were still fermenting, they were combined in a barrel. A little more yeast was added for conditioning and the beer was aged with vanilla beans and cocoa nibs. The result was what they jokingly call South Jersey Mocha.
I was lucky enough to taste the base beers and the blend side-by-side. The Luca Brasi could almost be served in a demitasse cup with a twist of lemon. It hits you with an espresso-like jolt! The Exit 13 features the bitter chocolate in the same way. I liked them both.
On tasting the Jersey's Finest,  I was faced with a delicate situation. Fortunately, Chris bailed me out by saying exactly what I was thinking; the blend was actually better than the base beers! The coffee still hit you upfront but then gave way to the clean finish of the bitter chocolate. Two great brewers put together two great beers and made a better one. The magic of collaboration.
The craft beer industry is uniquely set up to take advantage of collaboration as an effective way to market their beers. They collectively compete against the large national brands and they understand that promoting each other only helps promote the craft beer industry as a whole. It is also a fertile field for cultivating creativity and consumer benefit from that.
There is one more element to brewer collaboration that can't be overlooked; it's fun.  I asked Chris what inspired the event, marketing or fun?  He answered, "A little bit of both." Seeing both Casey and Chris, glass in hand, mingling with a packed house of excited beer geeks, I have to think that the scales are really tipped in favor of fun.
Pete's Pick (since Jersey's Finest is no longer available my picks are beers you can find)
From Iron Hill: "Digression" is a Belgian style pale ale born of necessity. When Chris realized that he was going run out of Belgian beer and that the American Pale Ale he was brewing wouldn't be needed due to an IPA that was on tap, he improvised. All it took was some dark Belgian Candi sugar, reworking the hops and some Belgian yeast. It's crisp and clean and very drinkable.
From Flying Fish: The two offerings available at the tasting were "Exit 13" chocolate stout and "Grand Cru" a Belgian style strong ale. This is a very tough call. The Grand Cru has a nice balance of clove spice and peachy fruitiness with a little warming alcohol. It's top notch, but pick up the Exit 13 while you can. It's said that chocolate makes people happy and is a good antioxidant. Pour some into a snifter, pick up a good book and be happy and healthy.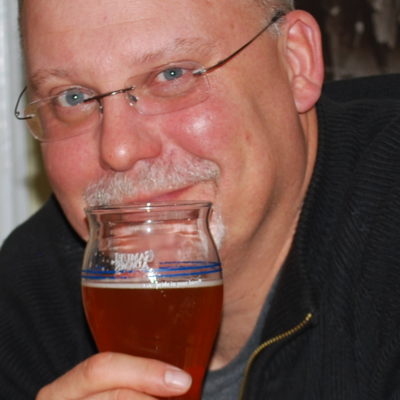 Peter Culos is the editor of "Beer Bites," a new monthly feature about breweries, bars and good beer in the garden state.  A graphic designer by day, and a life long New Jersey resident,  Peter was first introduced to the novel idea that beer could actually have flavor during several visits to the UK.  He's been riding the craft beer bus ever since.  It has been called the ultimate social lubricant and Peter's philosophy on beer is, "I'd rather split my last good beer with a friend than drink the whole thing by myself."  Besides beer he also likes history, dogs, Jeeps and painting.  In the past, he has written a History and Art blog for the Weider History Group and occasionally contributes to his own blog, history-geek.com.  Life is short.  Drink good beer.