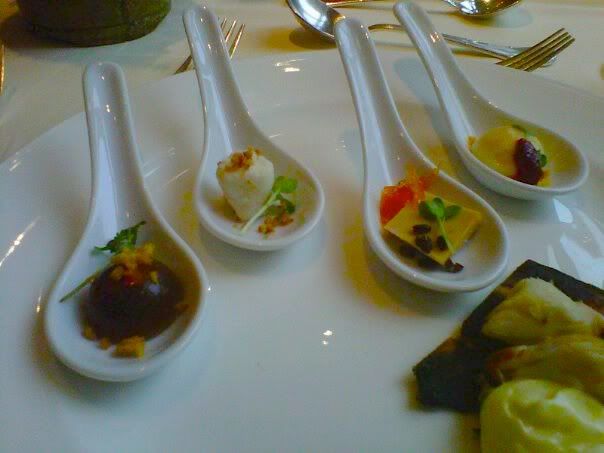 Jersey eaters, what I am about to say may shock you, but once you hear my reasons, it won't sound so crazy. Here it goes… You must go to Philadelphia for brunch. To be specific, you must go to Lacroix, located inside The Rittenhouse Hotel in the city of brotherly love. Here's why:
1. Delectable bites in spoons that showcase flavors like foie gras mousse with grapefruit, butternut beignets with sage icing, and espresso marshmallow with a passion fruit gel.
2. Kitchen visits — that's right! Brunchers go into the kitchen to see the chefs at work as they fetch hand-carved meats like kimchee-braised wagyu brisket, roast pork belly, and black garlic stuffed pork loin.
3. The complete raw bar that houses smoked trout, jumbo shrimp, caviar, smoked salmon, even sushi.
4. The liquid nitrogen station, which offers peanut butter or hazelnut foam with chocolate fondant filling.
5. The exceptional service. Enough said.
Never have I ever gone to a brunch place like Lacroix. From intricate canapes to delectable meats patrons collect from the kitchen that practically melt in your mouth (my personal fave was their roast pork belly), it's the kind of meal that's so memorable, you will likely travel back to Philadelphia for it alone. (And yes, I'm planning my next trip around this brunch.) I also can't get my mind off the little bite they call "cinnamon toast crunch" (pictured: far right spoon). It's not cereal per se — it's a refined, deconstructed take on the breakfast staple. I enjoyed it so much, I went back for seconds, thirds, fourths.
I live nearly two hours from Lacroix and I have been to the restaurant twice. Both trips were well worth the drive. Maybe I'll see you there next!
Ysolt Usigan is the beauty and style editor for iVillage, a lifestyle blogger for Huffington Post, and a total foodie. From hot dogs to escargot, if it's edible, she'll explore. She might not be the best cook, but what she lacks in kitchen know-how, she makes up for in her research and reporting skills. And oh yeah, she's also proud to be a Jersey girl and will prove to any one who might disagree that the Garden State has a plethora of dining options that give the big city eateries a run for their money.