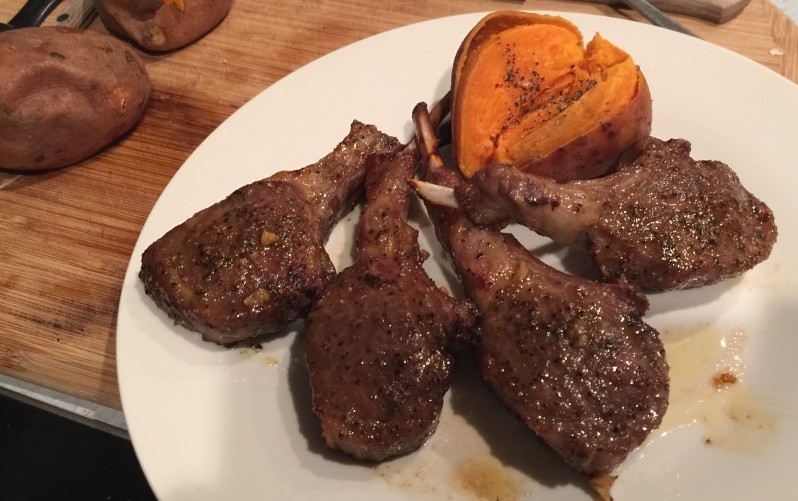 So, I guess it was last Wednesday when I decided I wanted to have some company and put together a little Tapas menu. Now, for those of you who have yet to hear of Tapas, basically, they are a wide variety of Spanish appetizers. Truth be told, its just a trendy way to say "Cocktail Party" these days. I've been to one Tapas bar in my life. It was (is) never sure how long places last in Philidelphia. Peter and I absolutely cannot remember the name of the place. But, we ordered a Tapas for two, basically a smörgåsbord (did you ever have to spell that word?) We had no idea what each dish was as they came out so the bartender would kindly explain each one. The number of dishes never seemed to end.
So, since that was my only experience at a Tapas bar, it was all I had to go by. I really enjoyed the one dish at a time concept, so I tried doing this to some degree. My own made up tapas recipes were very loosely tied to the Mediterranean. We started with Prosciutto de Parma stuffed with goat cheese and another variety stuffed with roasted red peppers and fresh basil. After that I served smoked salmon wrapped around Boursin cheese and fresh basil. (This was one of the favorites of the night.) The salmon "Tapas" were served with a bed of arugula and orange balsamic vinaigrette which I just discovered at Shopright and highly recommend. As you can see, pretty simple ingredients and no cooking thus far. It is a little tedious rolling the prosciutto since its so delicate and breaks apart very easily. Garlic shrimp (which I unfortunately over cooked a little) is a classic Portugese menu item, so I thought it appropriate for our "Spanish-ish" line up.
The star of the evening was the Moroccan Glazed Lamb Chops. I've been making these babies for years now and I have no idea where the recipe came from, but it is still one of the best ways I have ever eaten lamb. So, I'm going to share my recipe below. I like to serve the lamb with Pepper Jelly that has a little heat to it, but if you prefer some other kind of jelly or chutney, have at it.
Moroccan Glazed Lamb Chops
24 rib lamb chops (about 5 pounds) frenched
4 Tbsp. olive oil
4 Tbsp. honey
2 teaspoons freshly cracked black pepper
1 teaspoon ground coriander
1 teaspoon ground cumin
1 teaspoon paprika
2 teaspoons coarse salt
3 cloves finely chopped garlic
Pepper Jelly or spicy chutney
Up to 24 hours before serving, place the lamb chops in a large nonreactive baking dish. In a small bowl, combine remaining ingredients except for jelly. Pour marinade over chops to cover all over. Refrigerate until one hour before serving.
Preheat broiler. Place the lamb chops in one layer on baking sheets. For medium rare, broil 4 inches from the heat for four minutes. Turn chops and broil for two more minutes. These are best served warm but are still good at room temperature.
Serve with Jelly or chutney on the side. (I love pepper jelly with lamb.)